By The Katusa Research Special Situations Team
Since its release in 2009, James Cameron's Avatar has held the all-time box office record for nearly a decade.
With a budget of $300 million and an additional $150 million for marketing, Avatar's total cost of $450 million was made back several times. The big revenue came from the international box office, to the tune of about $2.8 billion ($3.3 billion in 2019 dollars).
Avatar was the first movie to break the $2 billion mark when not adjusting for inflation. In the process, it became the highest-grossing film of all time in dozens of countries, as well as globally.
Its domestic North American box office record of $760 million ($900 million adjusted) would stand until 2015's Star Wars: The Force Awakens took over.
Though more successful in North America, The Force Awakens would ultimately fall short of Avatar's international sales, earning just shy of $2.1 billion ($2.2 billion adjusted).
Avatar 2 and 3 are both currently in filming, and are expected in December 2021 and 2023, respectively.
And they'll have monster expectations to match the bar set by their predecessor.
But that bar might be moving before they can make it to the start line…
Endgame is Ending Box Office Records
Two weeks ago, Avengers: Endgame was released in theaters worldwide.
A three-hour long marathon, Endgame is the culmination of the 21 movies that make up Walt Disney's DIS Marvel Cinematic Universe.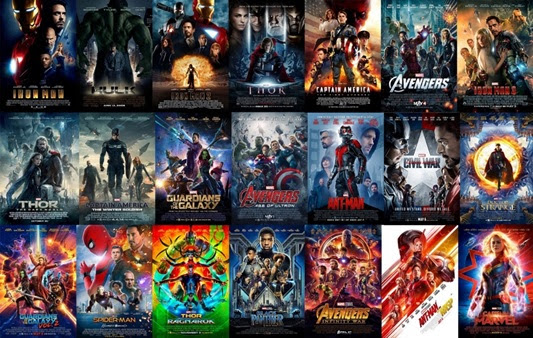 Endgame is the second half of a two-parter. The movie's prequel, Avengers: Infinity War, set many records of its own.
Heroes at their best. Villains at their worst. It's a great narrative.
Infinity War came out a year ago and rocketed to a respectable 14th on the all-time top grossing movie list. It clocked in at just over $2 billion worldwide.
But that was a glimpse into the success waiting in the wings…
Originally projected to earn between $850 and $950 million in its opening run – Endgame opened for $1.2 billion worldwide.
It smashed the previous record held by Infinity War of $640.5 million.
Endgame also became the fastest film to break the $1 billion mark, breaking another record set by its prequel film.
And as of the beginning of this week – its second weekend in box offices – Endgame broke the $2 billion mark. It hit $2.2 billion worldwide.
By becoming just the fifth film in history to surpass the $2 billion mark, Endgame also earned itself a spot on the top 10 highest grossing movies worldwide, adjusted for inflation.
Again, adjusting for inflation, the top spot is still held by Gone with the Wind. And rightly so. Who can resist that Clark Gable mustache?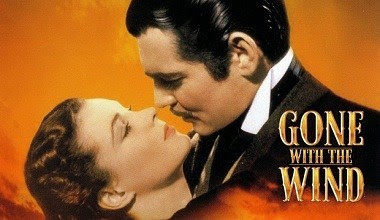 The chart below shows the top 10 movies in history by ticket revenues…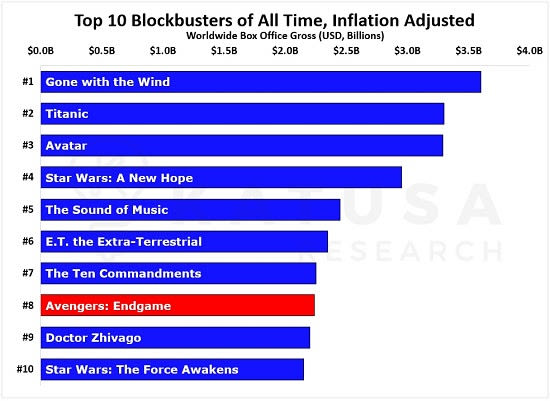 Keep in mind that at this point, Endgame has only been in theaters for two weekends. There's plenty more revenue to come.
Of course, as the chart below shows, box office gross sales usually level off sharply after the first few weeks…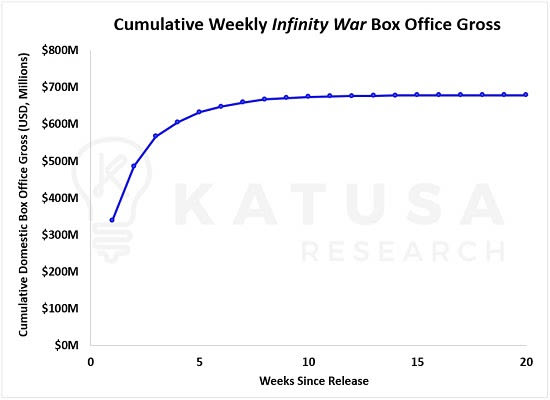 That said, if Endgame performs similarly to Infinity War over its release lifecycle, which is a conservative estimate, simple back-of-the-napkin math puts Endgame at $2.9 billion.
That would be enough to set a new worldwide gross record. And earn a spot in the top 5 inflation-adjusted box office grosses.
What Shareholders Look For: Endgame Beats Expectations
There's no way shareholders wouldn't be happy with how many records Endgame has smashed since its release. Investors are ecstatic…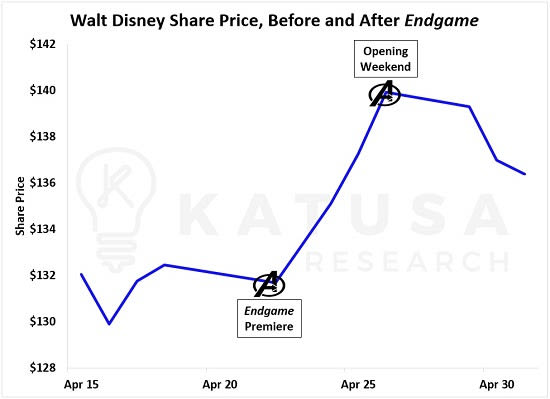 Upon its worldwide premiere in Los Angeles on April 22nd, Disney stock took off as the foreign releases of Endgame on the 24th and 25th leading into the domestic opening weekend of April 26th.
With the weekend numbers coming in Disney stock was up nearly 6% (an increase of $15 billion in its market cap) in one week after Endgame's first weekend in theatres.
$15 billion is a pretty big move off of one movie. And of course, options holders likely made significantly higher returns than 6%.
Was this a one-time fluke?
No.
This is the Berkshire Hathaway of fantasy stories. Disney has made all the smart moves.
Could Disney Come Up With Another Endgame?
Of course, no movie studio can pull off blockbusters like Avatar, Titanic, or Endgame with a simple snap of their fingers. In the case of Endgame­, it took the culmination of 11 years' worth of cinematic and media planning.
Extraordinary vision, talent and luck are needed to make big hits.
But Disney has been very aggressive with developing and acquiring intellectual property in recent years.
Disney now owns it all.
DC Comics has done such a crappy job of building their characters onto film. Maybe Disney will own them too.
And if you own them all, you can milk them for sequels.
Look at the pipeline of just three successful franchises over the next 6 years – Marvel, Avatar and Star Wars – now all owned by Disney. And any of the releases in this pipeline could be big enough hits for shareholders to take note:
This doesn't even include other hit series like Toy Story, Cars or Frozen.
In just the remainder of 2019 alone, titles like Toy Story 4, Frozen 2, and Star Wars Episode IX: The Rise of Skywalker could prove to be blockbusters that move the needle further for Disney.
And we haven't even mentioned Disney's new Disney Plus streaming service to rival Netflix.
For $7 per month, which is about half the price of HBO Now and a significant discount to Netflix, Disney wants to grab its share of the streaming subscription market.
Now that Disney owns Hulu, ESPN and Fox… there is an abundance of content that people will line up to pay for en masse.
What do you think our kids will do when they find out they can watch the Frozen or Moana movies on repeat? Your portfolio should be paying attention.
The changing media landscape presents interesting investing and speculation opportunities.
But what if Disney entered an area nobody thinks they would? What if Disney bought out Nintendo and vertically integrated their superhero franchises directly with the video game world? They would own their own eSports world as well.
Disney has positioned itself to be a powerhouse in the digital frontier.
Nintendo could be another Disney franchise. Imagine that, Super Mario at Disney Land.
Hey Mario, where you going next? Disney Land!
You've probably guessed that we have something big brewing. Stay tuned – there are a lot of ways to play the changing tech and media landscapes.
Regards,
The Katusa Research Special Situations Team