I met Patrick Byrne CEO of Overstock.com (OSTK) back in 2006 when I ran content for a budding TV Station. We had a LIVE 7-hour daily broadcast, so I needed a lot of content. Patrick called me and said, "These Prime brokers are allowing short sellers to short my stock with no borrow", which is called naked short selling, and for all practical purposes was illegal.
It took him 10 years to get his money, but in January 2016 Patrick Byrne got $20 million from Merrill Lynch Professional Clearing Corporation. He followed up with a great quarter posting a Q4 profit and is trading 26% higher today on good volume. CEO Byrne continues to counter punch the shorts in the face. I love it! That man is a fighter and I want him in my foxhole. Lets look at the quarter.
Byrne said on the call, " ..Led by Stormy Simon, the management team responded beautifully. And, trimmed things up and kept things honest-to-God, positive net income, with no happy tricks. It really came out at $110,000 and that is what the accountant said, and that is really where it is. So, I will be talking more about Q4 and what is going on in the marketplace, in response to questions I'm sure." He added "...We've got in very tight on inventory and inventory management, freed up some nice cash out of it. Had a wonderful GMROI, running at 53 turns. But, the GMROI is what I really care about. And that's at 1200%, a new record for us. Thanks to some new techniques, they have found ways to shrink and shrink and tighten up that inventory control."
Below is a 10-day chart on OSTK: Overstock.com Inc. The company is an online retailer offering closeout items, discount brand and non-brand name merchandise, including bed-and-bath goods, home décor, kitchenware, watches, jewelry, electronics and computers, apparel, and designer accessories.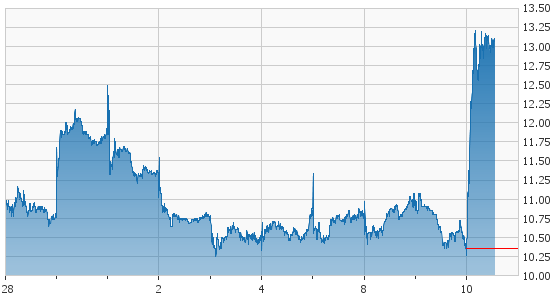 DISCLOSURE: The views and opinions expressed in this article are those of the authors, and do not represent the views of equities.com. Readers should not consider statements made by the author as formal recommendations and should consult their financial advisor before making any investment decisions. To read our full disclosure, please go to: http://www.equities.com/disclaimer