Osmotica Pharmaceuticals (pending Nasdaq: OSMT), whose initial public offering is expected next week, is not your typical biotech IPO. In addition to a pipeline led by late stage candidates in multiple sclerosis and blepharoptosis (droopy eyelid), the company is notably distinguished from most of the industry offerings we've seen this year by (1) $246 million in revenue in 2017 from a diverse portfolio of specialty neurology treatments, women's health products and three dozen generic formulations and (2) private equity backing rather than typical venture capital support, as the result of a 2016 merger of Osmotica and Vertical/Trigen, a portfolio company of Avista Capital Partners.
The company is offering 8.3 million shares at $14 to $16 via Jefferies, Barclays, RBC and Wells Fargo. It would be a $124.5 million IPO at the midpoint of the filing range, yielding a post-money market capitalization of $767 million. Altchem, which the Form S-1 identifies as a holding company formed by an Argentine family in 2011 who have "interests in pharmaceutical companies in several regions of the world," owns 50% of Osmotica—41.9% post IPO (Altchem was Osmotica's controlling shareholder before the Vertical/Trigen merger). Avista Capital, with about $4 billion invested in more than 30 healthcare businesses, owns 45.4% of the company—38.0% post IPO.
Osmodex – osmotic-release drug delivery system

Many of Osmotica's products are based on its proprietary osmotic-release drug delivery system called Osmodex, which the company believes is superior to other extended-release (ER) technologies. Osmotica says that the technology enables it "to manufacture tablets with one or more active drugs, and in combinations of immediate-release, controlled-release, delayed-release and extended-release."

Portfolio and pipeline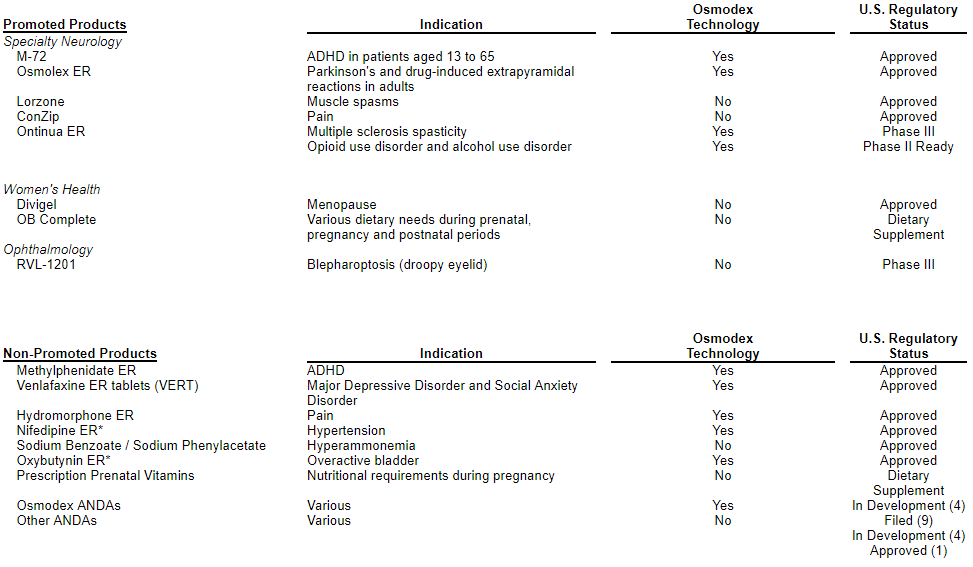 Source: Osmotica Pharmaceuticals
Osmotica's pipeline is highlighted by two Phase III candidates: Ontinua ER tablets for muscle spasticity in multiple sclerosis patients (designated as an Orphan Drug by the FDA) and RVL-1201 eyedrops for blepharoptosis, or droopy eyelid. Ontinua ER has been designated by the FDA as an Orphan Drug for muscle spstin this indication. The company is also exploring opportunities for Ontinua ER in additional indications, such as opioid and alcohol use disorders. There are currently no approved non-surgical treatment options for droopy eyelid.
One issue to consider is the closely held nature of the company and the level of influence carried by the two largest investors. Following this offering, four of the six members of the board of directors will be affiliated with Avista (two) and Altchem (two). Additionally, Osmotica's CEO Brian Markison is an operating executive at Avista. As Osmotica' Form S-1 states, "these directors may face real or apparent conflicts of interest with respect to matters affecting both us and Avista or Altchem, as applicable, whose interests, in some circumstances, may be adverse to ours." There may come a point down the road when the company needs to evaluate its board composition.
The post-IPO valuation appears to be reasonable for Osmotica, given the revenue base, its experience with the FDA and the product candidates in the pipeline. The significant revenue from the specialty neurology and women's health products gives Osmotica a dramatically different profile compared to most of the biotech IPOs that may provide investors with downside comfort against the binary event risks associated with any biotechnology company. It behooves investors, however, to keep an eye on how successful the company continues to be in fully integrating the business of complex generic formulations with the very different business of drug development.
Please email us at [email protected] to see our Case Studies and Testimonials.
Please click here for information on our new trading platform.
Please click here to see our daily newsletter.