Orchard Therapeutics' $200 Million IPO Expected This Week for Gene Therapy Programs
Edward Kim Follow |

~ Autologous gene therapy for rare diseases including primary immune deficiencies, inherited metabolic disorders and blood disorders ~


We have discussed stem cell transplant procedures previously in this space as the most frequently used cell therapies to treat a variety of blood disorders. A patient's stem cells are replaced by new cells either from the patient—autologous—or from another person—allogeneic. A natural extension of this procedure has emerged in the field of gene therapy in which stem cells taken from a patient with a genetic disorder are treated with a viral vector that carries a normal copy of the gene. These corrected cells are then inserted back into the patient.

London-based Orchard Therapeutics (pending Nasdaq: ORTX) is developing autologous gene therapies to treat patients with serious and life-threatening rare diseases. The company's initial focus is on primary immune deficiencies, neurometabolic disorders and hemoglobinopathies. In April 2018, Orchard acquired GlaxoSmithKline's GSK portfolio of approved and investigational rare disease gene therapies for £10 million ($12.7 million) upfront plus 15,563,230 convertible preferred shares (19.9% of Orchard) and a board seat. GSK also is entitled to royalties and milestone payments related to the portfolio. This portfolio of assets comprises the core of Orchard's pipeline.

Orchard is offering 13,333,333 American depositary shares (each ADS represents one ordinary share) at $14 to $16 via JP Morgan, Goldman Sachs and Cowen. At the midpoint of the filing range, it would be a $200 million transaction with a post-IPO market capitalization of $1.25 billion. Nasdaq will be the only market for the ADSs, as the ordinary shares don't trade in London or anywhere else. Orchard raised $150 million in a Series C financing in August 2018 led by Deerfield Management with new investments from RA Capital Management, Venrock, Foresite Capital, Perceptive Advisors, Cormorant Asset Management, ArrowMark Partners, Sphera Global Healthcare, Medison Ventures, Driehaus Capital Management and Ghost Tree Capital Group, as well as additional US-based healthcare focused funds. Existing investors also participated including Temasek, Baillie Gifford, RTW Investments, Cowen Healthcare Investments and Agent Capital. F-Prime Capital Partners is the largest holder with 29.3% of Orchard (24.6% post-IPO).

Autologous ex vivo gene therapy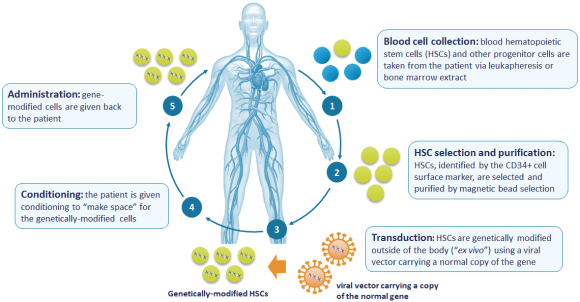 Source: Orchard Therapeutics
Orchard's autologous ex vivo gene therapy approach may offer important advantages over allogeneic hematopoietic stem cell transplantation (HSCT), the standard of care for several of the indications that the company is targeting. HSCT carries a significant risk of complications and mortality. In order to make bone marrow space for incoming donor cells, patients undergoing HSCT need to receive conditioning often involving two to three high-dose chemotherapy agents associated with significant organ toxicities. Orchard's approach uses a milder conditioning regimen associated with reduced toxicity and length of hospitalization. HSCT also requires the identification of a well-matched third-party donor to provide the cells. A poor cell donor match can result in graft rejection or acute and chronic graft-versus-host disease (GvHD), a severe autoimmune reaction that can lead to organ failure and death.

Pipeline
Orchard believes that its clinical programs will have an expedited regulatory path, due to the nature of its gene therapy product candidates and the often fatal, rare indications the candidates are intended to treat. The company believes that the typical Phase 1 safety studies in healthy volunteers and Phase 3 randomized, double-blind and placebo-controlled studies may not be required, potentially greatly hastening time to commercialization.

Strimvelis, acquired as part of the GSK deal, has been approved in the European Union since 2016 for adenosine deaminase severe combined immunodeficiency (ADA-SCID), commonly known as "bubble baby disease," a rare, life-threatening inherited disease of the immune system. Children with ADA-SCID can't make enough white blood cells, and prognosis is extremely poor. The European Medicines Agency (EMA) approved Strimvelis as the first autologous ex vivo gene therapy for the treatment of children with ADA-SCID with no suitable human leukocyte antigen (HLA)-matched stem cell donor. Orchard is developing OTL-101, which has received orphan drug designation from the FDA and the EMA for treatment of ADA-SCID, and Breakthrough Therapy Designation from the FDA, and plans to submit a biologics license application (BLA) with the FDA in 2020.
In a study conducted at UCLA on 20 patients with ADA-SCID, OTL-101 showed a 100% overall survival rate after 12 months and 24 months, compared with 92.3% and 85.7% for the historical control group of patients who received HSCT.

Source: Orchard Therapeutics

OTL-200 is Orchard's candidate for metachromatic leukodystrophy (MLD), a rare and rapidly progressive neurometabolic disorder. OTL-200 has received orphan drug designation from the FDA and the EMA for the treatment of MLD. A BLA is expected to be filed with the FDA in 2020. An interim analysis of the first nine patients out of 20 patients with pre-symptomatic late infantile MLD, or pre- to early-symptomatic early juvenile MLD, at San Raffaele Hospital in Milan, showed that eight patients had prevention of disease onset or halted disease progression. In addition, the gross motor function measure (GMFM) score for six patients up to the last follow-up showed that gross motor performance was similar to that of normally developing children.
OTL-103 is Orchard's candidate for Wiskott-Aldrich syndrome (WAS), a rare, life-threatening inherited disease affecting the immune system and platelets. OTL-103 has received orphan drug designation from the FDA, and a BLA is expected to be filed in 2021. Interim analysis of eight patients with WAS being treated at San Raffaele Hospital showed a decrease in WAS expression, an increase in T-cell counts and a reduction in infections.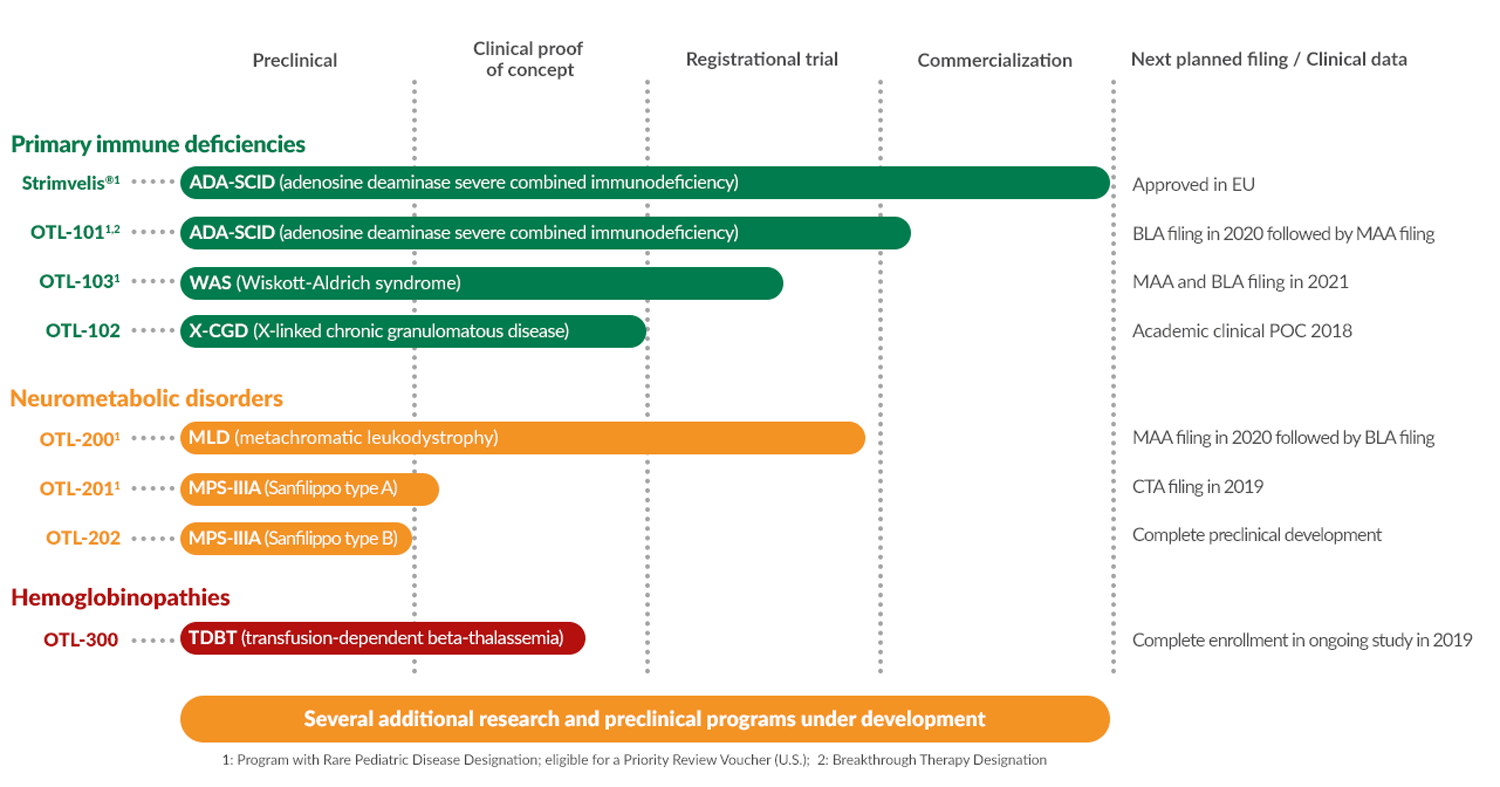 Source: Orchard Therapeutics

President and CEO Mark Rothera has 28 years of experience in biotech. Prior to Orchard, he was Chief Commercial Officer of PTC Therapeutics PTCT, where he helped transition the company from a privately funded, US-based R&D biotech to a public, commercial stage company with a 47-country commercialization footprint, while successfully launching two rare disease therapies. Prior to joining PTC, Mark served as Global President of Aegerion Pharmaceuticals and Head EMEA region at Shire Human Genetics.
This is a high profile transaction considering the size of the deal, which is larger than typical biotech IPOs, the GSK connection and the potential for accelerated regulatory pathways for the rare disease pipeline. We'll be watching Orchard Therapeutics closely to see if it fulfills its promise of bringing gene therapy cures to patients with limited hope by conventional means.
Please email us at content@equities.com to see our Case Studies and Testimonials.

Please click here for information on our new trading platform.
Please click here to receive our free daily newsletter.
Stock price data is provided by IEX Cloud on a 15-minute delayed basis. Chart price data is provided by TradingView on a 15-minute delayed basis.
DISCLOSURE: The author has no positions or any beneficial interest in, and has received no compensation from, the companies mentioned in this article.

---
The views and opinions expressed in this article are those of the authors, and do not necessarily represent the views of equities.com. Readers should not consider statements made by the author as formal recommendations and should consult their financial advisor before making any investment decisions. To read our full disclosure, please go to: http://www.equities.com/disclaimer.
Trending Articles
Market Movers
Sponsored Financial Content