A study of national emergency room data conducted by Jay J. Shen, PhD, et al., published in the Journal of Addiction Medicine in October 2018, shows that over 0.51% of all emergency room visits are related to cannabis use. The researchers analyzed data from 2006 to 2014 from the National Emergency Room Department Sample data set that was aggregated by the Agency for Healthcare Research and Quality (AHRQ) Healthcare Cost and Utilization Project. According to the CDC, there were 136.9 million ER visits in 2015, which would translate to about 700,000 cannabis emergency cases that year.
Opiant Pharmaceuticals
Santa Monica, California, based Opiant Pharmaceuticals OPNT, is developing medicines for addiction treatment and drug overdose. The company announced yesterday that it has entered into an exclusive global licensing agreement with Sanofi SNY for the development and commercialization of drinabant for the treatment of acute cannabinoid overdose (ACO). Opiant intends to develop drinabant, a cannabinoid CB-1 receptor antagonist, as an injectable for administration in an emergency department setting.
ACO is most frequently linked to the ingestion of edible products containing large quantities of THC and synthetic cannabinoids such as K2 and Spice. As these synthetics are more potent and less expensive than marijuana, they pose particular risks for children. Opiant believes that ACO resulted in more than one million emergency department visits in the US in 2016, with that number expected to only increase as more and more states legalize cannabis for recreational use. There are currently no approved treatments for ACO. Opiant will pay Sanofi an upfront fee of $500,000 plus additional payments contingent on the achievement of certain milestones.
Sanofi has generated an extensive safety database from multiple Phase 1 and Phase 2 studies with oral drinabant, which has been shown to block both subjective and objective effects of inhaled THC by binding with the human CB-1 receptor and thereby inhibiting THC from binding. The need for an injectable version that can rapidly treat the symptoms of ACO in an emergency room setting arises from oral drinabant's slow onset of action.
This agreement with Sanofi is indicative of our leadership and commitment to developing best-in-class treatments for addictions and drug overdose. We are encouraged by both the safety profile of drinabant, as well as the potential of an injectable CB-1 antagonist to rapidly reverse the symptoms of ACO and address a growing medical need. We intend to initiate development efforts in 2019 and commence clinical studies thereafter.

– Roger Crystal, MD, CEO, Opiant Pharmaceuticals.
Narcan and opioid antagonists
Opiant is the developer of Narcan (nalaxone HCl) nasal spray for opioid overdose, which it licensed to Adapt Pharma in 2014. Narcan was subsequently approved by the FDA in 2015, and was the cornerstone of Emergent Biosolutions' EBS acquisition of Adapt Pharma in October 2018 for $635 million (plus up to an additional $100 million in potential milestone payments. Opiant recognized about $8.9 million in the nine months ended Sept. 30, 2018, from royalties related to Narcan.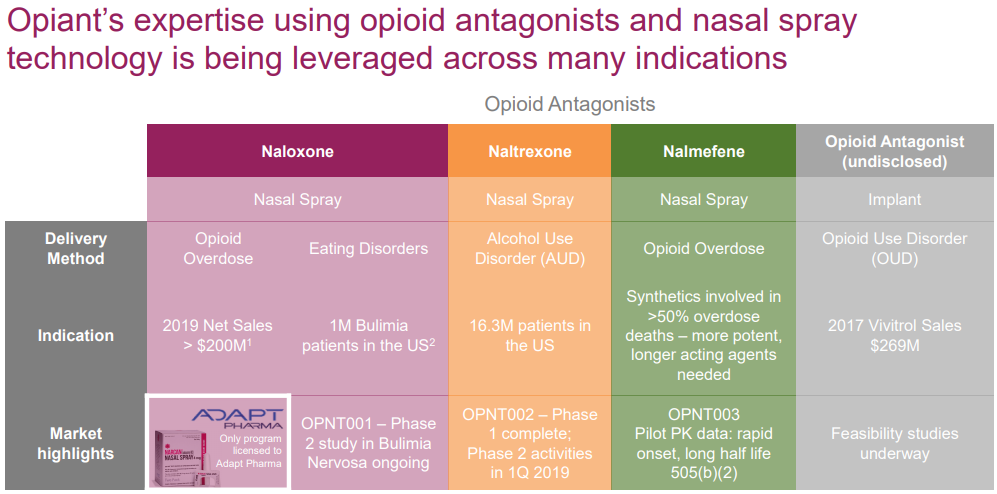 Source: Opiant Pharmaceuticals corporate presentation, Sept 2018
Pipeline
In addition to Opiant's opiate antagonist platform, the company has several other programs pursuing the treatment of other addictive disorders using its innovative nasal delivery technology. The National Institute on Drug Abuse, a division of the NIH, describes addictive disorders as chronic relapsing brain diseases which burden society at both the individual and community levels. According to Opiant, there are 28.5 million people in the US with a substance use or eating disorder, resulting in an aggregate economic burden of over $1 trillion per year.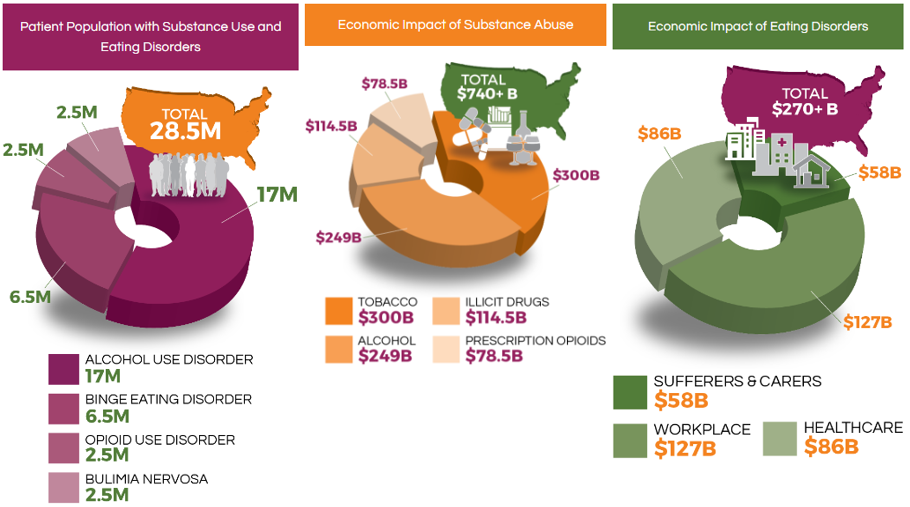 Source: Opiant Pharmaceuticals website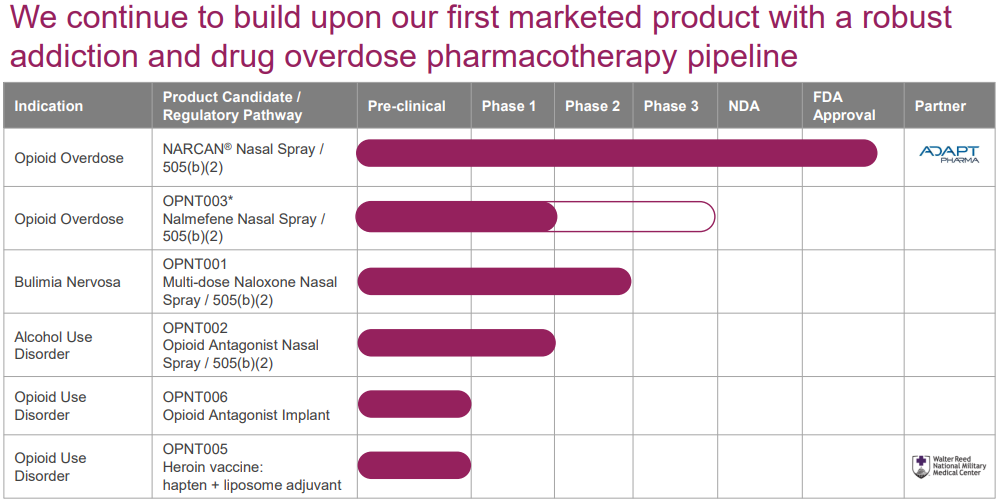 Source: Opiant Pharmaceuticals corporate presentation Sept 2018
Investment issues to consider
In its Q3 update in November 2018, Opiant outlined several recent achievements including:
Multi-year funding contract of up to $4.6 million with the Biomedical Advanced Research and Development Authority (BARDA) to accelerate the development of OPNT003 as a medical countermeasure in the event of a fentanyl chemical attack
Enrolled final patient in Phase 2 clinical trial evaluating OPNT001 in bulimia nervosa, for which top-line results are expected in Q1 2019
Raised $13.8 million in gross proceeds in a follow-on equity offering
Researchers at the US Military HIV Research Program at the Walter Reed Army Institute of Research and SUNY Upstate Medical University were awarded a grant of $3.7 million by the NIH to advance OPNT005, Opiant's heroin vaccine candidate, through Phase 1/2a clinical trials to assess safety and efficacy
The stock traded north of $32 briefly in March 2018, and is down 56% from that peak. The current price of $14.15 on the Nasdaq Capital Market, to which it graduated from the OTC in August 2017, gives Opiant a market capitalization of just $53 million, which seems light given the recurring revenue from Narcan and the balance of the pipeline on which the company continues to make demonstrable progress.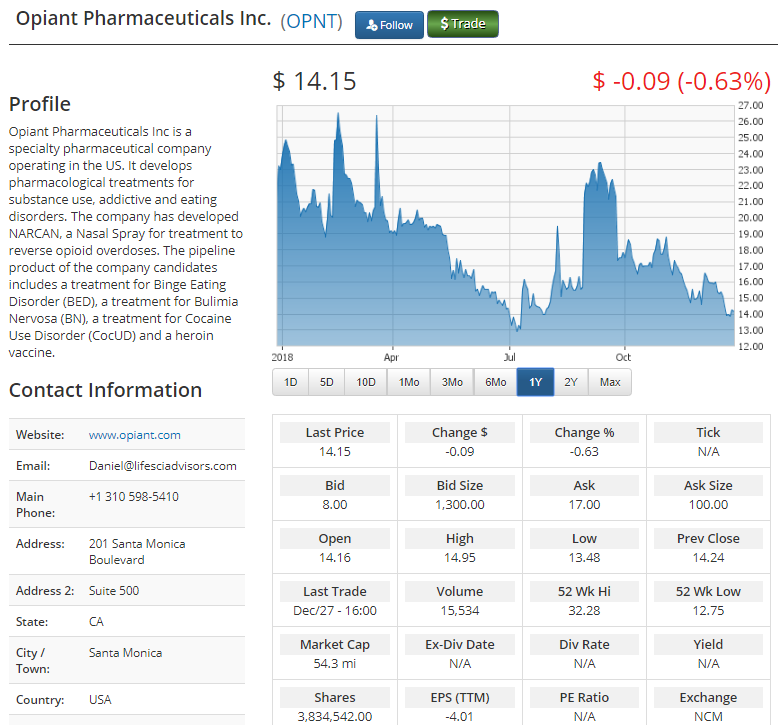 Please email us at [email protected] to see our Case Studies and Testimonials.
Please click here for information on our equity trading platform.
Please click here to receive our free daily newsletter.