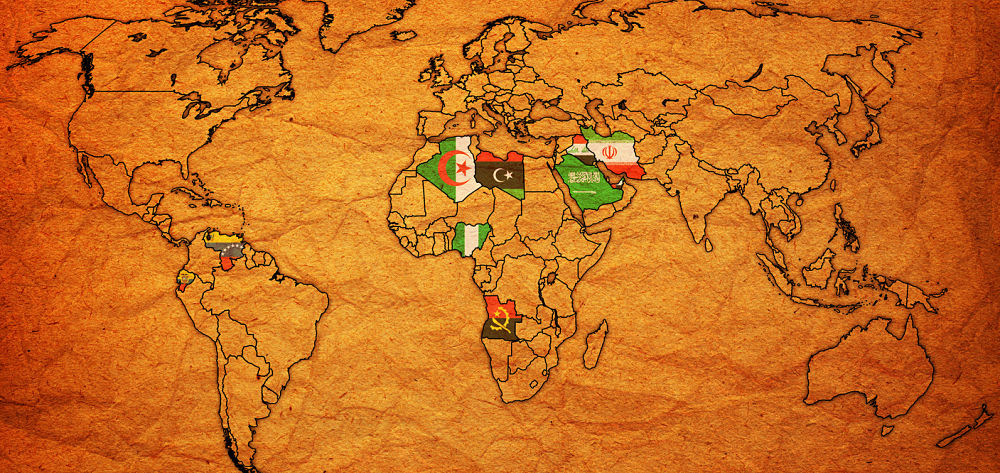 Officials from major oil-producing nations are expected to agree this week to boost output, but just how much they will open the spigot — and the effect on oil prices — remain wild cards.
Ministers from the Organization of the Petroleum Exporting Countries and non-OPEC nations led by Russia are meeting Friday and Saturday in Vienna, and it could be a difficult and uncomfortable gathering. The cartel's largest producer, Saudi Arabia, wants higher prices but hears President Donald Trump, leader of its most important ally, lobbying openly for lower prices.
Analysts expect the group will consider an increase of somewhere around 1 million barrels a day. That may seem insignificant in a global supply of 98 million barrels a day, but critically it would reverse reductions that the same countries approved in late 2016, helping push crude higher by more than 50 percent.
Benchmark U.S. crude hit its highest level in more than three years in May, but U.S. and international prices have eased since then in anticipation that OPEC will approve more drilling. On Wednesday, U.S. crude closed at $65.74 a barrel, down from a peak of nearly $73 last month, and Brent crude, the international standard, closed at $74.61, down from $80.
The U.S. average for gasoline stood at $2.87 a gallon on Thursday. Patrick DeHaan, an analyst for GasBuddy, a gasoline price tracking service, said a middling OPEC increase — more than 600,000 barrels per day — would make it less likely that Americans will pay an average of $3. A big OPEC deal— adding more than 1 million barrels — could cause prices to dip into the $2.60s or $2.70s this summer, he said.
Any production increase would help offset a decline in output by Venezuela, an OPEC member consumed by economic and political crisis, and the prospect of reduced exports from Iran — OPEC's third-biggest producer — now that the U.S. is in the process of re-imposing sanctions over that country's nuclear program.
Oil demand has been rising faster than expected, pushing prices higher despite a big increase in U.S. oil output. The International Energy Agency, which represents consuming nations, expects demand to grow more slowly in the second half of this year partly due to rising oil prices — but still 1.35 million barrels a day higher than the same period in 2017.
Some analysts believe that Saudi Arabia needs a Brent price closer to $90 to cover its domestic spending but is feeling pressure from the United States to head off rising prices by boosting output. Russia may be happy to pump more oil and settle for prices in the $60s, according to Tamar Essner, chief energy analyst for Nasdaq.
There are other considerations than dollars and rubles.
"This is not going to be a decision just based on market analysis and supply and demand," said Daniel Yergin, the vice chairman of research firm IHS Markit and author of several books on the energy industry. "The geopolitical factors will play in a lot."
Yergin said Saudi Arabia and the United Arab Emirates support the current, tougher U.S. policy toward Iran, Saudi Arabia's rival for influence in the region, and so will want to support Trump's call for lower prices. Trump has used Twitter to complain about high oil prices — and blame OPEC — twice since April.
Iran's oil minister, Bijan Namdar Zanganeh, questioned this week whether OPEC is united enough to reach any agreement, and said Trump had politicized the debate over oil prices. OPEC, he said, "is not an organization to receive the instruction from President Trump and follow it."
Other energy ministers, such as Iraq's Jabbar Ali Hussein Al-Luiebi, have expressed more optimism about an agreement.
If OPEC members and Russia agree to pump more oil, that will reduce global capacity for spare production — reserves of crude that can be brought online quickly. And that poses its own risks.
"If the volume of spare capacity goes down then the market gets much more vulnerable to supply shocks," said Essner, the Nasdaq analyst. "A host of geopolitical events around the world could really stoke prices higher."
Essner is betting that the Vienna meeting will yield an agreement to boost production by 500,000 to 800,000 barrels a day, far below the 1.5 million barrel figure floated recently by Russia's oil minister, Alexander Novak.
Phil Flynn, an oil analyst with The Price Futures Group, expects a deal for around an extra 1 million barrels a day. And he thinks prices will rise anyway.
"The market is going to say, 'That isn't enough,' and 'How quickly is it going to come online?' That's when we're really going to resume the price increases," Flynn said. He expects $80 crude by year end, $100 by 2020.
David Koenig can be reached at http://twitter.com/airlinewriter