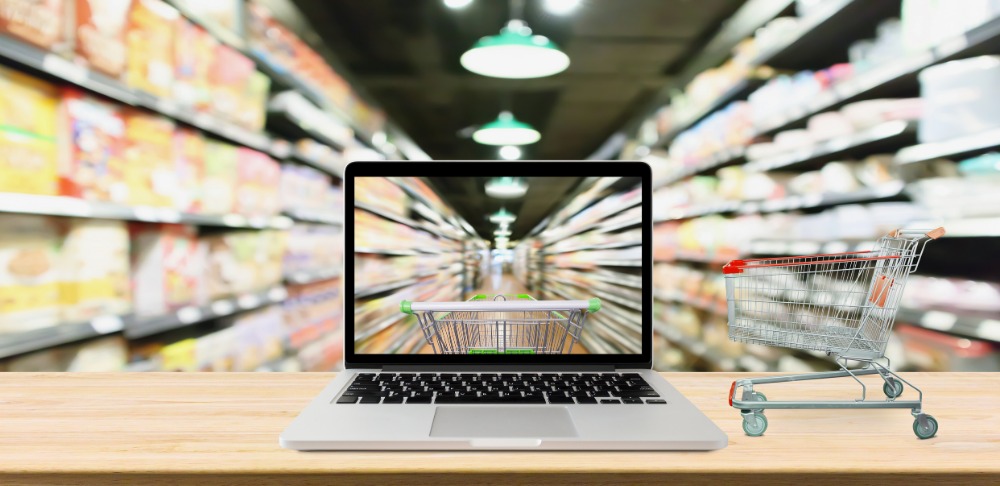 Image: iStock.com/Kwangmoozaa
Americans spend more money on groceries than anything besides housing.
The American grocery market is also 3X bigger than ALL of the online retail market. In other words, we spend 3-times more money on groceries than we do buying stuff over the internet.
Yet almost none of it happens on the internet.
You can see on this chart that a tiny 2% sliver of total grocery sales in America happens online: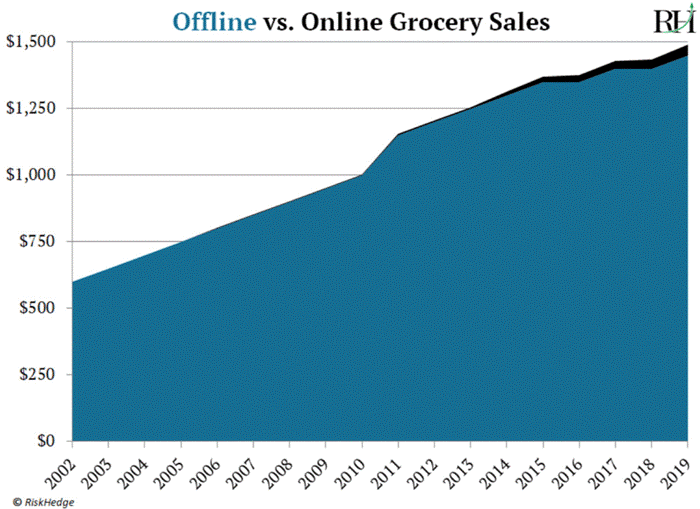 And there's been virtually no disruption in groceries over the last 60 years.
Most suburban Americans still drive to the grocery store. We still push a cart up and down the aisles. We still place our items on a conveyor belt at the register.
It's pretty much the same as it was in the 1960s.
But my research shows the monster grocery market is finally about to be turned on its head.
Amazon Has Set Its Sights on Groceries
Until recently, even mighty Amazon AMZN has been stumped by groceries.
It rolled out grocery delivery service Amazon Fresh back in 2007. Since then Fresh has lost money every year.
After a decade of failing to turn a profit, Amazon folded Fresh in most US cities in 2018.
In 2017 it set out on a new path. Amazon bought the Whole Foods supermarket chain for $13.7 billion.
Whole Foods is the largest natural and organic grocery chain in America. It operates roughly 470 stores around the country.
Acquiring Whole Foods is Amazon's first step into physical grocery stores.
In the next two years, it plans to open 3,000 "Amazon Go" stores in the US, according to Bloomberg.
Amazon Go stores are Amazon's "checkout-free" stores. They completely remove the time-consuming checkout process.
You walk in, scan your phone to verify who you are, pick up what you want, and walk out.
By the end of 2019, Amazon will have a grocery store within 20 miles of 70% of the American population…
This solves the biggest problem with online groceries: delivering fresh produce to skeptical customers.
In a 2019 eMarketer survey, 90% of shoppers said they'd buy groceries online from their current grocery store.
Just 4% said they'd buy from an "online only" grocer.
In other words, people are open to having their groceries delivered.
But they don't want to have milk and meat shipped to them from some warehouse 50 miles away. They want to buy groceries from companies they trust with a local physical presence.
America's Biggest Grocer Is Moving Online Too
Walmart WMT sells roughly one-fifth of all groceries in America.
With 5,300 stores in the US alone, it already has a store within 10 miles of 90% of American households.
Roughly 95% of Walmart's sales happen in its physical stores. But over the past three years it has plowed $20 billion into efforts to step up its online presence.
That's helped it to become the third-largest online retailer in America behind only Amazon and eBay.
By the end of this year, same-day grocery delivery from Walmart will be available to 60% of US households.
That's 195 million people who can choose to have their weekly shopping delivered to their doorsteps.
Many Grocery Chains Are in Big Trouble
Just 2% of the $1.5-trillion grocery market is online today. But as Walmart and Amazon go all-in, this should jump to around 20%.
That's 10X growth. And it's coming much faster than you might expect.
By the end of this year, more than 80% of Americans will have access to online groceries.
Meanwhile, many smaller grocery chains are at risk.
A study from consulting firm Oliver Wyman found that if just 8% of the grocery market moves online, one-third of all grocery stores will shut their doors.
You see, small grocers tend to be fragile because they survive on razor-thin margins.
The average net profit margin for grocery stores is just 1.9%. As I mentioned earlier, they make less than $0.02 in profit for every dollar of sales.
With such slim margins, even a small dip in sales can ruin their business.
Amazon and Walmart are two of the biggest, most powerful companies on earth. They're like a couple of 800-pound gorillas marching in on small grocers' territory.
There are 11 publicly traded grocery stocks in America. A tidal wave of disruption is about to hit all of them.
Some will end up like Borders, RadioShack, and Toys "R" Us: bankrupt and in retail heaven.
We're in the early stages of a big shift in the way people buy groceries.
Remember: Groceries are the largest consumer market in America. And the least amount of spending in this market occurs online.
It's shaping up to be a disruption investor's dream.