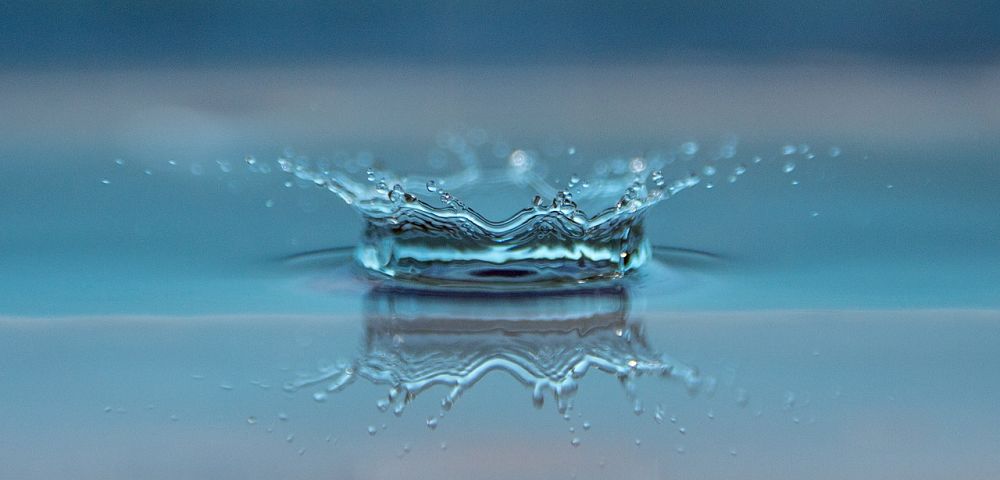 You've probably seen Matt Damon's commercial asking television viewers to purchase a Stella Artois chalice to provide clean drinking water for someone in the developing countries for five years. Like many of us, you probably haven't bought the chalice.
However, on Sunday, March 25, 2018, I participated in, "Water Ripples" a public installation by Stella Artois and Water.org at Grand Central Station in New York City. After purchasing a chalice, I was invited to step-up on stage, touch a chalice engraved on a column which set-off droplets that looked and felt like water ripples coming down on me all in unison.
The experience was completely immersive, moving, and powerful, both emotionally, and physically. During which time exhibit volunteers took a video of me, and sent it with the salutation, "Thanks for making a ripple. Your contribution will help provide someone with five years of clean water."
After, I found a pizza place, and bought an $8.00 can of Stella because I wanted to sip it from the chalice. While drinking it, I told my friend, the juxtaposition of me spending $8 felt embarrassing. I poured the beer back into the can. We spoke about one my favorite books by Pulitzer Prize winning author, Tracey Kidder, "Mountains Beyond Mountains."
A true story about Harvard doctor Paul Farmer who was practicing in Boston, traveled to Haiti, Peru, Cuba, and Russia, and decided to bring his lifesaving tools to those who needed it the most. Farmer founded, Partners in Health with the help of the Gates Foundation, George Soros, the U.N.'s World Health Organization, and others in his quest to cure the world.
Are Stella Artois and Water.org changing the world? Much has been written and tweeted about Damon's partnership between Stella Artois and his nonprofit group, Water.org. Apparently, the chalices are sold on Amazon for $13.00 but only $3.13 of the proceeds from each purchase go to Water.org.
"Water.org doesn't actually provide water to people in the developing world. So, your $3 won't go directly toward, say, the delivery of jugs of water or the building of a well. A custom micro lending system, WaterCredit is used by financial institution partners to lend money for water payments to buy a faucet or hire a contractor to tap into water supplies, or buy containers to catch rainwater." reported NPR — February, 2018.
Water.org reported in their financial statements that 3.8 million people were empowered with clean water and sanitation in 2017, with 10 million people, to date. The organization has achieved $722 million in loans for water and sanitation disbursed to families across eleven different countries. To me, that is an example of working to make the world a better place.
At SXSW, purpose-driven marketing was a huge topic. Consumers want brands to stand for something more meaningful. PepsiCo and Stella Artois marketers spoke about driving awareness beyond product-based campaigns. "Good purpose-driven marketing doesn't have to be strictly related to political or social causes. Having a nice CSR program doesn't make you a purpose-driven brand, it's a commitment that needs to be made 365 days a year to guide everything that your brand is doing," said Todd Kaplan, PepsiCo's VP of marketing.
To Michel Doukeris, Anheuser-Busch Zone President and CEO of North America, the core of these efforts begins with what matters most: "I always refer to the idea that most of our actions with our brands, and in marketing, start with the 'Why?' — How do you understand what's inside people's hearts and how do you touch them? The beauty of combining heart, the business rationale and the magic is this impact that you can have with brands."
Yesterday, "Water Ripples" did touch my heart and felt magical. It was impactful enough that I immediately went home and started researching the companies involved and the stories surrounding the campaigns' success.
It reminded me of the The ALS Ice Bucket Challenge. On that day, I wasn't thinking about ALS. But, once I heard and saw all the people participating, even my three sons, I wanted to learn more. Not only did it drive awareness but it raised $115 million in 2014.
Once again, the ripple affect.
About the Author: Wendy Glavin is Founder and CEO of Wendy Glavin, a NYC full-service agency. Wendy is a 20-year veteran of corporate, agency, consulting and small business ownership. She specializes in B2B2C marketing communications, PR, social and digital media. Her website is: http://wendyglavin.com/. Contact her at: [email protected].