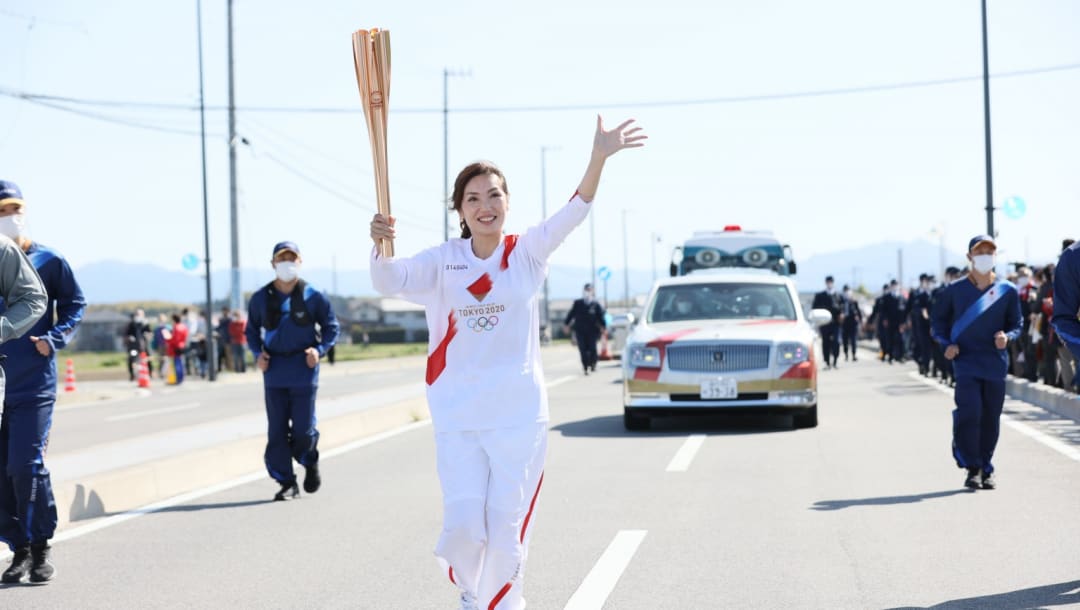 Image: Five-time Olympic medalist Takeda Miho runs with the Olympic Torch, April 7, 2021, Tsu, Mie prefecture. Source: The Tokyo Organising Committee of the Olympic and Paralympic Games.
Japan's Osaka prefecture will move its portion of the Olympic Torch Relay off public roads and into a park without any spectators after a rise in COVID-19 cases prompted the government to declare a medical state of emergency.
The relay will instead take place at the Expo '70 Commemorative Park in Suita on April 13 and 14, the Tokyo 2020 organizing committee announced Wednesday.
In a statement, the committee said it will "implement all necessary measures to ensure a safe environment" and will "continue to work closely" with government officials in each prefecture due to host segments of the torch relay "to ensure that these events are safe and secure for all local communities."
The relay began its 121-day journey on March 25, starting off in Fukushima, and has been working its way across southwest Japan.
The flame is scheduled to make its way through the country before reaching its final destination in Tokyo to kick off the official start to the Olympics. More than 10,000 runners are expected to take part in the four-month relay.
The Summer Games are currently scheduled to take place in Tokyo from July 23 to August 8, while the Paralympics will be held from August 24 to September 5. The Olympic Committee has already banned spectators from abroad and said the opening ceremony will be scaled down to a much smaller affair.
Closing off the torch relay to the public comes at the request of Osaka officials, who have become increasingly concerned the region is seeing a fourth wave of outbreaks, which has placed enormous strain on the healthcare system.
Osaka declared a state of emergency on Monday, reporting 878 new COVID-19 infections – its second straight day of record numbers – on Wednesday, Reuters reported. Officials also said almost 70% of local hospital beds were occupied.
"It is almost certain that this mutant strain is highly contagious with a high transmission speed," Osaka Governor Hirofumi Yoshimura said in a televised statement. "I would like to ask all residents of Osaka prefecture to refrain from going out unnecessarily. The medical system is in a very tight situation."
Osaka is reporting even more cases than the much larger city of Tokyo, which had 555 new cases on Wednesday – its highest number since early February.
Tokyo Governor Yuriko Koike said that the capital was preparing similar emergency precautions to stop the spread of the virus and Japanese Prime Minister Yoshihide Suga has said regional lockdown measures would be expanded as necessary, Reuters reported.
Less than 1% of Japan's population – about 1 million people – has received at least one dose of a COVID-19 vaccine since the country's vaccination drive began in February.
_____
Source: Equities News