March Crude Oil futures traded as low as $27.39, down 55 cents, in the last few minutes; lowest trade ever for the contract. Previous low $27.56 on Jan. 20. These words come from my trader feed, and it really is all that matters. I guess what Janice Yellen says matters, but these numbers are the current metrics to watch. If you are paying attention you will see that Oil is what matters, it is driving every market. The reason is it is becoming a Fat Tail, an aberration, an unexpected event. Now I want you think about gas at your pump at .88 cents a gallon. Because what I see below says that is where Oil is going and why it is driving everyone who manages assets.
The weekly report on energy inventories is due out at 9:30am CST. Stocks of Crude Oil are forecast to increase 2.85 million barrels, Gasoline inventories are expected to rise 1.0 million and the estimate for Distillates is -1.1 million.

Below is a 10 year Chart on Oil using (XLE)...which tracks front month Crude Oil and is the liquid product used by traders..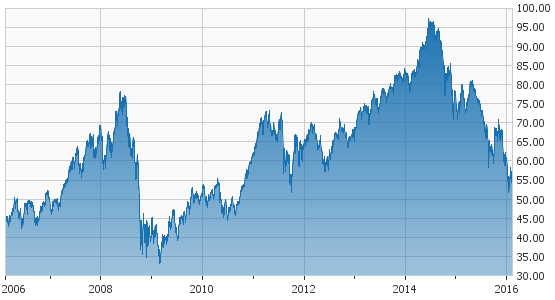 DISCLOSURE: The views and opinions expressed in this article are those of the authors, and do not represent the views of equities.com. Readers should not consider statements made by the author as formal recommendations and should consult their financial advisor before making any investment decisions. To read our full disclosure, please go to: http://www.equities.com/disclaimer