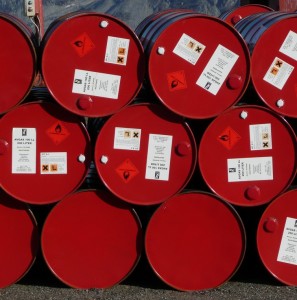 Crude-oil futures slumped once again on Friday as fears over the state of the global economy push it down close to 10 percent for the month of September. For the quarter, oil has slid 16 percent on fear that European debt contagion and slow global growth will continue to be concerns in the global economy and weaken the demand for oil.
Several mildly optimistic news items help bolster the contract slightly in late day trading but the trend for oil seems to be ultimately lower. Small boosts, like the ones earlier in the week and on Thursday, have been quickly erased. The recent strength of the dollar is likely to exacerbate the exit from oil in spite of its prolonged tenure beneath its technical norms. Crude is currently trading beneath $80 per barrel after peaking at nearly 2008 level highs near April at the height of the turmoil in the Middle East.
Some believe oil has the potential to continue to decline on the flat economic growth reports and fear that a double dip would make a recovery unlikely. Until some resolve is found in Europe or Americans are able to feel reassured against the possibility of a double dip, oil can be predicted to be seen as untouchable.
The major oil and gas companies have followed crude lower with Exxon Mobil (XOM) mirroring the crude slide for the month and falling in daily trading. Positive exploration news regarding an Arctic oil reserve for the company was largely overlooked with investors focusing largely on the current dangers of one of equities and the limitations a strong dollar puts on commodity buying.
Chevron (CVX) has also been a recent victim of the volatility. Some argue oil, because of its essential role in our daily life, makes a solid safe haven and offers consistently attractive dividends. While this point is compelling to some, the lack of certainly in terms of its direction both long and short term and the constant flip-flopping in Wall Street sentiment has had it following a one-step forward two-steps back trajectory. Chevron fell less steeply than Exxon for the month though, sliding just shy of six percent.
Conoco Phillips(COP) has also been recommended for its strong dividends by analysts but shares fell again in the last day of trading and have slid 6.66 percent for the month.
Analysts have been more bearish with Sunoco (SUN). The east coast refinery has tumbled over 17 percent for the month and recently announced plans to shed two refineries sounded alarm for some investors in recent trading.
DISCLOSURE: The views and opinions expressed in this article are those of the authors, and do not represent the views of equities.com. Readers should not consider statements made by the author as formal recommendations and should consult their financial advisor before making any investment decisions. To read our full disclosure, please go to: http://www.equities.com/disclaimer