Ocular Therapeutix (OCUL) Doses First Patient in Phase 1 Macular Degeneration Trial
Edward Kim Follow |

Age-related macular degeneration (AMD) is the leading cause of vision loss globally, responsible for half of all cases of visual impairment. It's caused by the deterioration of the central portion of the retina; such deterioration blurs the sharp, central vision needed for activities such as driving, reading, recognizing faces or typing on a laptop as I'm doing right now. In 85% to 90% of AMD cases (dry AMD), the disease advances so slowly that vision loss may not not occur for a long time, according to the National Eye Institute. In others (wet AMD), the disease is characterized by rapid onset and may lead quickly to a loss of vision in one or both eyes. Although only about 10% of AMD cases are wet AMD, this form of the condition accounts for the majority of AMD-related blindness.




Source: National Eye Institute
Ocular Therapeutix
Bedford, Massachusetts, based Ocular Therapeutix (OCUL) is developing therapies for eye diseases. The company announced today that it has dosed its first patient in a Phase 1 trial of OTX-TKI (tyrosine kinase inhibitor implant) in wet AMD at the Sydney Retina Clinic. Tyrosine kinase (TK) is an enzyme that serves critical regulatory "on/off" functions in numerous cellular processes. OTX-TKI is a bioresorbable hydrogel that contains TK inhibitor (TKI) particles in an injectable fiber, designed to be delivered to the target tissues for an extended duration of up to nine months. The current standard of care requires dosing every one to two months.
Preclinical data have demonstrated the ability to deliver TKI to the posterior segment of the eye with sustained effect for the treatment of VEGF-induced retinal leakage for a duration of up to twelve months. Vascular endothelial growth factor (VEGF) is critical to the generation of new blood vessels (angiogenesis), and its association with tumor angiogenesis has been long known and well defined.
Our trial is primarily intended to demonstrate safety, but we will also evaluate biological activity in patients with increased retinal thickness and measure whether there are decreases over time. Given that TKIs act upstream of VEGF inhibitors, we believe this Phase 1 trial may bring us one step closer to understanding whether TKIs may represent a next-generation treatment for wet AMD and diabetic macular edema.

- Michael Goldstein, MD, Chief Medical Officer, Ocular Therapeutix.
Pipeline
Ocular Therapeutix is engaged in development across several therapeutic areas in ophthalmology that represent attractive market opportunities and that should offer continued growth potential. The product candidates are engineered to address specific therapeutic needs across ocular surface, anterior segment and posterior segment diseases.
The company received its first FDA approval in December 2018 for Dextenza (dexamethasone ophthalmic insert) for post-surgical pain. Dextenza is first FDA-approved intracanalicular (within a small channel or duct) insert for drug delivery.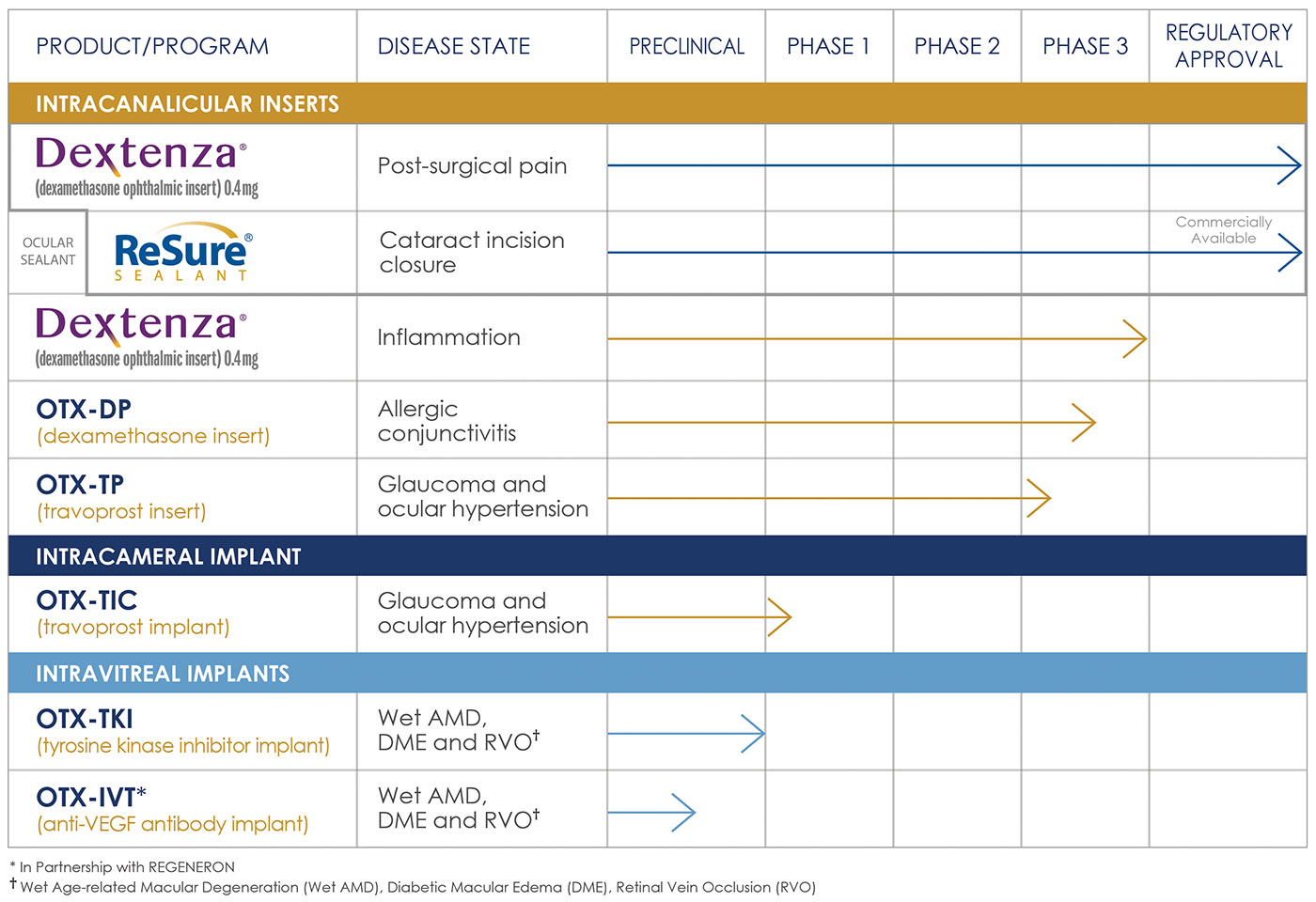 Source: Ocular Therapeutix

Investment issues to consider
Readers may recall that Ocular Therapeutix was a popular IPO five years ago, raising $75 million at a post-money valuation of $277 million via Morgan Stanley, Cowen and RBC. From an issue price of $13 per share in July 2014, the stock more than tripled by the first quarter of 2015. Since then, the company has raised equity capital several times including another deal with the original bankers in 2016, followed by a deal with Cantor Fitzgerald in 2017 and one with Piper Jaffray in 2018. All told, the company has an accumulated deficit of $280 million through Q3 2018, and filed a Form S-3 shelf for $200 million in December 2018.
The stock is trading late afternoon Wednesday at $3.81 for a market capitalization of just $157 million. It feels like OCUL bottomed a couple of weeks ago at $3.46, and we like where it sits on the risk-reward spectrum. The company's hydrogel formulation, intracanalicular inserts and intracameral injections have the potential to ultimately displace eyedrops as the preferred method of drug delivery. Additionally, for the near-term, the company has outlined several milestones it anticipates achieving in 2019: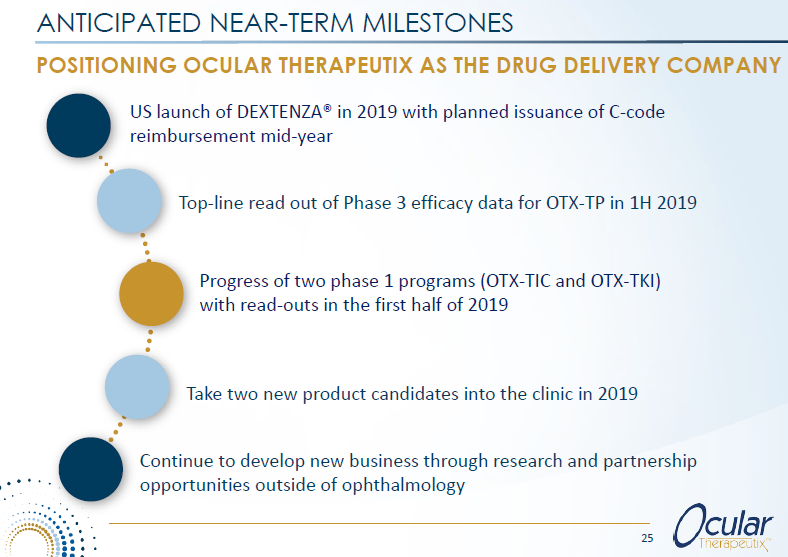 Source: Ocular Therapeutix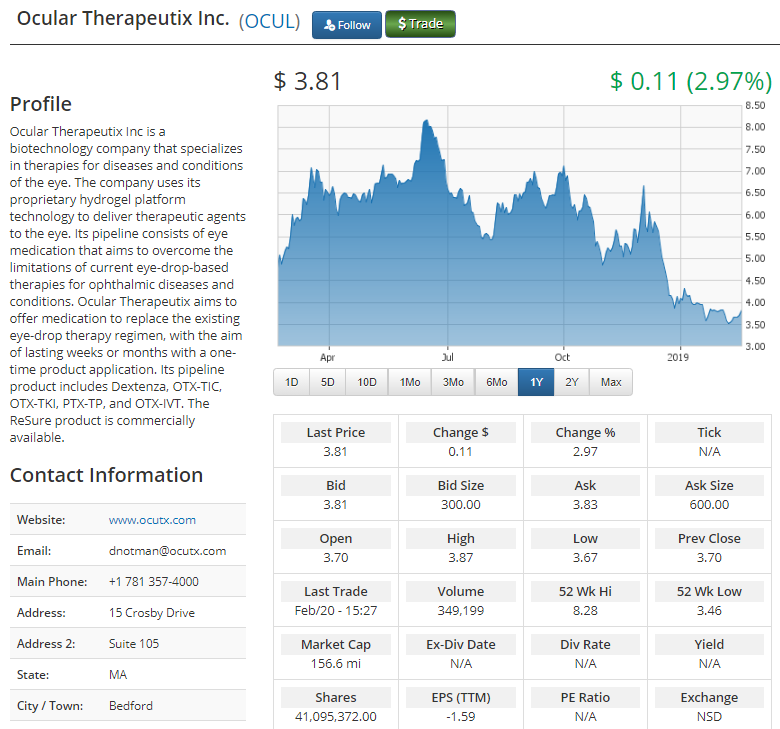 Please email us at content@equities.com to see our Case Studies and Testimonials.

Please click here for information on our equity trading platform.
Please click here to receive our free daily newsletter.
DISCLOSURE: The author has no positions or any beneficial interest in, and has received no compensation from, the companies mentioned in this article.

---
The views and opinions expressed in this article are those of the authors, and do not represent the views of equities.com. Readers should not consider statements made by the author as formal recommendations and should consult their financial advisor before making any investment decisions. To read our full disclosure, please go to: http://www.equities.com/disclaimer
Companies