Over 55,000 people in the US will be diagnosed with pancreatic cancer this year, according to the American Cancer Society, while over 44,000 people will die from the disease. Pancreatic cancer accounts for about 3% of all cancers in the US and about 7% of all cancer deaths. Pancreatic cancer has very low survival rates—the one-year survival rate is 20%, and the five-year rate is 7% for all stages of pancreatic cancer—as less than 20% of patient tumors are confined to the pancreas at the time of diagnosis, according to the Hirshberg Foundation for Pancreatic Cancer Research. In most cases, the malignancy has already progressed to the point where surgical removal is impossible.
Novocure NVCR announced today that it is collaborating with US Oncology Research on the Phase 3 trial, called PANOVA-3, to test Novocure's Tumor Treating Fields device in combination with chemotherapy (nab-paclitaxel and gemcitabine) in patients with unresectable locally advanced pancreatic cancer. The Tumor Treating Fields device is a cancer therapy that uses electric fields tuned to specific frequencies to disrupt cell division, thereby inhibiting tumor growth and causing affected cancer cells to die. Novocure received FDA approval in 2011 for using the device to treat adults with glioblastoma multiforme (GBM) following tumor recurrence after chemotherapy. Data from the company's Phase 2 trial of the Tumor Treating Fields device suggested an improved one-year survival rate among patients who received the combination therapy compared to a Phase 3 trial of patients who received chemotherapy alone.
Source: Novocure
US Oncology Research is the research division of US Oncology Network, one of the largest networks of integrated, community-based oncology practices and a subsidiary of McKesson MCK. US Oncology Research serves about 60 research sites and over 150 locations managing about 300 active trials at any given time. Physicians in the research network have enrolled more than 75,000 patients in over 1,600 trials since inception two decades ago and have played a role in more than 75 FDA-approved cancer therapies, approximately one-third of all cancer therapies approved to date.
US Oncology Research will open 10 clinical trial sites to enroll patients in Novocure's Phase 3 study, which will include 556 patients with unresectable locally advanced pancreatic cancer. Patients should have an Eastern Cooperative Oncology Group (ECOG) score of 0-2 and no prior progression or treatment.
Our strategic collaboration with US Oncology Research is an important milestone as we aim to bring better treatment options to patients with pancreatic cancer. We believe this relationship will accelerate enrollment of patients in our PANOVA-3 trial.
– Eilon Kirson, MD, PhD, Chief Science Officer and Head of Research and Development, Novocure.
Novocure is headquarted in St. Helier in Jersey, with operations in Portsmouth, New Hampshire, Switzerland, Germany, Japan and Israel. The company generated revenues of $217 million in the 12 months ended June 20, 2018, substantially all from sales of its Tumor Treating Fields device in treating glioblastoma multiforme. The company has already reported positive Phase 2 results this year in ovarian cancer and mesothelioma, and, in June 2018, began a Phase 2 pilot trial in liver cancer.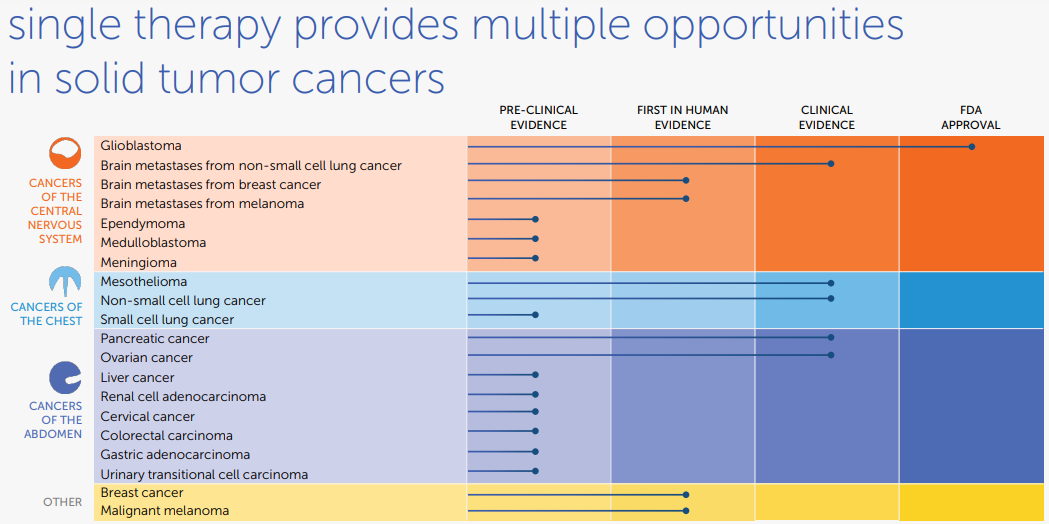 Source: Novocure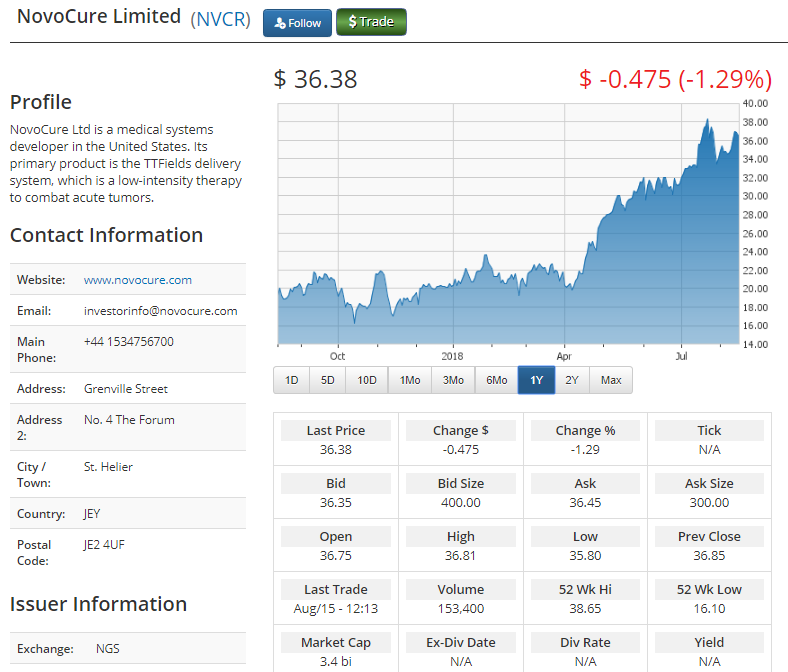 Please email us at [email protected] to see our Case Studies and Testimonials.
Please click here for information on our new trading platform.
Please click here to see our weekly newsletter.