~ First FDA-approved treatment for primary haemophagocytic lymphohistiocytosis (HLH) ~
Haemophagocytic lymphohistiocytosis (HLH) is a rare, life-threatening hyperinflammatory condition in which the body makes too many activated immune cells. HLH mostly affects infants and children, who usually inherit the disease; this is known as primary HLH. The condition can also occur in adults, who can acquire it through a variety of conditions including cancer and infections; this is known as acquired HLH. In patients with HLH, certain white blood cells attack the body's other blood cells. These abnormal cells collect in the spleen and liver, causing these organs to enlarge and malfunction, according to Johns Hopkins Medical Center. Other serious symptoms may include fever, cytopenia (decreased number of blood cells) and neurological abnormalities.
Novimmune, the privately held Swiss biopharmaceutical company, is developing antibody-based therapies for inflammatory diseases, immune-related disorders and cancer. The company discovered and developed an antibody called emapalumab that targets interferon gamma (IFN?), a protein that, in normal quantities, is important to the regulation of immune functions. Abnormal levels of IFN?, however, are associated with numerous autoinflammatory and autoimmune diseases including HLH, lupus, insulin-dependent diabetes and arthritis, among others. In July 2018, Novimmune sold the rights to emapalumab to Swedish Orphan Biovitrum, more commonly known as Sobi SWTUY, for SEK 3.65 billion (US$ 388 million) to be paid over nine annual installments.
The companies announced today that the FDA has approved emapalumab for the treatment of pediatric and adult patients with primary HLH with refractory, recurrent or progressive disease or intolerance to conventional HLH therapy. Emapalumab, to be marketed by Sobi as Gamifant, is the first approved therapy for primary HLH. Its targeted method of action represents a major advance over the current standard of care which can broadly involve chemotherapy, immunotherapy, steroids, antibiotics and antivirals. The approval was based on data from Novimmune's Phase 2/3 study which showed that 63% of primary HLH patients demonstrated an overall response at the end of treatment, and 70% of patients were able to proceed to stem cell transplantation.The FDA had previously granted Gamifant the multiple beneficial designations of Priority Review, Breakthrough Therapy and Orphan Drug.
Gamifant represents another win for Sobi, which announced last week that it acquired the US rights to Synagis (palivizumab) from AstraZeneca AZN. Synagis is the only approved respiratory syncytial virus (RSV) prophylaxis for high-risk infants. Gamifant and Synagis will complement Kineret (anakinra), Sobi's treatment for severe active rheumatoid arthritis in adults and neonatal-onset multisystem inflammatory disease (NOMID), to form a foundational immunology business.
The FDA approval of Gamifant marks an important milestone in Sobi's vision to bring transformative treatments to patients with a high medical need. Gamifant will add significant strength to Sobi's Immunology franchise, along with Kineret and the recent acquisition of the US rights to Synagis. We would like to acknowledge the excellent work done by Novimmune to develop and bring this important treatment to approval and Sobi will now focus on ensuring a successful commercialisation of Gamifant for the benefit of HLH patients in the US.

– Guido Oelkers, President and CEO, Sobi.
We are extremely glad to make a new medicine available for patients suffering from primary HLH. Gamifant is the first drug specifically targeted to neutralise IFN?. We would like to extend our heartfelt thanks to the patients, families and the healthcare providers who participated in the emapalumab clinical study and whose efforts helped make today's approval possible. We would also like to thank the FDA for their continuous support during emapalumab development. Based on the clinical validation of this new target, additional clinical studies are ongoing or being planned with emapalumab in diseases for which IFN? is considered pathogenic.

– Cristina de Min, Chief Medical Officer, Novimmune.
While Novimmune is a private company, there are numerous ways for investors to participate in the potential upside of the developmental pipeline of therapeutic antibodies as a result of the company's multi-pronged partnership strategy. In addition to Sobi, which trades most liquidly in Sweden with rather illiquid ADRs in the US, Novimmune also has agreements with Genentech, part of Roche RHHBY, TG Therapeutics TGTX, Shire SHPG, Tiziana Life Sciences TLSA and LegoChem Biosciences (listed in Korea).
Primary HLH is a rare and life-threatening condition typically affecting children and this approval fills an unmet medical need for these patients. We are committed to continuing to expedite the development and review of therapies that offer meaningful treatment options for patients with rare conditions.

– Richard Pazdur, MD, Director, FDA's Oncology Center of Excellence, and Acting Director, Office of Hematology and Oncology Products in the FDA's Center for Drug Evaluation and Research.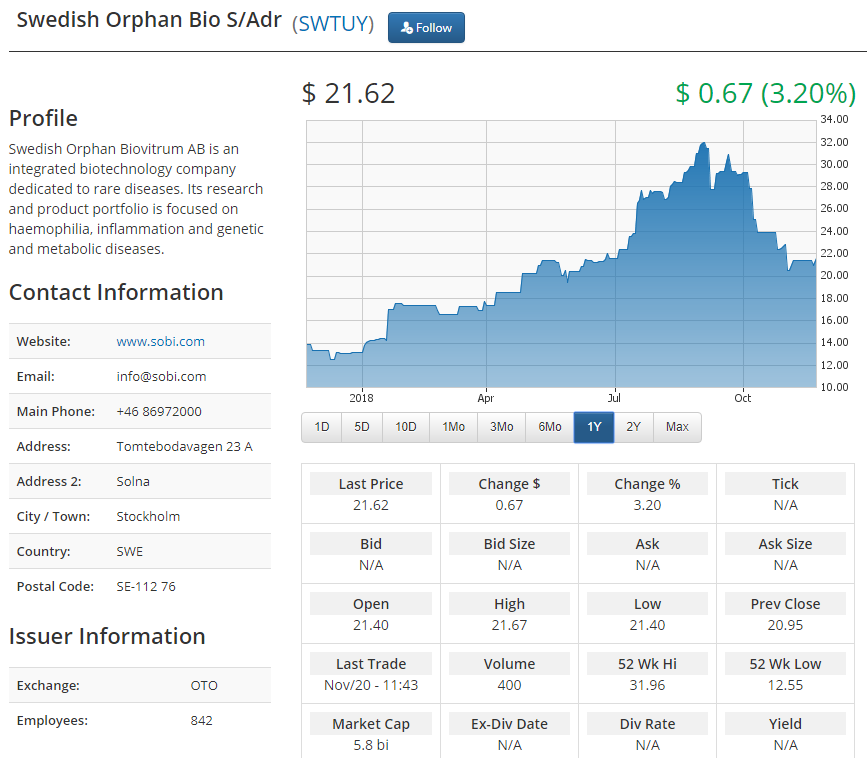 Please email us at [email protected] to see our Case Studies and Testimonials.
Please click here for information on our new trading platform.
Please click here to receive our free daily newsletter.