NorthStar Medical Radioisotopes, a privately-held Wisconsin company, announced today that the FDA and the Nuclear Regulatory Commission (NRC) approved the company's RadioGenix System for producing Technetium-99m (Tc-99m), the most widely used radioisotope in medical imaging. RadioGenix is a separation platform indicated for use in producing Tc-99m from the company's non-uranium based molybdenum-99 (Mo-99) isotope. The NRC is issuing guidance and will license the RadioGenix System to enable the Tc-99m it produces to be used for its medical purpose.
There has been no US production of Mo-99 for 30 years. The supply of Mo-99 has been subject to frequent and sometimes prolonged interruptions, disrupting and often delaying the diagnosis and treatment of patients in need of medically important diagnostic tests that require the use of this radioisotope. Furthermore, current bulk production of Mo-99 is based on enriched uranium which poses significant environmental concerns.
Tc-99m is critical for patients in need of important diagnostic tests and used primarily for medical imaging as well as for medical research. It is used to diagnose and stage serious medical conditions such as heart disease, cancer, infection and inflammation. Tc-99m is used in more than 40,000 imaging procedures daily in the US and at least an equal number of procedures throughout the rest of the world. Cardiac imaging is standard of care and represents approximately 80% of these 40,000 procedures.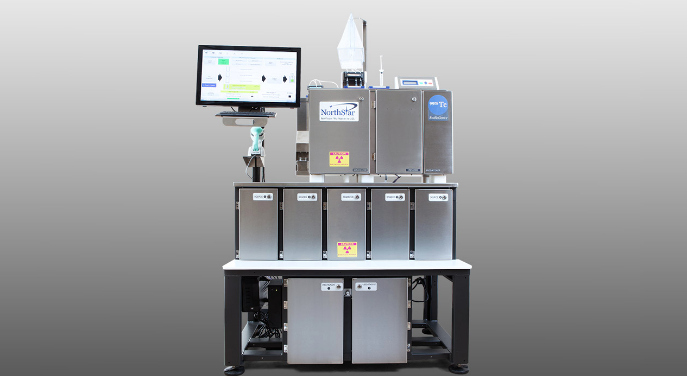 RadioGenix System (source: NorthStar Medical Radioisotopes)
With the FDA's approval of the RadioGenix System, NorthStar can begin providing its customers with a reliable and environmentally friendly supply of the Mo-99 radioisotope for the United States. As the first, and thus far only company to achieve the objective of being the first U.S. producer of Mo-99 in more than 25 years, we are extremely proud to pioneer domestic production of Mo-99 that is independent of uranium-based product. The approval by the FDA will reduce the U.S. healthcare system's reliance on fragile foreign supply of Mo-99 and the use of enriched uranium target material.
– George P. Messina, Chairman and CEO of NorthStar Medical Radioisotopes.
Partial funding for NorthStar's technology was provided by the Department of Energy's National Nuclear Security Administration. Under provisions of the American Medical Isotopes Production Act of 2012, efforts have been made to establish domestic production of Mo-99 and to promote the use of Mo-99 produced without reliance on highly enriched uranium, which has been deemed a nuclear proliferation risk by Congress. NorthStar's technology uses stable isotopes of molybdenum, rather than enriched uranium, thereby avoiding the national security and environmental risks associated with enriched uranium.
The RadioGenix System is a proprietary, patented platform technology with potential pipeline applications including alpha therapies such as actinium-225 / bismuth-213, and beta therapies and diagnostic imaging agents such as tungsten-188 / rhenium-188, germanium-68 / gallium-68, among others.
Please email us at [email protected] to see our Case Studies and Testimonials.
Please click here if you would like information on our new trading platform.
Please click here if you would like to see our weekly newsletter.