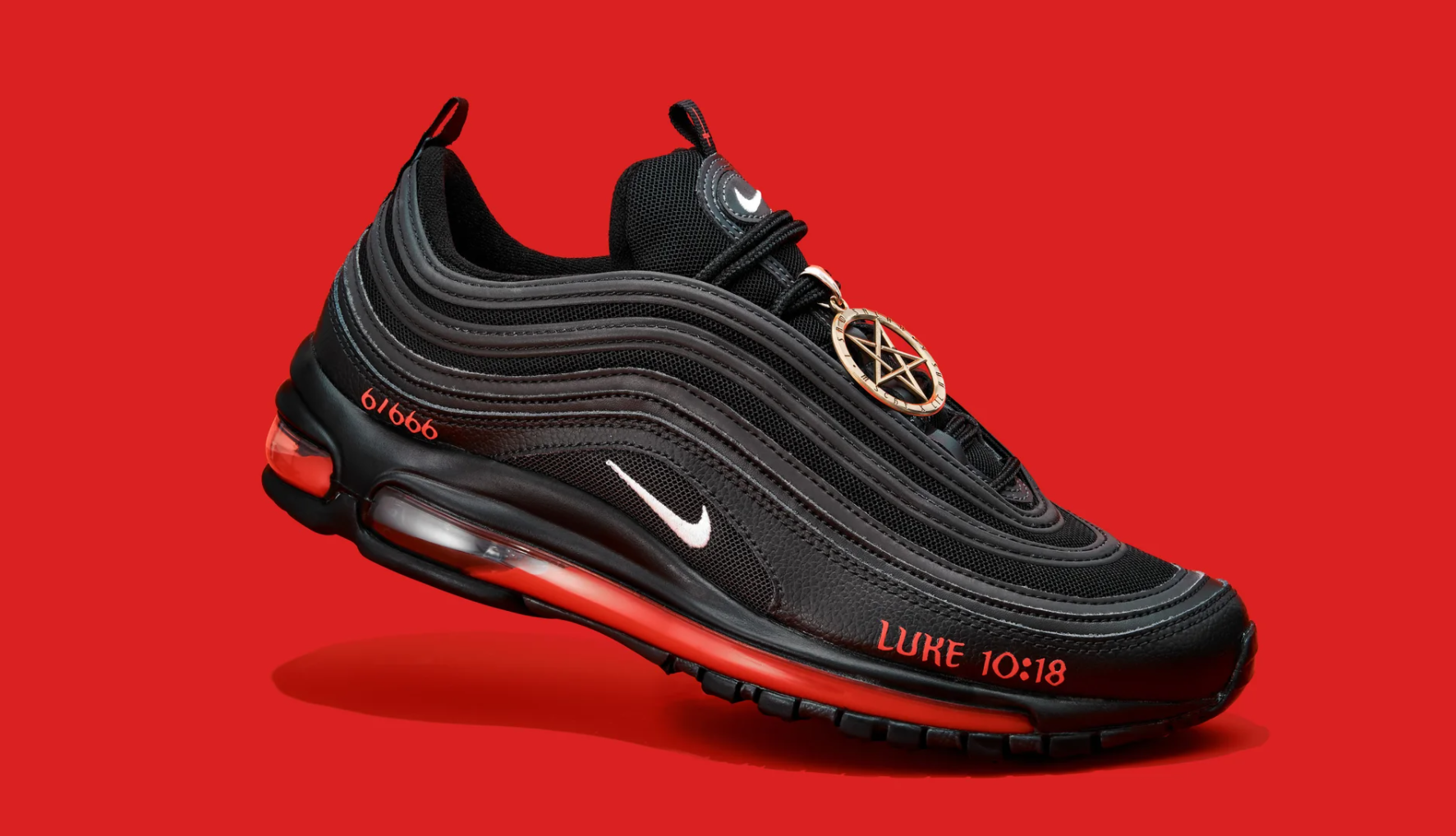 Image source: MSCHF Product Studio
Nike Inc (NYSE: NKE ) has filed a trademark infringement lawsuit against the New York-based designer of rapper Lil Nas X's limited edition satanic-themed Air Max 97 shoes.
Filed Monday in New York federal court, the athletic shoemaker's suit claims MSCHF Product Studio Inc altered its trademarked product without its "permission and authorization" and that it was "in no way connected with this project."
The customized sneakers are decorated with a pentagram pendant, pentagram designs on the heel and an inverted cross on the tongue pull-tab. The back of one shoe says "MSCHF" and the other says "Lil Nas X."
In a statement to The Associated Press, MSCHF chief executive officer Gabe Whaley said Nike "did not have any involvement whatsoever" in the project. He added that his streetwear company purchased the sneakers from Nike and then made its own modifications before marketing them.
After going on sale earlier in the day, all 666 pairs sold out in less than one minute at a cost of $1,018 each, according to multiple media reports.
Nike's complaint claims there is "already evidence of significant confusion and dilution occurring in the marketplace, including calls to boycott Nike in response to the launch of MSCHF's Satan Shoes based on the mistaken belief that Nike has authorized or approved this product."
Montero Lamar Hill, who goes by his stage name Lil Nas X, is not named as a defendant in the suit, though he collaborated with MSCHF on the limited shoe release.
The Grammy-winning rapper, 21, released a video on Friday for a new song "Montero (Call Me By Your Name)," in which he dances with a character wearing devil horns.
On Monday, he tweeted about it using a "SpongeBob Square Pants" clip, showing character Squidward begging for money and captioned it "Me after the Nike lawsuit."
Nike, which is suing for trademark infringement, dilution and unfair competition, asked the court to immediately stop MSCHF from fulfilling orders for the shoes and requested a jury trial to seek damages.
_____
Source: Equities News