The National Institutes of Health is teaming with government, biopharmaceutical, life science and non-profit organizations to overcome obstacles and increase success for advancing promising treatments for Parkinson's disease (PD). Part of the NIH Accelerating Medicines Partnership (AMP), AMP PD will focus on identifying and validating promising markers of disease called biomarkers that may be useful in tracking the progression of PD and could serve as biological targets for the development of new drugs.
The partners in the Parkinson's disease program include:
These organizations will invest a combined total of $12 million over five years through the Foundation for the National Institutes of Health (FNIH), which will manage the project. This total includes $2 million of in-kind contributions in software and services from Verily. NIH's National Institute of Neurological Disorders and Stroke (NINDS) will match the private sector funds with an additional $12 million contribution, pending availability of funds. The FDA will also be a critical partner in providing regulatory guidance.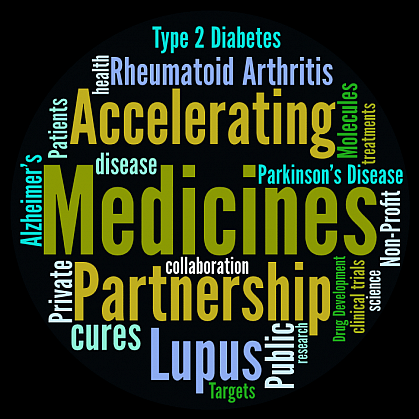 Advancing treatments for Parkinson's disease is hampered by insufficient understanding of biological networks; drugs aimed at seemingly promising therapeutic targets fail in clinical trials. By combining our expertise and resources, AMP PD partners hope to increase our collective odds of success in accelerating the development of effective treatments for a million Americans who suffer from this debilitating disease.
– Francis S. Collins, MD, PhD, Director, NIH.
A key benefit of these studies will be access to the AMP PD Knowledge Portal. With its development supported in kind through Verily, the Knowledge Portal will enable the sharing of de-identified data and findings among all the AMP PD partners and the entire research community. The partners will analyze combined datasets from more than 3,000 PD cases and 1,700 healthy controls from studies funded by NINDS and MJFF, including the Parkinson's Progression Markers Initiative. The goal will be to determine which biomarkers show the most potential for predicting disease progression and prognosis. Results from these analyses will be shared via the Knowledge Portal, providing the opportunity to conduct genome-wide analyses on a scale that could not be performed by a single partner alone.
The AMP PD Knowledge Portal will provide data storage, pipelines and visualization tools that could enable unique opportunities for data science solutions for human disease modeling and for the identification of the underlying biology related to PD pathogenesis.
– Margaret Sutherland, PhD, NINDS program director and co-chair of the AMP PD Steering Committee.
Launched in 2014, AMP's initial projects have focused on Alzheimer's disease, type 2 diabetes and the autoimmune disorders rheumatoid arthritis and systemic lupus erythematosus, with tangible progress having been made in all three disease areas.
The expansion of AMP into Parkinson's disease is a testament to the success of this groundbreaking initiative that is radically changing the way we approach early-stage drug development. The FNIH is proud to play a role in this partnership by harnessing the collective capabilities and resources from the public and private sectors with the aim of advancing biomedical research and ultimately improving health.
– Maria C. Freire, PhD, president and executive director of FNIH.
Please email us at [email protected] to see our Case Studies and Testimonials.
Please click here if you would like information on our new trading platform.
Please click here if you would like to see our weekly newsletter.