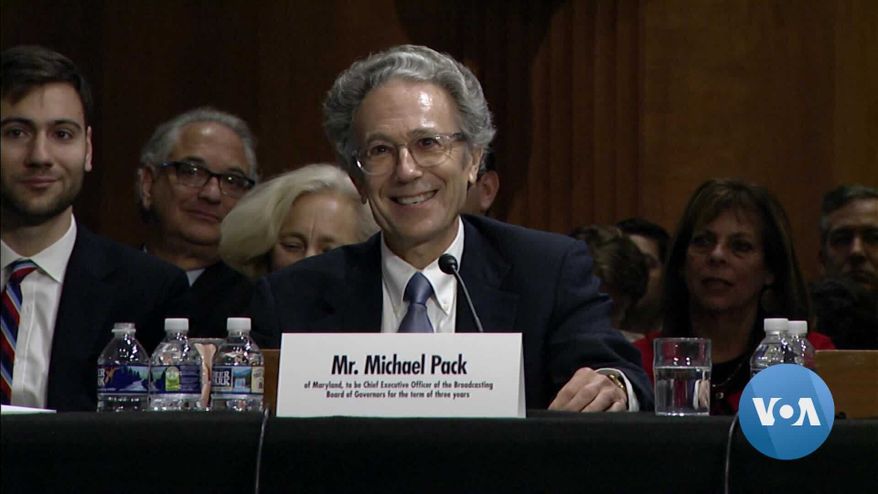 Image source: US Agency for Global Media
Michael Pack, Chief Executive Officer of the U.S. Agency for Global Media (USAGM), is moving ahead with changes to Voice of America and other international broadcasters that have raised concerns about their future as independent news organizations.
Despite making assurances to Congress that Voice of America (VOA), the largest U.S. multimedia agency for the government's non-military, global external broadcasting, would remain independent, Pack initiated personnel changes and began a review of visas from foreign employees.
Pack had assured Congress that he would consult lawmakers on any significant developments, but Congress has received no such guidance.
Last week, the agency removed Iranian and North Korean flags from its display at Washington headquarters. The agency tweeted:
As of today, the flags of regimes hostile to America no longer fly in the halls @USAGMgov, the taxpayer-funded home of U.S. international broadcasting. #America #freedom #SpotTheDifference pic.twitter.com/Yvu1HgF40Q
— USAGMspox (@USAGMspox) July 9, 2020
USAGM is doing a case-by-case assessment of contractors who are J-1 visa holders, ostensibly to improve agency management and personnel practices.
Democrats suspect Pack intends to promote Trump over broader American values and interests, and even some Republicans have demanded explanations for his personnel decisions.
Since taking the role as head of USAGM, Pack has dismissed the heads of Radio Free Europe/Radio Liberty, Radio Free Asia, Middle East Broadcasting Networks and the Open Technology Fund. The director and deputy director of VOA resigned within days of Pack assuming command.
On July 1, seven U.S. senators, including four Republicans who had voted in favor of his controversial nomination, sent a letter to Pack. "These actions, which came without any consultation with Congress, let alone notification, raise serious questions about the future of USAGM under your leadership," they wrote.
Particularly galling is the appointment of 78-year-old former South Carolina Secretary of State James Mills to run the Open Technology Fund, a position for which he has little, if any, relevant experience.
_____
Source: Equities News