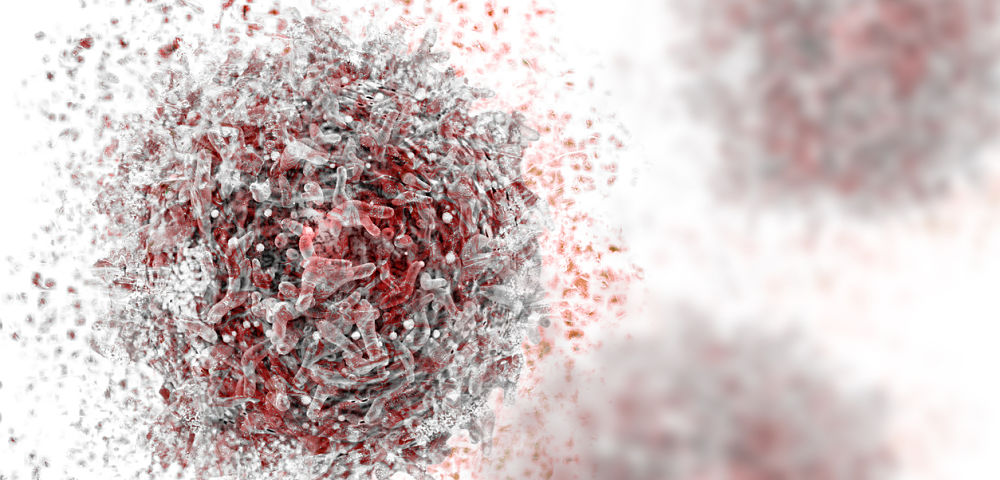 The Journal of Biomedical Science, an open access, peer-reviewed journal, published a study in its January 27, 2018, issue that highlighted the unique method of action of Immunovaccine's (IMV:CA)(OTCQX: IMMVF) DepoVax vaccine formulation. The study, entitled "Unique depot formed by an oil-based vaccine facilitates active antigen uptake and provides effective tumour control," concluded that DepoVax "may be uniquely poised to generate strong and sustained T-cell responses that are linked to clinical benefit in cancer immunotherapies."
The results of the study further validate Immunovaccine's DepoVax as a promising new mechanism of action in the field and can serve as a safer alternative to CAR T-cell therapy—which has attracted significant industry attention in recent years. What's more, DepoVax treatments have shown to work against solid tumors, which CAR T-cell and the majority of other immuno-oncology therapies do not.
Understanding the Study

The study, conducted by Immunovaccine in conjunction with BIOTIC, a hospital-based medical imaging research center in Halifax, Nova Scotia, compared the activity of DepoVax, a non-aqueous oil formulation that doesn't require creation of an emulsion for delivery, with three oil emulsions that are commonly used as vaccine delivery platforms.
Water-in-oil emulsion (w/o), the most common delivery platform
Squalene oil-in-water emulsion (squal o/w)
Sapolin/liposome emulsion (sap/lip)
Healthy female mice were implanted with a cervical cancer tumor model that expresses a specific, known antigen and then injected five days later with a vaccine containing R9F (antibody specific for that antigen) in one of the four formulations. Magnetic resonance imaging was then used to monitor levels of antigen clearance and tumor progression.
Key Findings on DepoVax

The mice vaccinated with the DepoVax formulation demonstrated better tumor control than those treated with the w/o formulation with significantly smaller tumor volumes 28 days and 35 days after vaccination. (See Figure 1a.)
The DepoVax formulation showed more sustained antigen retention at the site of injection, potentially improving the long term immune response and extending tumor control. (See Figure 1b.)
The DepoVax formulation showed (i) a higher degree of lymph node swelling induced in the vaccine-draining lymph node (right inguinal lymph node, RLN) and (ii) a higher ratio of RLN volume to the left inguinal lymph node (LLN) volume, when compared with the w/o formulation. This RLN swelling may be a biomarker for the expansion of antigen-specific T cells and predictive of the efficacy in controlling tumor growth. (See Figures 1c and 1d.)
Figure 1.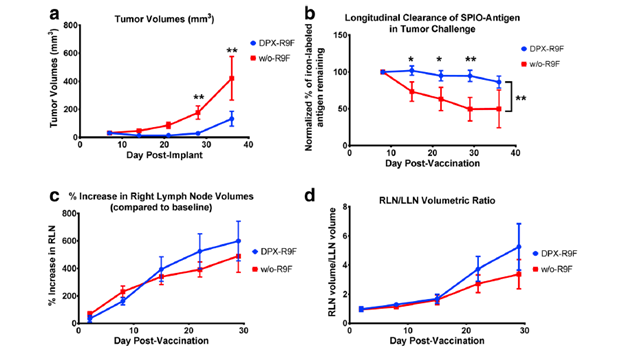 Source: Kimberly D. Brewer, PhD, Genevieve M. Weir, PhD, et al. Journal of Biomedical Science (2018) 25:7.
The DepoVax formulation resulted in significantly better tumor control than both the squal o/w and the sap/lip formulations, and the most sustained R9F antigen clearance rates. (See Figures 2a and 2b).
The DepoVax formulation showed higher RLN volume and RLN/LLN ratio compared with the squal o/w formulation across all measured time scales. RLN volumes were also higher in the DepoVax samples when measured at 23 days compared with the sap/lip samples, but lower when measured at 9 days. The researchers noted, however, that accurate quantification of the sap/lip samples was challenging due to considerable initial swelling at the injection site. Swelling with the DepoVax injections was much more gradual and consistent with previous work demonstrating a more gradual response to the vaccination. (See Figures 2c and 2d.)
Figure 2.


Source: Kimberly D. Brewer, PhD, Genevieve M. Weir, PhD, et al. Journal of Biomedical Science (2018) 25:7.
Effectiveness of DepoVax Against Tumor Growth

The study results supported the conclusion that Immunovaccine's DepoVax formulation operates through a unique mechanism in activating and maintaining a persistent immune response in tumor bearing mice. Moreover, the study showed that clearance rate and the production of an immune response can impact the overall efficacy of a vaccine. These are factors that can be controlled with an appropriate delivery system.
The researchers said that the DepoVax formulation "consistently provided the most effective control of tumour growth, supporting the superiority of the formulation in inducing T cells effective in controlling tumours" and that the "DepoVax-based formulation is unique in its presentation of antigens to the immune system when compared to emulsion-based vaccines."
---
In the interest of full disclosure, we call the reader's attention to the fact that Equities.com, Inc. is compensated by the companies profiled in the Spotlight Companies section. The purpose of these profiles is to provide awareness of these companies to investors in the micro, small-cap and growth equity community and should not in any way be considered as a recommendation to buy, sell or hold these securities. Equities.com is not a registered broker dealer, investment advisor, financial analyst, investment banker or other investment professional. We are a publisher of original and third party news and information. All profiles are based on information that is available to the public. The information contained herein should not be considered to be complete and is not guaranteed by Equities.com to be free from misstatement or errors. The views expressed are our own and not intended to be the basis for any investment decision. Readers are reminded to do their own due diligence when researching any companies mentioned on this website. Always bear in mind that investing in early-stage companies is risky and you are encouraged to only invest an amount that you can afford to lose completely without any change in your lifestyle. Equities has been compensated with cash, common shares and/or warrants for market awareness services provided.