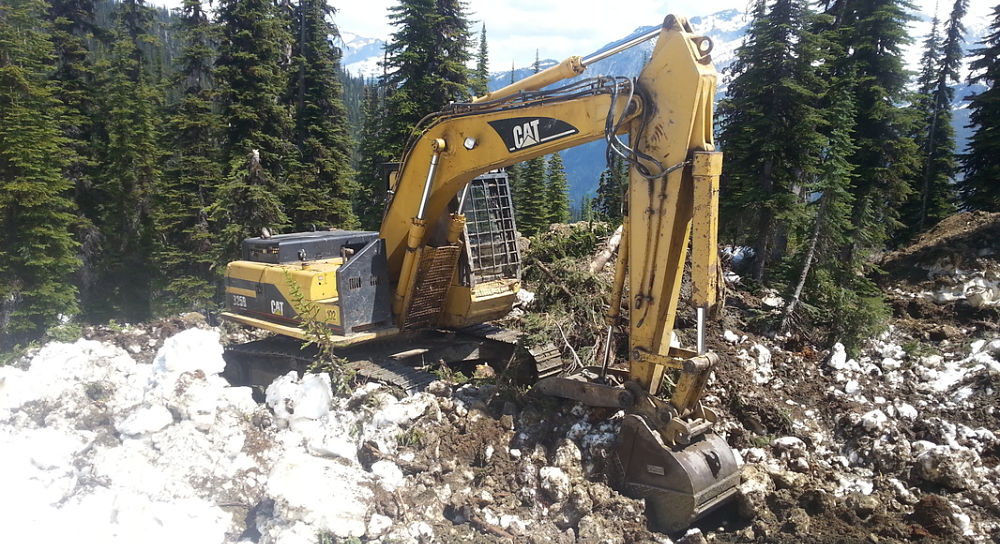 Felsic-siliciclastic volcanogenic massive sulphide deposits, or "VMS" to miners and geologists, represent the heralded class of mineral deposits that provide the world's gold, silver and zinc. VMS deposits form from metal-rich vents on seafloors carried upward by convection through magma systems. They are not the low-hanging fruit of the mining industry, but the deep underground mother lodes. Taranis Resources, Inc. (TRO:CA) has such a deposit with its 100% owned Thor Deposit near Trout Lake, British Columbia.
"In terms of a geological model, it's pretty much established now that it's a Volcanogenic Massive Sulfide deposit," John Gardiner, President and CEO of Taranis, told Equities.com in March. "These typically have good size associated with them, and typically are between 5 million and 20 million tonnes, but can even be much larger."
The silver-gold-lead-zinc-copper deposit, sitting along a major stratigraphic contact, is an advanced-stage gold-silver-lead-zinc-copper mineral deposit that has near-surface mineralization. While it was once considered only a vein, continued mapping and testing suggests that it's looking more and more like a large-scale mineral deposit capable of becoming a 10-plus million tonne producer.
The company recently released further findings that continue to confirm the property's potential and also identified new drilling targets at Thor.
The Untouched Upside of Thor
In May, Taranis released updates demonstrating how expansive Thor really is and how the entire area is dominated by the massive subterranean hydrothermal-volcanic system. Thor has multiple parallel horizons, extending along a 1.2-mile strike in a northwest direction and these mineralized horizons have been isoclinally folded close to the boundaries of the volcanic pile, and high-grade gold deposits such as the SIF Zone and Gold Pit are found along these distant peripheries of the main deposit.
In recent findings, the east side of the volcanic pile revealed a previously unidentified prospect called the Tonowanda prospect, which revealed chalcopyrite-pyrite mineralization with underground drifting and raise work. The prospect was last explored in 1955 and Taranis is now working to locate the access point to better understand the subsurface geological mapping.
Another new area of analysis has been the Megagossan, a topographically severe region, which must be surveyed using helicopters. However, this area is rife with volcanic rocks along the contact and could connect with the Ag-Au-Pb-Zn-Cu deposit at Thor. Lastly, the company also traced the stratigraphic horizon for the past-producing Nettie L. Mine crossing under the east side of Thor's Ridge. The two properties are practically identical geologically and the former has a historic production of 460,000 Oz. of silver at average grade of 35 Oz/t. These newly discovered areas provide new information for Taranis to interpret and map this impressive range.
"The hydrothermal system that formed Thor is very large (over 2,000 m long and at least 350 m thick), and is capable of supporting additional deposits to what is currently known," Gardiner added. "One of the revelations to come out of this study is that the entire Thor deposit may be the west side of a much larger deposit buried 300-400 m below surface."
While the company continues to investigate new aspects of Thor due to its sheer size, one of the most important areas of the property remains the Ridge Target.
---
---
The Rich Evidence Surrounding the Ridge Target
"The identification of the Ridge Target is potentially of major consequence at Thor, and success testing this target would enhance the size of the deposit considerably," Gardiner told Equities.com. "While definition drilling will continue around the known deposits under the 1G exploration program, successful results from the Ridge Target would have monumental consequences at Thor."
The Ridge Target has been permitted for a five-year MYAB drilling program and recent findings by Westmin Resources Inc. uncovered an outcrop 1 km north of the Thor deposit that returned 0.136 Oz/t gold in grab sampling. This discovery is significant because the gold found by Westmin combined with Taranis' mapping show consistently that the gold-bearing areas established by Westmin evolve into massive sulphides at depth typically seen at Thor in the True Fissure Mine area.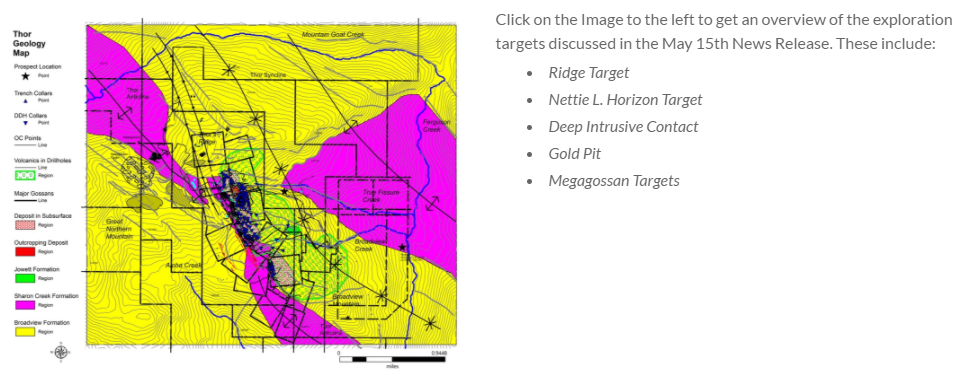 West of the Thor Anticline, a known equivalent of the Silver Cup Anticline, a recent geological study in the high-grade gold-producing Gold Pit area discovered a tight anticline that repeats structural elements of the main Thor deposit. This is consistent with the perception of a VMS having gold found in the distant, siliceous parts of the deposit.
In June, Taranis expects to start the fully permitted gold pilot plant. The company has already purchased a 50-kilowatt generator to power the plant and engaged a contractor who will use an excavator-mounted hydraulic hammer capable of breaking up the SIF outcrop for processing through the plant. Taranis will also gather a 100kg sample of sulfide ore from the main Thor deposit for gravity testing using heavy liquid separation helping to streamline production of a concentrate and possibly avoid flotation processing. This method would also reduce the environmental impact to the area, and consequently enhance future permitting at Thor.
"We're focused on trying to delineate a resource that's going to be minable, and ultimately this is the reward for long-term stakeholders in the company," Gardiner said. These latest discoveries continue to highlight the underground value at Thor and illustrate the determination and steadiness of a veteran mining team.
---
In the interest of full disclosure, we call the reader's attention to the fact that Equities.com, Inc. is compensated by the companies profiled in the Spotlight Companies section. The purpose of these profiles is to provide awareness of these companies to investors in the micro, small-cap and growth equity community and should not in any way be considered as a recommendation to buy, sell or hold these securities. Equities.com is not a registered broker dealer, investment advisor, financial analyst, investment banker or other investment professional. We are a publisher of original and third party news and information. All profiles are based on information that is available to the public. The information contained herein should not be considered to be complete and is not guaranteed by Equities.com to be free from misstatement or errors. The views expressed are our own and not intended to be the basis for any investment decision. Readers are reminded to do their own due diligence when researching any companies mentioned on this website. Always bear in mind that investing in early-stage companies is risky and you are encouraged to only invest an amount that you can afford to lose completely without any change in your lifestyle. Equities has been compensated with cash, common shares and/or warrants for market awareness services provided.

DISCLOSURE: The views and opinions expressed in this article are those of the authors, and do not represent the views of equities.com. Readers should not consider statements made by the author as formal recommendations and should consult their financial advisor before making any investment decisions. To read our full disclosure, please go to: http://www.equities.com/disclaimer