NeuBase Therapeutics to Reverse Merge into Ohr Pharmaceutical
Edward Kim Follow |

~ NeuBase will capture Ohr's Nasdaq listing as it develops therapies for genetic diseases caused by mutant proteins ~


Huntington's disease is a fatal genetic disorder that causes the progressive degeneration of the brain's neurons. Huntington's is known as "the quintessential family disease," according to the Huntington's Disease Society of America (HDSA), as every child of a parent with Huntington's has a 50-50 chance of carrying the faulty gene. There are about 30,000 people in the US with Huntington's, and over 200,000 people at risk of inheriting the disease. It causes severe degradation in mobility, cognition and psychiatric well being, with a very broad spectrum of signs and symptoms. Many Huntington's sufferers describe the symptoms as having ALS, Parkinson's and Alzheimer's—simultaneously.

Huntington's disease is caused by mutation in the huntingtin gene, which results in the production of a toxic protein that gradually destroys neurons. According to the Mayo Clinic, most people with Huntington's disease develop symptoms in their 30s or 40s, and have a survival prognosis of only 15 to 20 years after symptoms first manifest. This adult-onset Huntington's is the most common form of the disorder, though there is also a juvenile Huntington's disease that is associated with much faster disease progression.




Source: Osmosis


Pittsburgh-based NeuBase Therapeutics is developing therapies for genetic diseases caused by mutant proteins. NeuBase, a portfolio company of startup accelerator LifeX Labs, is advancing its proprietary modular peptide-nucleic acid antisense oligonucleotide (PATrOL) platform to address genetic diseases caused by mutant proteins with a single, cohesive approach. The company believes that its PATrOL therapies will improve upon current gene silencing treatments by combining the advantages of synthetic approaches with the precision of antisense oligonucleotide (ASO) technologies.

ASOs are short sequences of DNA that are designed to bind to and degrade complementary RNA targets, thereby inhibiting gene expression. NeuBase will use its platform to address repeat expansion disorders—mutations involving abnormally large numbers of repeated nucleotides sequences—with an initial focus on severe neurological disorders such as Huntington's disease and myotonic dystrophy (the most common form of adult muscular dystrophy) in which blood-brain barrier penetration and broad tissue distribution are critical for treatment.

LifeX announced yesterday that NeuBase has agreed to reverse merge into Ohr Pharmaceuticals OHRP. NeuBase shareholders will own 80% of the new company, with Ohr shareholders owning 20%. Post-merger, the new company's will carry the NeuBase Therapeutics name and trade under symbol NBSE. Dietrich A. Stephan, PhD, will depart his role as CEO of LifeX to become the new CEO of NeuBase.

Improving upon ASO therapies


The greatest success in ASO therapies to date has been with Biogen's Spinraza for spinal muscular atrophy, which was originally developed by Ionis Pharmaceuticals IONS, and numerous other pharmaceutical companies including AstraZeneca AZN, Takeda TAK, Janssen JNJ, Roche RHHBY and Novartis NVS, have licensed promising ASO technologies trying to capture the next success. NeuBase believes that its PATrOL therapies have multiple advantages over existing ASO therapies: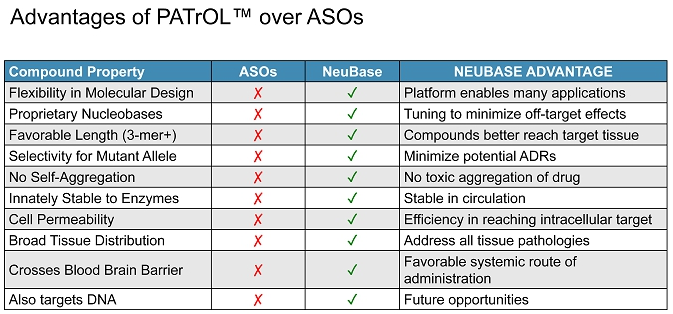 Source: NeuBase Therapeutics

We note that development is still at a very early stage, with NeuBase targeting IND filings for its Huntington's disease candidate in mid 2020, and for its myotonic dystrophy candidate in the first half of 2021.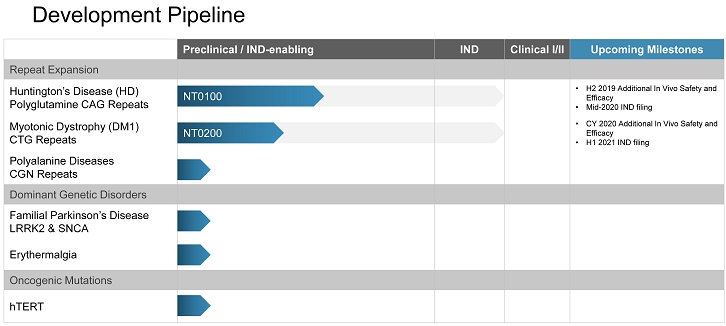 LifeX is supported by the the University of Pittsburgh and its Graduate School of Public Health together with the Henry L. Hillman Foundation.
President Biden's New Alliance With Australia and Britain Angers France and European Union
For the remaining Ohr Pharmaceuticals shareholders, this transaction likely represents the best case scenario to salvage the remains of what was once a promising eye drug developer. We'll be keeping close watch on NeuBase Therapeutics, as it seems attractive at these levels from a risk-reward perspective. OHRP stock is trading today at about 16 cents per share, for a sub $9 million market cap. We believe the company will merit investors' attention if this deal closes as expected and the Nasdaq listing is properly maintained.
Please email us at content@equities.com to see our Case Studies and Testimonials.
Please click here for information on our equity trading platform.
Please click here to receive our free daily newsletter.
DISCLOSURE: The author has no positions or any beneficial interest in, and has received no compensation from, the companies mentioned in this article.

---
The views and opinions expressed in this article are those of the authors, and do not necessarily represent the views of equities.com. Readers should not consider statements made by the author as formal recommendations and should consult their financial advisor before making any investment decisions. To read our full disclosure, please go to: http://www.equities.com/disclaimer.
Market Movers
Sponsored Financial Content