Last year, half of Americans aged 22 to 45 watched zero hours of cable TV. And almost 35 million households have quit cable in the past decade.
All these people are moving to streaming services like Netflix NFLX. Today, more than half of American households subscribe to a streaming service.
The media calls this "cord cutting."
This trend is far more disruptive than most people understand. The downfall of cable is releasing billions in stock market wealth.
Combined, America's five biggest cable companies are worth over $750 billion. And most investors assume Netflix will claim the bulk of profits that cable leaves behind.
So far, they've been right. Have you seen Netflix's stock price? Holy cow. It has rocketed 8,300% since 2009, leaving even Amazon in the dust: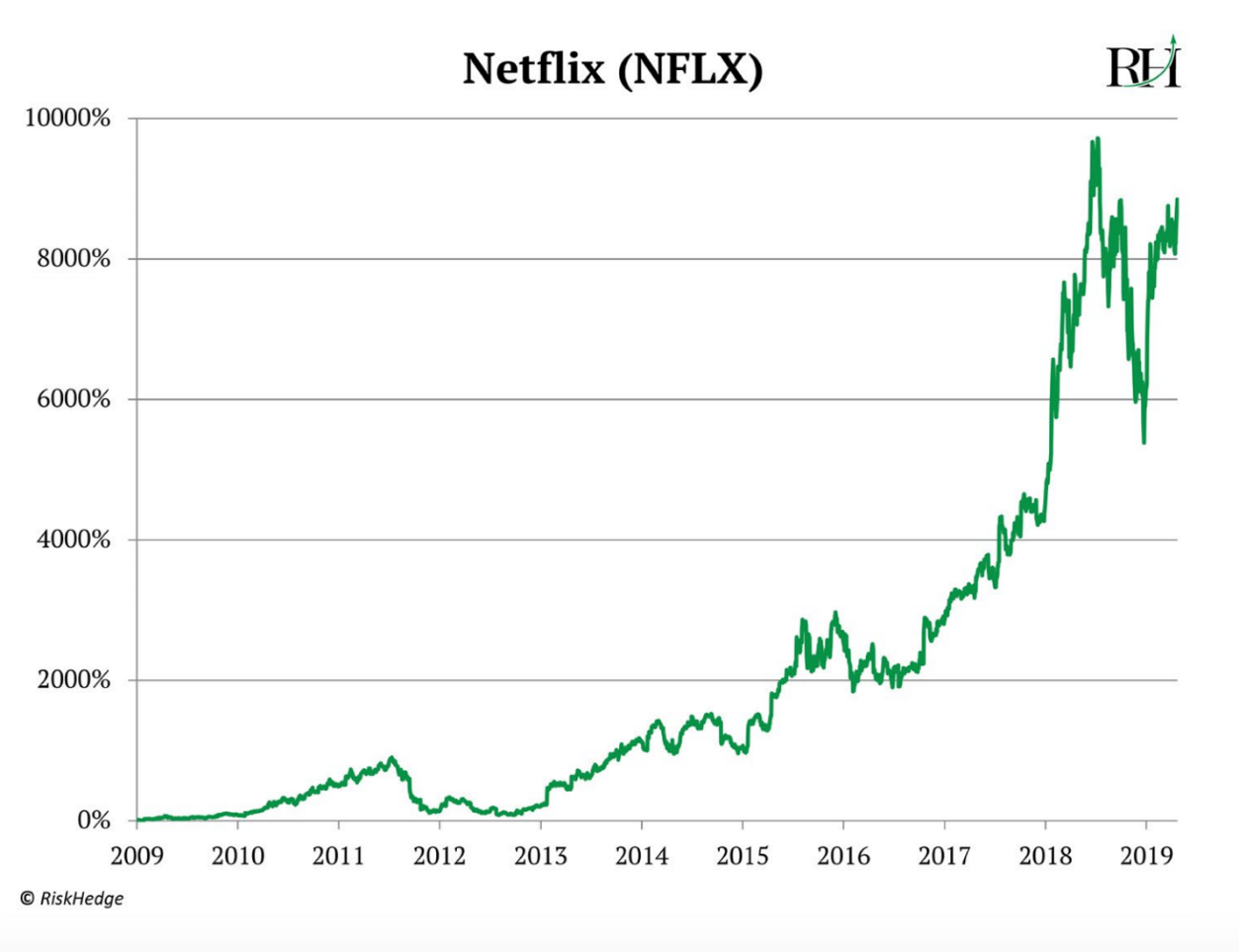 But don't let its past success fool you.
Because Netflix is not the future of TV. Let me say that one more time… Netflix is not the future of TV.
(In fact, there's a little-known company that has Netflix by the throat. Not 1 in 100 investors know about this stock.)
But for now, let's talk about Netflix's biggest problem…
The Only Thing That Matters
Netflix changed how we watch TV, but it didn't really change what we watch…
Netflix has achieved its incredible growth by taking distribution away from cable companies. Instead of watching The Office on cable, people now watch The Office on Netflix.
This edge isn't sustainable.
In a world where you can watch practically anything whenever you want, dominance in distribution is very fragile.
Because the internet has opened up a whole world of choice, featuring great exclusive content is now far more important than anything else.
For example, about 20 million people tuned in to watch the first episode of the latest season of hit show Game of Thrones.
It was one of the most-watched non-sporting events in TV history.
Netflix management knows content is king. The company spent $12 billion developing original shows last year. It released 88% more original programming in 2018 than it did the previous year.
And spending on original shows and movies is expected to hit $15 billion this year.
It now invests more in content than any other American TV network.
To fund its new shows, Netflix is borrowing huge sums of debt. It currently owes creditors $10.4 billion, which is 59% more than it owed this time last year.
The problem is that no matter how much Netflix spends, it has no chance to catch up with its biggest rival…
Disney Enters the Race
The Walt Disney Company DIS is one of America's most iconic companies.
Walt Disney created Mickey Mouse way back in 1928. Over the following eight decades the company built an empire.
Over 160 million people visited its theme parks last year. And it's among the world's largest media companies.
But over the past decade a core part of its business has been disrupted.
More than a third of Disney's revenue comes from its cable business. As you may know, Disney owns leading sports network ESPN and ABC News.
It makes money delivering this content to millions of Americans through cable providers like AT&T. As you can imagine, cord cutting has hit this business hard.
Disney's cable business has stagnated over the past seven years. But in about 175 days, Disney is set to launch its own streaming service called Disney+.
It's going to charge $6.99/month—around $6 cheaper than Netflix.
And it's pulling all its content off of Netflix.
This is a big deal.
The Undisputed King of Content
Disney owns Marvel, Pixar Animations, Star Wars, ESPN, National Geographic, Modern Family, and The Simpsons. Not to mention all the classic characters like Mickey Mouse and Donald Duck.
In six of the past seven years, Disney has produced the world's top-selling movie.
Here's a list of the five highest-earning movies of 2018:
Avengers Infinity War
Black Panther
Jurassic World: Fallen Kingdom
Incredibles 2
Bohemian Rhapsody
All except Jurassic World are Disney productions. Clearly, Disney is king of the blockbuster. Over the past six years, its average film has raked in $1.2 billion at the box office.
So Long Netflix…
Picture this…
Disney puts a blockbuster like Avengers Endgame on its platform the same day it opens in theaters.
After a few weeks it's no longer in theaters. You can't buy it. You can't rent it. The only way to watch is to subscribe to Disney's steaming service, Disney+.
For example, the only place your children or grandchildren will be able to see Toy Story 4 and Frozen 2 may be on Disney+.
Can you imagine how many parents will sign up for this? I'll certainly be subscribing for my daughter.
At $6.99/month, what family with kids under 12 years wouldn't subscribe?
Plus, Disney owns 60% of America's second-largest and fastest-growing streaming service, Hulu.
Disney has shown it can produce movies and shows people want to watch. No competitor comes within 1,000 miles of Disney's world of content.
Disney's ownership of iconic franchises like Star Wars and Spider-Man give it something no money can buy.
Meanwhile, Netflix will lose a lot of its best content—and potentially millions of subscribers who switch to Disney+.
While Netflix is running into debt "trying out" new shows, Disney already has the best of the best in its arsenal.