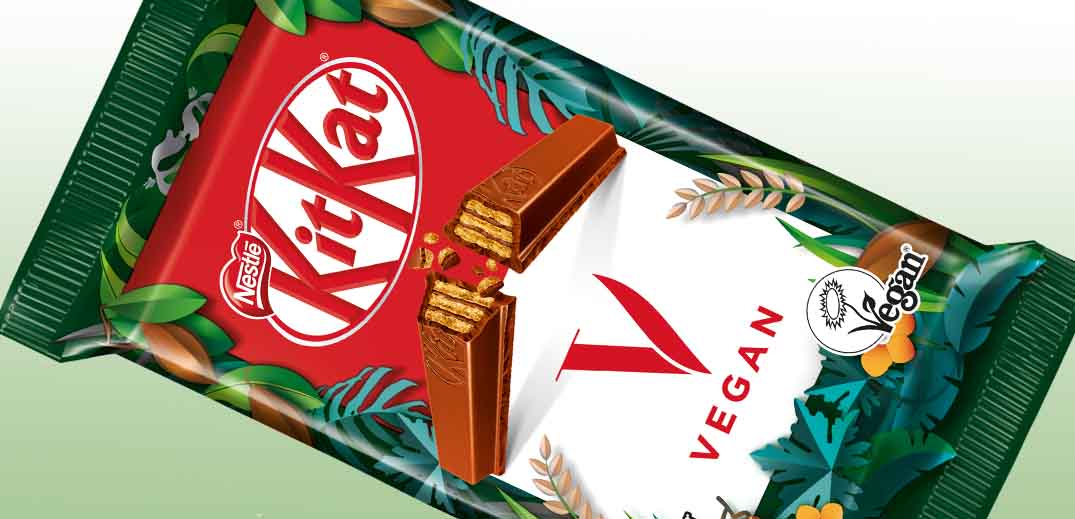 Image source: Nestlé
Nestlé S.A. (OTC US: Chart NSRGY - $119.60 0.54 (0.454%) ) unveiled plans to launch a vegan version of its iconic KitKat candy bar.
The new plant-based option, called KitKat V, will be introduced later this year in several countries as part of a test run before expanding worldwide, the Switzerland-based food and beverage giant announced Monday.
Developed by Nestlé's confectionary research and developed center in the United Kingdom – where KitKat was first created in the 1930s – the new non-dairy version is made from a rice-based alternative and 100% sustainably sourced cocoa.
The company did not say when KitKat V will hit the shelves in the US.
Alexander von Maillot, Nestlé's head of confectionery, said a vegan KitKat is "one of the most common requests" the company sees on social media platforms, prompting the company to develop a version to help capture the ever-expanding plant-based food market.
"There is a quiet food revolution underway that is changing how people eat. We want to be at the forefront of that, championing the discovery of plant-based food and beverages," said von Maillot, "What better way to do that than offering a vegan version of one of our most famous and much-loved brands?"
Nestlé is the latest food company to offer a plant-based alternative to milk chocolate, Mars Incorporated, Mondelez International's (Nasdaq: Chart MDLZ - $69.04 1.84 (2.738%) ) Cadbury and Lindt (OTC US: Chart LDSVF - $11,395.00 95.00 (0.841%) ) have all created dairy-free candy to help attract the growing number of consumers looking to reduce meat and dairy intake for dietary or environmental reasons.
Nestlé's plant-based offerings already include dairy-free alternatives across a range of its product categories, including ice cream, coffee creamers, rice-and-oat-based drinks, pea-based beverages, plant-based cappuccinos, vegan condensed milk alternatives and non-dairy cheeses.
_____
Source: Equities News