Neon Therapeutics (Proposed Nasdaq: NTGN) has filed for a $100 million initial public offering to fund clinical development of its neoantigen program. Neoantigens result from mutations occurring during tumor growth, are recognized as foreign and differ from native antigens to which the immune system is tolerant. The presence of neoantigens in cancer cells and their absence in normal cells makes them compelling, untapped targets for cancer therapy.
The company launched in 2015 with a $55 million Series A investment led by Third Rock Ventures with participation from Clal Biotechnology Industries and Access Industries. The $106 million Series B round in 2017 was led by Partner Fund Management and joined by Third Rock and Access, along with new investors Fidelity, Wellington, Inbio Ventures, Nextech Invest, Pharmstandard International, Arrowmark Partners, Hillhouse Capital and Casdin Capital. The IPO will be led by Morgan Stanley, BofA Merrill Lynch and Mizuho Securities.
Neon is developing a pipeline of personalized neoantigen vaccines and autologous T cell therapies, with an initial focus on melanoma, non-small cell lung cancer (NSCLC) and bladder cancer. The company has collaboration and licensing agreements in place with Vedantra Pharmaceuticals, Apexigen, CRISPR Therapeutics, Bristol-Myers Squibb, Merck, the Netherlands Cancer Institute, the Broad Institute, Dana-Farber Cancer Institute and Massachusetts General Hospital.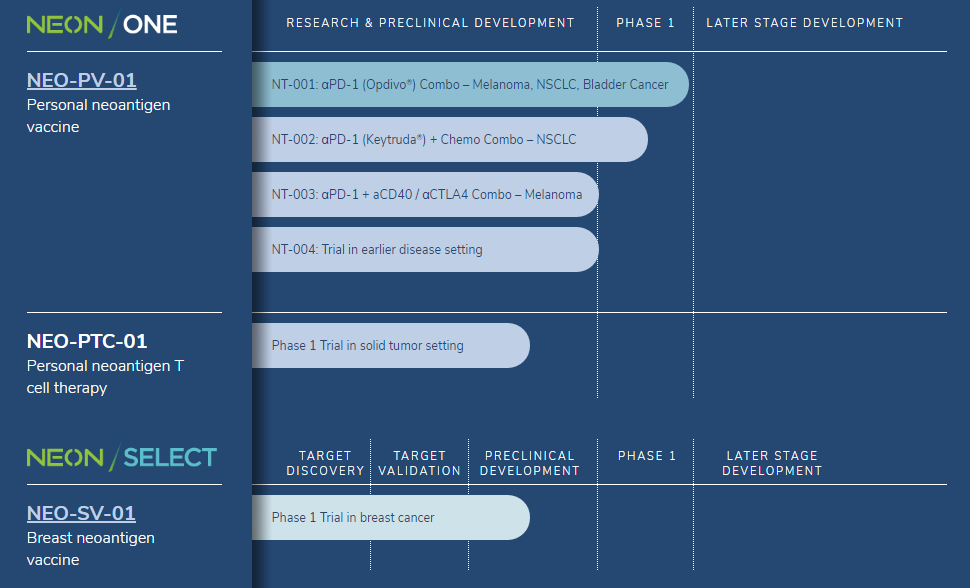 Source: Neon Therapeutics
In May 2018, Neon announced that it had treated its first patient in a Phase I clinical trial evaluating its proprietary personal neoantigen vaccine, NEO-PV-01, in combination with Merck's Keytruda (anti PD-1 therapy) and a chemotherapy regimen of pemetrexed and carboplatin in patients with untreated or advanced metastatic nonsquamous NSCLC. The trial is being conducted in collaboration with Merck. In addition to evaluating the safety, tolerability and preliminary efficacy of the combination therapy, the trial will assess neoantigen-specific immune responses in peripheral blood and tumor tissue, and other markers of immune response.
Treating our first patient in this clinical study marks an important milestone for Neon. We see a strong mechanistic rationale to explore the combination and sequence of a personal neoantigen cancer vaccine, anti-PD-1 therapy and chemotherapy. These data will help us understand the potential of NEO-PV-01 to improve durability and response rates of patients treated in combination with existing immuno-oncology drugs.
– Richard Gaynor, M.D., president of research and development at Neon Therapeutics.
Neon Therapeutics was named one of FierceBiotech's "Fierce 15" companies of 2016 and one of BioSpace's "Top 20 Life Science Startups to Watch" in 2017.
Please email us at [email protected] to see our Case Studies and Testimonials.
Please click here for information on our new trading platform.