Viva La Shrimp!
Shares jumped last week for Natural Shrimp Inc. SHMP – I started watching them around 13 cents and they have ripped higher.
They are up 6x along with big volume trading above 80 cents for most of the session today. I traded them this morning (you cant get a borrow ) from the long side just to get a taste, and it was a whipsaw washing machine, but it was trading. This one must settle in a little. The volume is a key factor here as real money is changing hands. These guys have put much time and effort in here, was about time they get some due for an interesting concept.
I saw the market cap around $175M last Friday, and maybe 275 million shares out, so there are many players here, and some new buying will be required to continue to drive the stock. Hard to determine if you have a short squeeze (as I mentioned, you cannot get a borrow), so it is a limited playing field unless you own them. Certainly one to add to the watch list. I will dig into the revenue model once I catch up with them (Gerald and Bill are a couple of good ole' Texas boys I am familiar with from my Dallas trading days). This company has a great story:
"Our initial focus is bringing shrimp to market by replicating our indoor technology in regional production centers outside New York, City, Chicago and Las Vegas. But it is very important for our investors to know the broad implications of the patent we received," said Bill G. Williams, CEO.
The Patent that Could be a Gamechanger
SHMP said recently that the joint patent it announced for the first commercially viable system for growing aquatic species indoors is not only for shrimp – which the company is close to bringing to market – but rather for the propagation of all fish.
According to the press, the patent also covers aquatic arthropods including lobster and mollusks, such as oysters and clams. NaturalShrimp and F&T Water Solutions, LLC received U.S. Patent No. 10,163,199 B2 for the Recirculating Aquaculture System and Treatment Method for Aquatic Species on December 25, 2018. NaturalShrimp maintains the exclusive worldwide rights for any and all shrimp species utilizing this patent.
This is a must read story! Click here for the company website.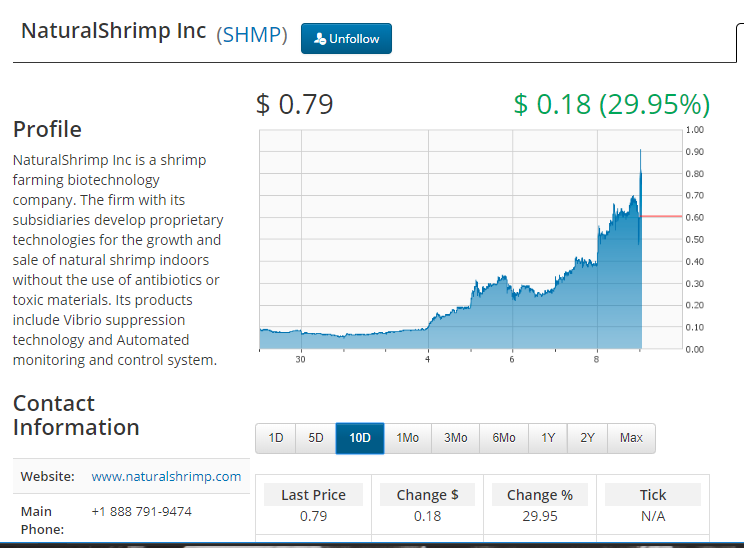 "Consumers are now living a healthier lifestyle by eating fresh, chemically free products. The use of this technology as a water treatment delivers on this trend and acts as an antioxidant, increasing the overall health benefits," said Peter Letizia, CEO of F&T Water Solutions.
The company profile reads: NaturalShrimp and F&T have developed and patented the Vibrio Suppression Technology system, eliminating water-borne bacteria and other harmful organisms, allowing many other aquatic species to grow and thrive in an indoor, all-natural environment that can be replicated anywhere in the world. The companies, through their subsidiary, Natural Aquatic Systems, are currently entertaining possible joint ventures and/ or licensing candidates for indoor systems of many species, including Barramundi and Salmon.
Steve Kanaval
Portfolio Manager/Writer/ Market Analyst
Can be reached at [email protected]
Steve began his career in the Trading Pits in Chicago making markets at the Chicago Mercantile Exchange (NYSE:CME) the Chicago Board of Trade and the CBOE in the early 80's. He ran the Morgan Stanley Derivative Prop Trading for the firm specializing in Index Arbitrage. He continued his career as a Trader/Portfolio Manager for multiple Hedge Funds during the Internet Boom of the 90's managing large portfolios. Steve is known as an expert in MicroCap Technology Stocks and the emerging Digital Currency markets as a Portfolio Manager for his Family Office. Steve has managed portfolio's in volatile asset classes for 3 decades as a commodity trader, hedge fund manager and digital currency trader and miner. Steve publishes his views on the asset classes in a public forum and has published multiple articles simplifying these complex and volatile assets for readers. His work is published on multiple sites including Bloomberg, Equities.com, Hacked.com, CCNews as a paid contributor. His work includes research, journalism and archived video on important market volatility related to stocks, digital currency and other volatile misunderstood asset classes. He offers a humorous, unique insight and the related back stories and drivers for readers interested in volatility and emerging market assets.