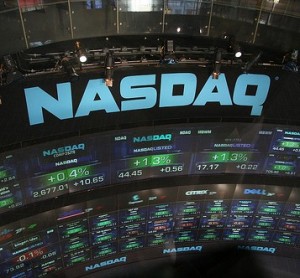 Facebook (FB) and its pending IPO has been a compelling story since early last year, with the company projected to be valued between $75 billion and $100 billion. The success or failure of the website's IPO has been seen as a crucial event, with ripple effects throughout the tech sector and the fate of dozens of other internet stocks seeming to hang in the balance. Facebook, like an elephant looking for a place to sit, can't help but have an effect on everything it comes into contact with.
As such, markets have carefully watched to see which underwriter Facebook selected, and internet stocks appear to shift up or down as a whole based on any news about the Menlo Park, CA company. In that vein, Facebook's decision to opt for being listed on the Nasdaq rather than the New York Stock Exchange represented something of a major win for Nasdaq over its rival.
"It's a huge win for NASDAQ," Sam Hamadeh, chief executive of PrivCo said. "Several weeks ago they had been leaning toward NYSE and even filed for the IPO without specifying the exchange, which is uncommon. That's how neck and neck NYSE and NASDAQ were."
Nasdaq and NYSE Have Rivalry for Companies, Prestige
On some level, the decision by Facebook to go with the Nasdaq was fairly predictable. The Nasdaq has long sold itself as the home of major tech companies and internet start-ups, a reputation that is well earned as it's the trading location for the sector's biggest players. The Nasdaq already has Apple (AAPL), Google (GOOG), Microsoft (MSFT), Intel (INTC), and Amazon (AMZN). However, this may have made Facebook a must-have company for the Nasdaq to stay in the game.
"People are asking about what it means for NYSE to lose it, but it was critical for Nasdaq to win," said Richard Repetto, an analyst at Sandler O'Neill & Partners in a phone interview with Bloomberg. "What it does is it keeps the momentum and likely leads to further IPOs in the future. Whatever brand Facebook attracts, whether it's tech or social media, it likely helps Nasdaq's cause."
Old School vs. New Blood
The differences between the two exchanges are distinct and may speak to a divide between more traditional traders and a newer generation. Not only does the Nasdaq more heavily feature technology and internet companies, but the basics of its trading are fundamentally different from those of the NYSE. The New York Stock Exchange is a physical exchange, with all trades taking place on the physical trading floor in New York. It's also an auction exchange, with trades taking place between individuals on the floor.
However, the Nasdaq is a computer exchange. While there is a physical location in New York, the actual trading takes place over a telecommunications network. There, rather than direct trading between traders, the Nasdaq's transaction are made through a middle man called a market maker, the "dealer" in this equation.
Looking Forward
Needless to say, a company as prominent as Facebook is a major win between the two exchanges as they jockey for position and clout. The NYSE has most of the classic American companies like Coca-Cola (KO), McDonalds (MCD), Wal-Mart (WMT), and General Electric (GE), the only company to be a part of the Dow Jones Industrial Average for its entire existence.
However, in the short term at least, Facebook's decision means that the Nasdaq will maintain its status as the king of tech.
"I'm not surprised they are listing with the NASDAQ. I've always considered the New York Stock Exchange a long-shot given the heavy concentration of technology names currently listed on NASDAQ," said Michael Yoshikami, chief executive of Destination Wealth Management.
DISCLOSURE: The views and opinions expressed in this article are those of the authors, and do not represent the views of equities.com. Readers should not consider statements made by the author as formal recommendations and should consult their financial advisor before making any investment decisions. To read our full disclosure, please go to: http://www.equities.com/disclaimer