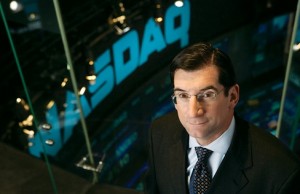 Back in April, Nasdaq OMX (NASDAQ: NDAQ) and the InterContinentalExchange (NYSE: ICE) shook the financial markets when it announced an unsolicited bid for NYSE Euronext (NYSE: NYX).The $11 billion bid for the Big Board made last month flew in the face of a previous offer from Deutsche Börse AG, which already had a $10 billion offer on the table for NYSE. However, despite two rejected bids from the NYSE Board of Directors and rising concerns of antitrust issues, Nasdaq OMX and ICE pressed on hoping that a merger of North America's two largest stock exchanges could help solidify their dominance in an industry undergoing widespread consolidation.
Alas, the dream ended today as regulators said they would not approve the deal even if it were to be accepted. This forced Nasdaq OMX and ICE to withdraw their bid for the NYSE.The U.S. Department of Justice's Antitrust Division stated,  "The acquisition would have removed incentives for competitive pricing, high quality of service, and innovation in the listing, trading and data services these exchange operators provide to the investing public and to new and established companies that need access to U.S. stock markets."
NASDAQ OMX Drops NYSE Euronext Bid
The rejected deal would've created an exchange responsible for over 50 percent of stock trading volume in the U.S., and potentially created $740 million in cost savings. There's an overwhelming trend of consolidation in the exchanges industry, and Nasdaq OMX was making a clear statement, if not a major play, to stay on top of its competitors in the space.
"We saw a unique opportunity to create more value for stockholders and strengthen the U.S. as a center for capital formation amid an ongoing shift of these vital activities and jobs outside of our country," said Bob Greifeld, CEO of Nasdaq OMX. "NASDAQ OMX has demonstrated an ability to outperform, whether the comparison is against all other equity exchanges today, or even against the largest derivatives exchanges. We have achieved outstanding earnings growth over the last few years and are confident that our global model features a healthy mix of product diversification and will continue to thrive based on our efficiency and ability to innovate."
Nasdaq OMX, London Stock Exchange and TMX Group's Toronto Stock Exchange
Nasdaq OMX isn't the only exchange dealing with pressure to expand globally, however. The London Stock Exchange (LSE: LSE) has been another player looking to grow through acquisitions as well. The LSE has had an offer out to the TMX Group (TSX: X) since February. The TMX Group is the parent company of the Toronto Stock Exchange and the Toronto Venture Exchange. The LSE could now be facing more competition for the TSX as a group of Canadian bankers may look to trump the deal.
If the LSE and TMX Group were to merge, it would surpass Nasdaq OMX. Though Nasdaq OMX and the LSE do have some history of their own. In 2007, Nasdaq OMX made a bid to acquire the LSE, but failed. Now there are reports that the LSE, in the wake of the failed NYSE bid, could also be looking to make an offer for Nasdaq OMX. But there is also speculation that Nasdaq OMX could also revisit the possibility of taking over LSE as it tried four years ago. The major exchanges are no doubt jostling for position as its industry continues to globalize.
Nasdaq OMX Future
Given its history of aggressive takeover bids, it isn't out of the realm of possibility to wonder if Nasdaq OMX may set its sites on other potential targets. One name that continues to be brought up is the Chicago Board Options Exchange (NASDAQ: CBOE), which is an attractive target because of its growth prospects, profitability and futures trading business.
Shareholders of Nasdaq OMX, on the other hand, seemed relieved that the NYSE deal fell through as shares of Nasdaq OMX traded up after news broke that the offer was withdrawn.
DISCLOSURE: The views and opinions expressed in this article are those of the authors, and do not represent the views of equities.com. Readers should not consider statements made by the author as formal recommendations and should consult their financial advisor before making any investment decisions. To read our full disclosure, please go to: http://www.equities.com/disclaimer