According to the American Heart Association, ypertrophic cardiomyopathy (HCM) affects up to 500,000 people in the US. In HCM, there is abnormal growth of muscle fibers in the heart, resulting in thick, stiffened heart muscle, making it difficult for the heart to relax and for blood to fill the chambers. While the heart squeezes normally, the limited filling prevents the heart from pumping enough blood, especially during exercise. Although HCM can involve both lower chambers, it usually affects the main pumping chamber — the left ventricle — with thickening of the septum (the wall separating the pumping chambers), posterior wall or both. With obstructive hypertrophic cardiomyopathy (oHCM), the muscle thickening restricts the flow of blood out of the heart.
MyoKardia (Nasdaq: MYOK) announced positive results from its Phase 2 clinical study (called PIONEER-HCM) of the investigational agent mavacamten in symptomatic oHCM patients. The first cohort, Cohort A, studied mid-range and higher doses of 10mg, 15mg and 20mg — demonstrating a reduction in patients' left ventricular outflow tract (LVOT) gradient before steady-state mavacamten concentrations were reached. Meanwhile, Cohort B's primary goal was to evaluate lower doses — 2 mg and 5mg. Both cohorts met the primary endpoint of reduction in post-exercise LVOT gradient from baseline to Week 12 with statistical significance (Cohort A p=0.002; Cohort B p=0.020).
Several key secondary endpoints, including improvements in New York Heart Association (NYHA) classification and dyspnea score, also achieved statistical significance within each cohort. For the secondary endpoint of change in exercise capacity (peak VO2), statistical significance was met in Cohort A, with a positive trend toward improvements in Cohort B.
Source: HCM Care
Taken together, data from the study indicate that optimal daily dosing for most patients may be between 5 and 15mg. The study has informed a target concentration range at which mavacamten is expected to achieve clinically meaningful improvements in oHCM symptoms, functional classification and exercise capacity (peak VO2) while maintaining left ventricular ejection fraction (LVEF) in a normal range of greater than or equal to 50 percent. These data will inform the starting dose and guide dose-adjustment for MyoKardia's planned Phase 3 pivotal trial (EXPLORER-HCM) of mavacamten with patient dosing expected to commence in the second quarter of 2018.
The lives of symptomatic obstructive HCM patients are limited by the debilitating progression of their condition. Unfortunately, current therapeutic options are either procedurally invasive or have limited effectiveness. In the Phase 2 PIONEER-HCM study, we are seeing patients on mavacamten feeling better across both quantitative and qualitative measures, including the elimination of their LVOT obstruction, increased functional and exercise capacity and alleviation of shortness of breath. These results are very encouraging and I look forward to mavacamten's advancement into the Phase 3 EXPLORER study.
– Daniel Jacoby, MD, Director, Cardiomyopathy Program and Comprehensive Heart Failure Program at the Yale School of Medicine, and principal investigator in the PIONEER-HCM study.
Dr. Jacoby will present these results on Sunday, March 11, 2018, at 8:00 am ET in a talk titled "Reduction in Left Ventricular Outflow Tract Gradient With Mavacamten (MYK-461) in Symptomatic Obstructive Hypertrophic Cardiomyopathy Patients (PIONEER-HCM)" at the American College of Cardiology's (ACC) 67th Annual Scientific Session during the Highlighted Original Research: Heart Failure and Cardiomyopathies and the Year in Review session.
Conference Call and Webcast
MyoKardia will host a conference call and live audio webcast today, March 8, at 4:30 pm ET / 1:30 pm PT to review data from the Phase 2 clinical trial, as well as fourth quarter and year end 2017 financial results.
844-494-0193 — US and Canada
508-637-5584 — internationally
Conference ID 8496928.
The webcast may be accessed live on the Investor Relations section of MyoKardia's website at http://investors.myokardia.com
Replay of the webcast will be available on the MyoKardia website for 90 days following the call.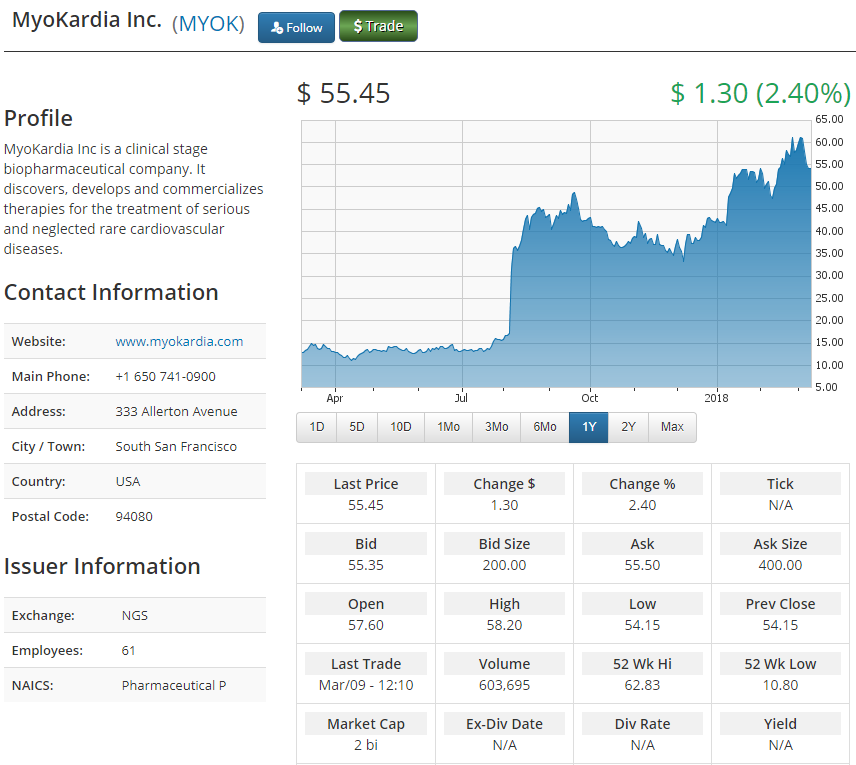 Please email us at [email protected] to see our Case Studies and Testimonials.
Please click here for information on our new trading platform.