Emphasizing its focus on approving biosimilar drugs, the FDA yesterday granted approval to Mylan MYL for Fulphila (pegfilgrastim-jmbd), a biosimilar to Neulasta (pegfilgrastim) — a drug that has generated nearly $4.5 billion in worldwide sales for Amgen AMGN during the 12 months ended March 31, 2018. The drugs act to reduce the duration of fever or other signs of infection due to a low neutrophil (type of white blood cell) count in patients treated with chemotherapy in certain types of cancer.
Fulphila is the first FDA-approved biosimilar to Neulasta and the second biosimilar to emerge from the joint development venture of Mylan and Biocon, India's largest pharmaceutical company. In December 2017, the FDA approved Ogivri, the first biosimilar to Genentech's Herceptin for HER2+ breast and gastric cancers and the first biosimilar produced in concert with Biocon. Mylan has a total portfolio of 20 biosimilar and insulin analog products and anticipates launching Fulphila in the coming weeks, representing the first alternative, more affordable treatment option to Neulasta for oncology patients.
Source: FDA
Biological products are generally derived from a living organism and can come from many sources, such as humans, animals, microorganisms or yeast. A biosimilar is a biological product that is approved based on data showing that it is highly similar to a biological product already approved by the FDA and has no clinically meaningful differences in terms of safety, purity and potency from the reference product.
Bringing new biosimilars to patients is a top priority for the FDA, and a key part of our efforts to help promote competition that can reduce drug costs and promote access. We'll continue to prioritize reviews of these products to help ensure that biosimilar medications are brought to the market efficiently and through a process that makes certain that these new medicines meet the FDA's rigorous standard for approval.
– Scott Gottlieb, MD, Commissioner, FDA
An October 2017 report by the RAND Corporation, "Biosimilar Cost Savings in the United States," estimated the potential future cost savings gained from the use of biosimilars in the US at $54 billion over 10 years or about 3% of total estimated biologic spending over the same period.
I couldn't be prouder of this approval for Fulphila, the first alternative option for pegfilgrastim approved in the U.S., as it represents an important milestone for patients and further demonstrates Mylan's continued fight to expand access to medicine. FDA's approval of this product, as well as the agency's continued focus on biosimilars, mark crucial steps towards lowering treatment costs and providing alternative options for patients.
– Heather Bresch, CEO, Mylan.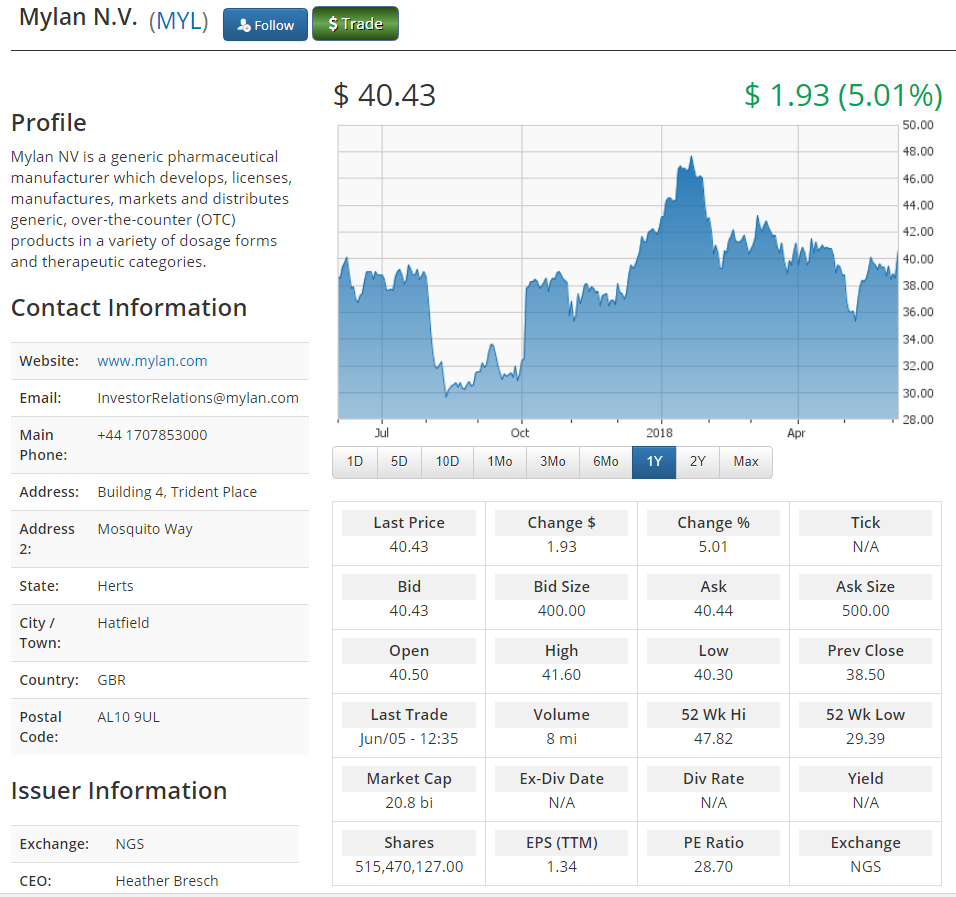 Please email us at [email protected] to see our Case Studies and Testimonials.
Please click here for information on our new trading platform.