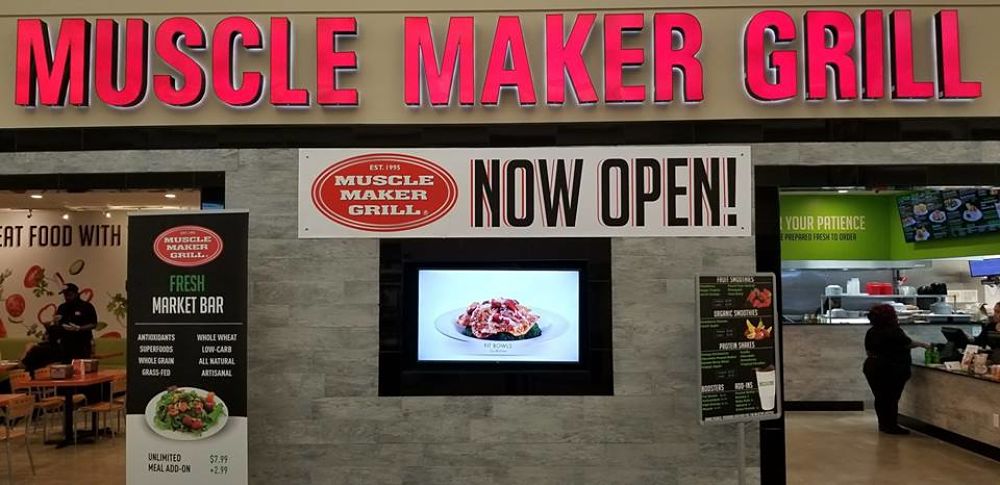 Muscle Maker Grill is actively raising capital through their Regulation A+ offering with the intent to complete their IPO and list on the NYSE American Exchange under the ticker NYSE: MMB. The company's offering has no minimum (an advantage of Reg A+over the traditional S-1 IPO) and a maximum of $19.95 million dollars at a pre-money valuation of $51 mill. (What is Reg A+?).
The MM offering was Qualified by the SEC (which means that the SEC allowed the offering to move into capital raising status) on December 12th. The company plans to complete their offering and list in January.
The company's market – the fast-casual restaurant segment – grew 11% in recent years to $43 Bill in 2015, and is forecast to grow to $64 billion by 2019, representing a Compound Annual Growth Rate of 10%.
CEO Robert Morgan, formerly a senior executive with Pizza Hut and Papa John's, and who has established 250 restaurant locations to date said, "We believe our restaurants deliver a highly differentiated customer experience by combining the fresh, healthy food and hospitality that customers expect from our full-service competition, but with the convenience and value normally provided by fast food restaurants. This combination makes Muscle Maker Grill unique."
He continued: "We provide guests with healthier versions of mainstream favorite dishes that taste great, and we deliver at a lower cost than our customers expect. We believe that everyone should have access to great-tasting healthy food that they can afford and we make our restaurants a gathering place for our clients to socialize with fellow health enthusiasts.
MM's flatbread is whole wheat, they offer items like quinoa, brown rice, and air-popped chips. All their dressings and sauces are proprietary. Their beef is grass-fed and they provide low sodium, low fat and gluten-free foods as well.
The company grew revenues by 59% from 2015 to 2016 and intends to grow revenues between 30% and 50% per year for the long-term. The company has been adding new locations at a rate of 20% per annum over the past 3 years. Twenty-five percent of the offering proceeds are earmarked for acquisitions to accelerate growth.
Muscle Maker Grill is in my view well positioned to raise money from their fan base. They have 20,000 customers in their frequent buyer rewards program so it's not a big leap to anticipate these customers wanting to invest. MM also has 10,000 franchise prospects who have approached the company over recent years. I see good synergy here where these same business people can now conveniently become owners of the Muscle Maker Grill company. The company also has 50,000 social media fans. How to succeed with your Reg A+ offering.
The company currently has 53 stores of which 12 are company owned and charges an 8% total franchise fee.
CEO Robert Morgan is a fervent believer in the philosophy and the approach of the company. I am impressed with his leadership style and the culture of the company from the team members I have had exposure to – a good indicator for the long term. People really love MM food.
Robert, CEO went on to say: "I chose to do a Regulation A+ IPO instead of a conventional IPO because I wanted our franchisees, employees, and customers to become owners of the stock to increase motivation across the board. Raising money online via the Reg A+ offering will provide far more democratic investment access than in a conventional IPO. I hope and expect that our offering will build increased brand loyalty through having our customers be our owners." Timeline for a Reg A+ IPO.
A significant difference in the Muscle Maker Grill business model is that their restaurants include a delivery service which has a strong reputation for fast delivery of high-quality food. This service generates between 10 and 50% of sales per restaurant. Check out the MM Offering Circular, which provides the terms and details of their Regulation A+ stock offering.
These 32 companies raised $396 mill via Reg A+.
I am hosting the offering on Manhattan Street Capital's website. Muscle Maker Grill is not being charged for this service.
Rod is a Forbes Contributor. Read the read the full version of this column on Forbes.com.
Rod Turner is a seasoned serial entrepreneur. CEO of Manhattan Street Capital, he helps CEOs raise capital via IPOs, Regulation A+ and Compliant ICOs for Mid-Stage companies.