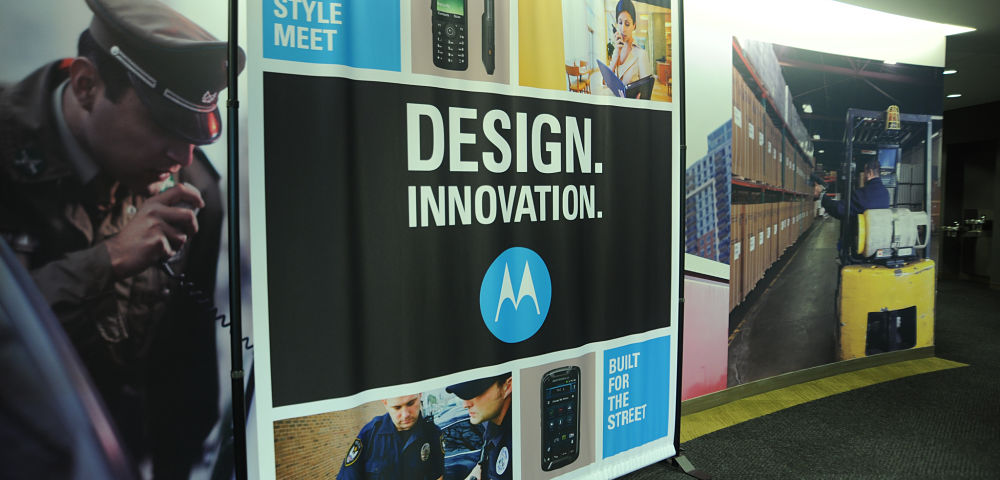 Image via Wonderlane/Flickr CC
A stock from our Editor's Portfolio that doesn't seem to get a lot of attention from the media is Motorola Solutions MSI, explains dividend reinvestment expert Chuck Carlson, editor of DRIP Investor.
The company isn't in the most glamorous of businesses — the firm provides communications solutions and services for public safety and commercial customers.
Yet, the stock has been one of the best performers in the portfolio over the last year, rising roughly 35%, tripling the performance of the S&P 500 Index over the same time period. The stock has been driven by a variety of factors:
Consistently strong operating performance

Motorola Systems has beaten the consensus analysts' earnings estimate in 14 consecutive quarters and has beaten the consensus revenue estimate in 13 of the last 14 quarters.
The first quarter of 2018 was especially impressive. Revenues rose 15% to nearly $1.5 billion. Organic revenue growth was especially strong at 10% overall, with 8% organic growth in North America. Backlog of $9.6 billion was up $1.1 billion or 13% year over year.
The company raised its revenue and earnings guidance for 2018 overall. The firm now expects revenue growth of 14%, up from the prior outlook of 10% to 11%, and earnings per share in the range of $6.70 to $6.85, up from the prior outlook of $6.50 to $6.65.
Takeover speculation

In recent years, Motorola has been the object of takeover talk. While no deal has materialized, the company's strong market position and its not-too-big size — market capitalization is $19 billion — have spurred persistent rumors of a sale.
Interestingly, Motorola has behaved more like the hunter than the hunted. In 2016, the firm acquired United Kingdom-based Airwave, the largest private operator of a public safety network in the world.
More recent acquisitions include the first-quarter 2018 purchases of Avigilon, a leader in advanced video surveillance and analytics; and Airbus DS Communications, a provider of command-center software for emergency call-handling.
Strong dividend growth

The company's dividend has increased nearly 53% in less than three years. The current dividend yield is 1.8%. Motorola Solutions' chart action is impressive. The stock recently broke out aggressively from a four-month sideways trading pattern and appears poised to tack on further gains.
Although stock splits seem like a thing of the past, Motorola Solutions represents perhaps the best stock-split candidate in the Editor's Portfolio. I remain a fan of the stock and recommend these shares to any DRIP investor.

Subscribe to Chuck Carlson's DRIP Investor here…

This article was originally published by MoneyShow.com: Founded in 1981, MoneyShow is a privately held financial media company headquartered in Sarasota, Florida. As a global network of investing and trading education, MoneyShow presents an extensive agenda of live and online events that attract over 75,000 investors, traders and financial advisors around the world.