More than 18 million people in the US suffer from atopic dermatitis, the most severe and common type of eczema, according to the National Eczema Association. It's a chronic relapsing inflammatory skin disease that can begin early, frequently in the first six months of a baby's life. Scratching of the severely itchy, dry skin and rashes, predominantly on the face, inner side of the elbows and knees, and on hands and feet, leads to a vicious cycle causing redness, swelling, cracking and scaling of the skin and an increased risk of bacterial infections. Although symptoms commonly fade during childhood, up to 30% of patients will suffer from atopic dermatitis for life.
MorphoSys MOR and Galapagos GLPG announced this morning that they have entered into an exclusive agreement with Novartis NVS that covers the development and commercialization of MOR106, a joint program that MorphoSys and Galapagos have been pursuing in atopic dermatitis and potentially other inflammatory diseases. The companies will receive €95 million ($111 million) up front from Novartis and potential milestone payments of up to €850 million ($1 billion) plus royalties of "up to low-teens to low-twenties" as a percentage of sales. Novartis will bear all future research, development, manufacturing and commercialization costs related to MOR106.
MOR106 targets IL-17C to block the inflammatory response
IL-17C is a protein that plays an important inflammatory role in skin disorders such as atopic dermatitis and psoriasis. MOR106 is an antibody designed to block the activity of IL-17C and preventing it from triggering an inflammatory cascade that plays a promoting role in skin diseases. IL-17C has been shown to be distinct from other members of the IL-17 family in its biological function, as it is produced by different cell types, predominantly epithelial cells.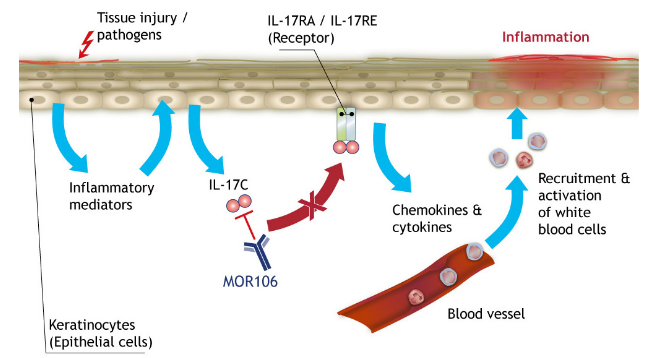 MorphoSys and Galapagos have been collaborating since 2008. The companies announced positive Phase 1 results for MOR106 in February 2018, showing that it was well tolerated in healthy volunteers as well as in atopic dermatitis patients. 83% (5 of 6) of patients at the highest dose reached at least 50% improvement at four weeks, and 72% (18 of 25) of all patients across different dosages showed some measurable improvement at 12 weeks. The companies initiated a Phase 2 trial in May 2018y 2018.
The companies will conduct additional trials to support development of MOR106 in atopic dermatitis, and under the terms of the agreement, Novartis will explore the potential of MOR106 in additional indications.
This collaboration with Novartis will enable us to accelerate and broaden the development of MOR106 beyond our current focus on atopic dermatitis and to exploit the potential of MOR106 to the maximum. Data from preclinical models and expression analyses suggest that the target of MOR106 might be involved in other diseases, which justifies expanding the development program.
– Dr. Simon Moroney, CEO, MorphoSys.
It is very gratifying to announce this collaboration with Novartis, an immunology & dermatology powerhouse, to broadly expand the development and pave the path to potential commercialization of MOR106. We look forward to working with Novartis to support further progress with MOR106.
– Onno van de Stolpe, CEO, Galapagos.
Amber Tong at Endpoints News writes, "This will be the second atopic dermatitis drug in Novartis' pipeline, adding to ZPL389, the Phase II ezcema treatment it acquired in the Ziarco buyout late 2016." Earlier this year, Research and Markets valued the global atopic dermatitis treatment market at $4 billion in 2016, projecting growth to $7.66 billion by 2025.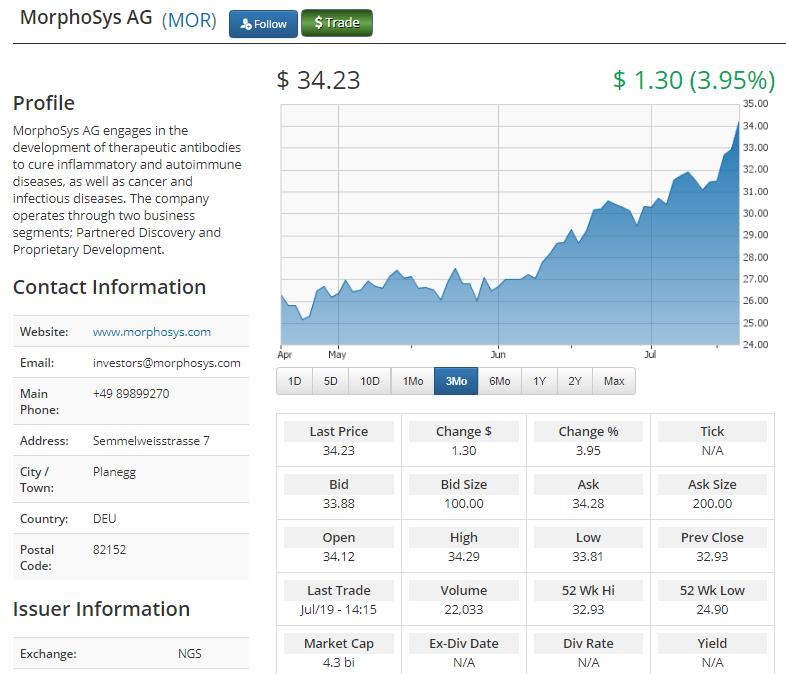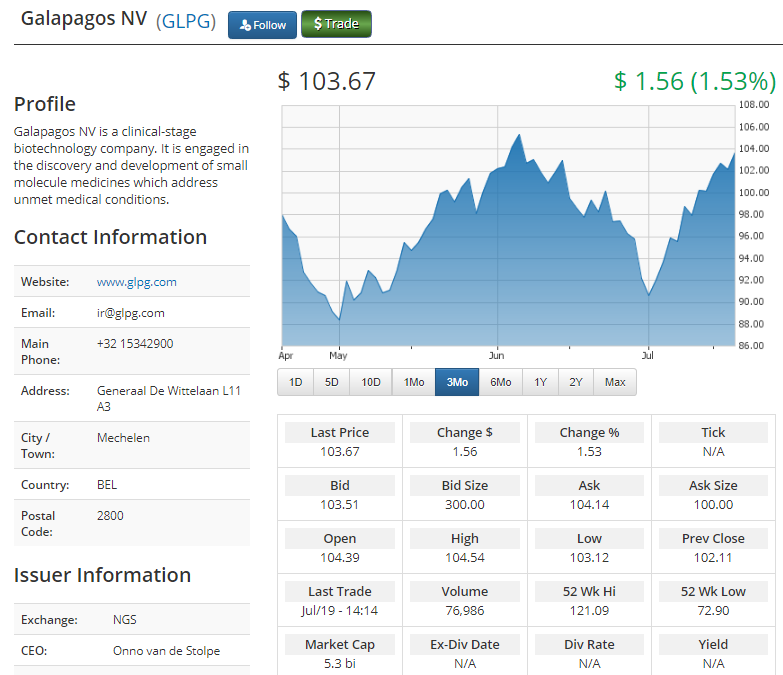 Please email us at [email protected] to see our Case Studies and Testimonials.
Please click here for information on our new trading platform.
Please click here to see our weekly newsletter.