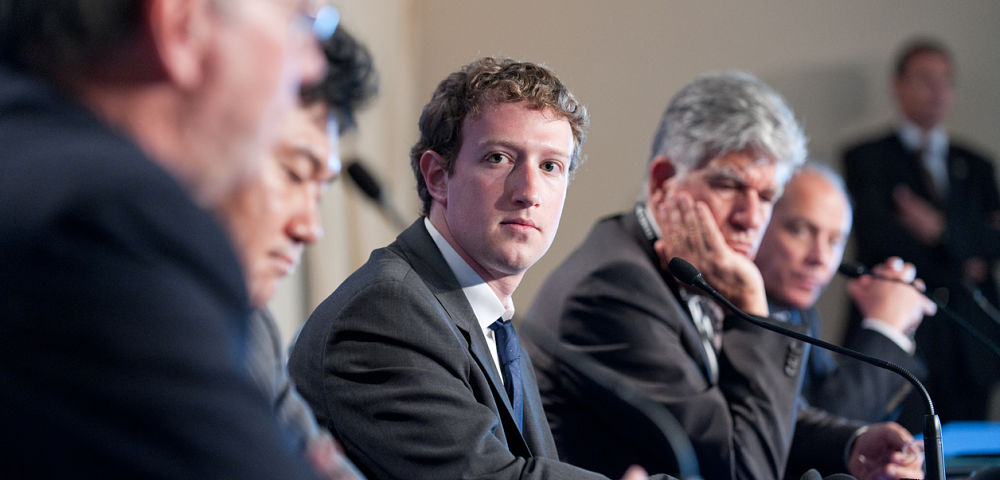 Facebook (FB) founder and CEO Mark Zuckerberg on Tuesday apologized for the improper collection of up to 87 million Facebook users' data in his first-ever testimony in front of Congress. While the testimony provided some answers, it also revealed more troubling questions.
In front of 44 senators from the Democratic and Republican parties, Zuckerberg started the hearing by acknowledging that he and Facebook "didn't take a broad enough view of our responsibility, and that was a big mistake."
Zuckerberg and Facebook have been reeling for a month since reports that British political data firm Cambridge Analytica improperly collected Facebook user data and used it to influence politics, such as Donald Trump's 2016 presidential campaign. The data firm received the personal data from Cambridge University researcher Aleksandr Kogan, which violated Facebook policies.
(Click here if you are unable to view this video on your mobile device.)
Among the revelations Tuesday, Zuckerberg indicated that the breach likely goes beyond the 87 million users affected by the Cambridge Analytica acquisition. Sen. Tammy Baldwin, D-Wisconsin asked if Kogan provided data to any other firms.
"He sold it to other firms. There was one called 'Eunoia' and a couple of others as well," Zuckerberg said, offering to provide her with those company names after the hearing.
Zuckerberg also dodged some pointed questions, drawing criticism from Sen. Kamala Harris, D-California.
"During the course of this hearing, you've been asked several critical questions for which you don't have answers," Harris said. "Those questions have included: whether Facebook can track activity after a user logs off of Facebook, whether Facebook can track you across devices even when you aren't logged into Facebook. Who is Facebook's biggest competition, whether Facebook may store up to 96 categories of users information."
Zuckerberg also skirted questions about significant regulations that would mandate companies such as Facebook to get express consent from users to collect, use and share their personal information. Regarding new data privacy regulation in Europe — called General Data Protection Regulation (GDPR) — Zuckerberg said he agreed with GDPR "in principle but the details matter" and need to be considered before similar regulation is imposed in the United States.
Facebook plans to comply with the GDPR, which takes effect in 28 European countries next month. But in a conference call with reporters, Zuckerberg failed to clarify if he plans to extend Facebook's GDPR compliance to the United States and the rest of the world.
That regulation would allow, in part, an opt-in and opt-out consent model for users of data-collecting entities such as Facebook. It runs contrary to the social media giant's core business model, argued a cybersecurity professor at San Jose State University.
"If we see something similar to GDPR, this will cripple Facebook," said Banafa. "They live by the data. This is their fuel."
Abhishek Nagaraj, an assistant professor at UC Berkeley's Haas School of Business, said the United States should considered a less severe model of GDPR as to not hurt the advertising industry as well.
"Research has shown the European internet, especially in advertising, is less effective," said Nagaraj. "The right solution for us will be something less stringent than GDPR, but I agree that the Europeans are providing a model."
Congress is currently pursuing various regulations to better protect online data privacy. Last week, Facebook came out in support of the Honest Ads Act, a bill seeking to increase disclosure requirements for online political ads. Two Democratic Senators proposed another bill on Tuesday called the CONSENT Act, which requires explicit opt-in consent from users to use, sell or share any personal information.
During the four-plus-hour long hearing, Zuckerberg spelled out Facebook's data practices with advertisers, saying Facebook does not sell user data.
"What we allow is advertisers to tell us who they want to reach (on Facebook) and we do it for them," said Zuckerberg. "That data never changes hands or goes to the advertiser."
During the questioning, Zuckerberg also outlined how Facebook is pivoting to becoming a more proactive enforcer against hate speech, election interference and other data abuses on its platform.
"We are going through a broader philosophical shift in how we go through as a company," said Zuckerberg. "What we've learned now… is that we need to take a more proactive role and broader responsibility. We need to take a more active view in policing the ecosystem."
Zuckerberg said that since the 2016 election, the company has taken down tens of thousands of fake accounts before they did "significant harm." He also touted the lack of interference in general elections in France, Germany and the special Senate election in Alabama as signs of progress in Facebook's ability to moderate its own platform.
During the 2016 election, Zuckerberg defined Facebook's relationship with the Trump campaign as only being involved with the campaign in sales support.
Zuckerberg also said that Facebook employees — but not Zuckerberg himself — were interviewed confidentially as a part of Special Counsel Robert Mueller's investigation of Russian interference in the 2016 election.
Zuckerberg also said new artificial intelligence tools have significantly helped in curbing terrorism-related content shared by ISIS and Al Qaeda. He pledged that by the end of the year, the company will have 20,000 human moderators to flag hate speech and other content that violates its company policies.
In addition, Zuckerberg said he will continue to provide a free version of Facebook with advertisements to its 2 billion users.
In their respective opening statements, four senators, including Sen. Dianne Feinstein, D-California, outlined the importance of the hearing.
"Let me cut to the chase: If you and other social media companies do not get your act in order, none of us are going to have any privacy anymore," said Sen. Bill Nelson, D-Florida.
Harris pressed Zuckerberg on why he did not inform Facebook users in December 2015 when the company discovered Kogan sold the collected user data to Cambridge Analytica.
That data stemmed from a personality quiz app created by a University of Cambridge researcher, Aleksandr Kogan. The app had about 270,000 users, but, at that time, Facebook also allowed developers to collect information from the app users' friends, mushrooming the number of affected users to up to 87 million.
"We banned the developer and we demanded that they delete all the data," said Zuckerberg. "In retrospect, we clearly view it as a mistake that we didn't inform people. We thought the case was closed and the data was deleted."
As the senators gave their opening statements, Cambridge Analytica tweeted that it "did not hack Facebook or break any laws."
When Sen. Lindsey Graham, R-South Carolina asked if Facebook is a monopoly, Zuckerberg wryly answered that "it certainly doesn't feel like that" to him. Zuckerberg also told Graham that Facebook would support the "right" regulation.
Zuckerberg returns to the Capitol on Wednesday to testify in front of the House Energy and Commerce Committee at 7 a.m. (PDT).
Academics shared hopes that the Senate and House hearings will be an eye-opening experience for Zuckerberg and prompt him to embrace many user-friendly privacy controls on Facebook.
"He understands the gravity of the problem now," said Banafa. "This is a learning moment. I hope he goes back to Menlo Park with a determination to change."
___
(c)2018 the San Jose Mercury News (San Jose, Calif.)
Visit the San Jose Mercury News (San Jose, Calif.) at www.mercurynews.com
Distributed by Tribune Content Agency, LLC.