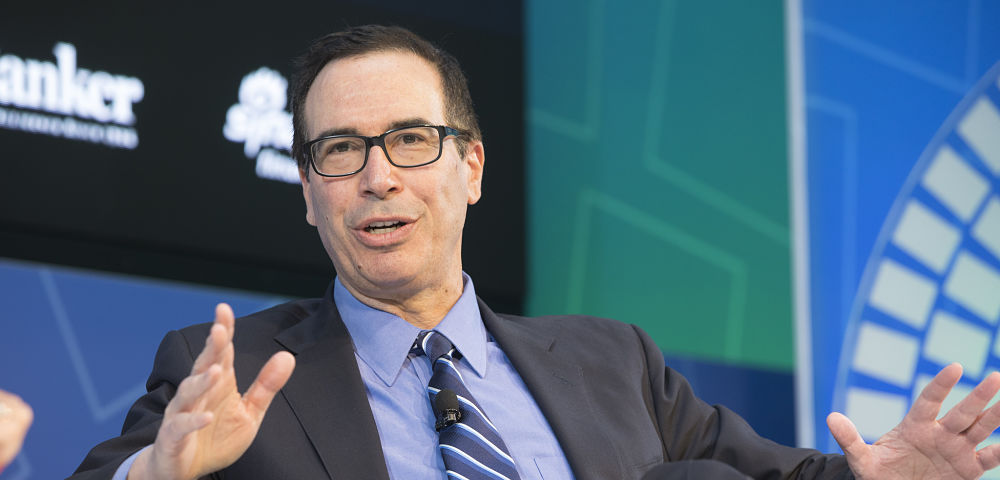 Image via IMF/Flickr CC
Washington, (EFE).- Treasury Secretary Steven Mnuchin said Tuesday that the financial markets are "functioning very well" after the Dow Jones Industrial Average earlier this week suffered its largest point-drop in history.
"We're monitoring the stock markets – they're functioning very well, and we continue to believe in the long-term impact of the stock markets," said Mnuchin in answering questions before the House Financial Services Committee.
The Treasury secretary's remarks were made as Wall Street on Tuesday was fluctuating wildly, after the Dow Jones, the US market's main indicator, dropped 4.6 percent – 1,175 points – on Monday, after falling 2.54 percent, or 665 points, on Friday.
Although the market began Tuesday's trading session in negative territory, half an hour later it was in the green, although later it dropped again, showing rather irregular movement. An hour-and-a-half after the market opened, at , the Dow was showing a 0.11 percent loss.
Most stocks trading on the New York Stock Exchange plunged on Monday, when the Dow began sliding early on, at one point being down some 1,600 points, although it rallied late in the day to close down 1,175.21 points at 24,345.75, some 8.5 percent below its record high close on of 26,616.71.
Never before had the Dow lost as many points in a single day as during Monday's trading session, although it had experienced greater percentage drops.
Mnuchin said that the stock market was up about 30 percent since President Donald Trump's election, adding that "We're very focused on the long-term economic growth and we believe that the policies we've enacted … are very positive for long-term growth."
"I'm not overly concerned about the market volatility," he said, adding that "the fundamentals are quite strong."
Trump and the main officials in his administration, including Mnuchin, have frequently hailed the fact that the stock market has repeatedly set new record highs in recent months, claiming that this up-trend is due to their policies.
In late January, Wall Street set new records in its three main indicators – the Dow, the S&P500 and the Nasdaq Index – the eighth such situation since the start of 2018.
Mnuchin said last year that the stock market's performance was "absolutely" a reflection of Trump's economic policies.