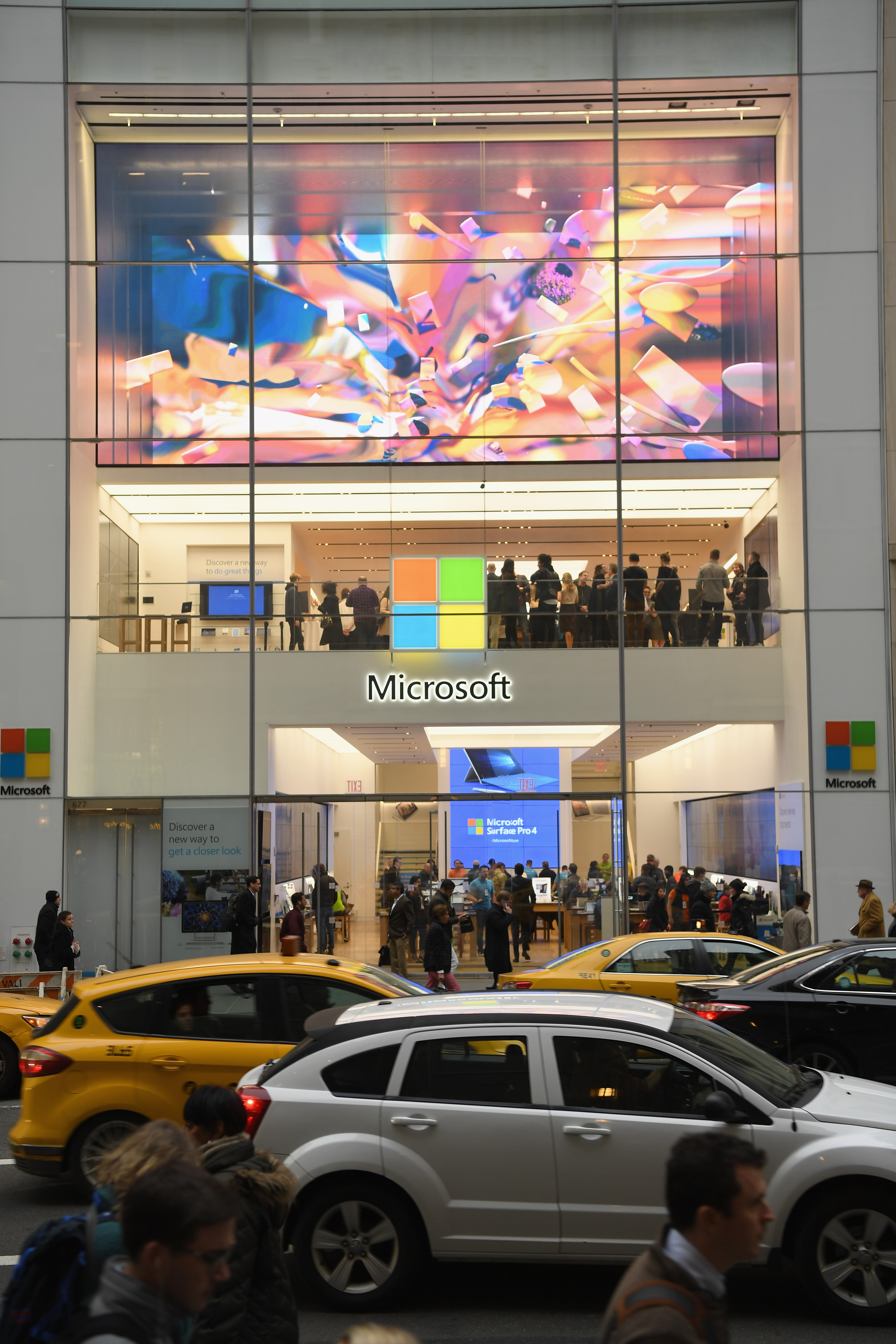 Image: Microsoft
Have you seen Microsoft stock lately? It's shot off like a geyser, tripling in value in the last few years.
You rarely see such humongous companies soar like that. Since 2015, Microsoft has added $800 billion to its market cap—the equivalent of 5.5 Netflixes!
In this article, I'll let you in on Microsoft's "master plan" that's driving its stock to the moon. As you'll see, the company has quietly gone "all in" on one lucrative but under-the-radar business. Amazon made this same move in 2006 and leapt 3,848%, as you can see below: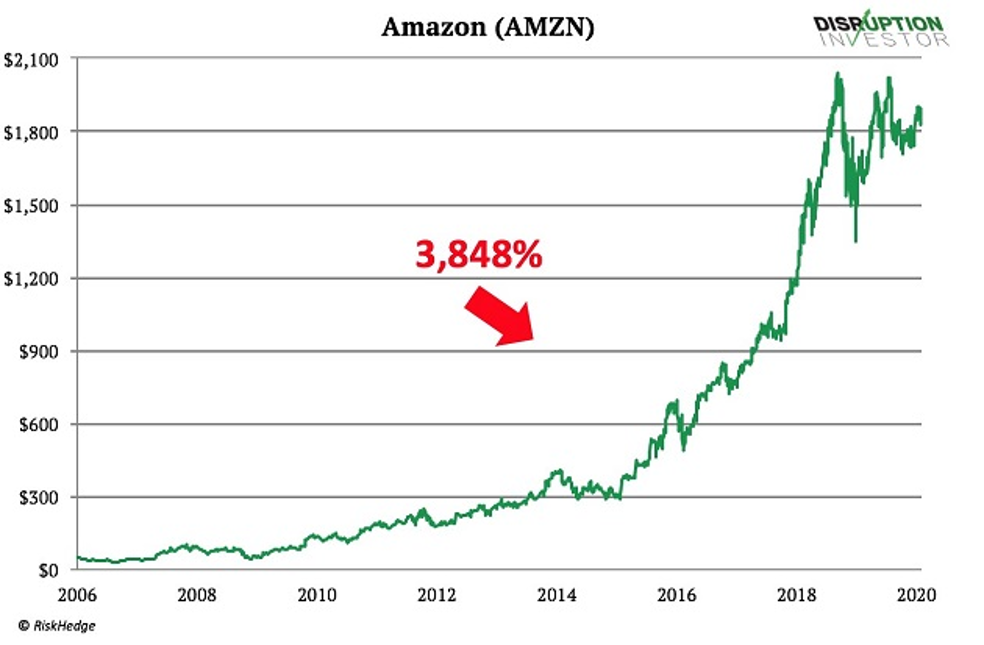 But let me start by shredding the biggest myth about Amazon.
Amazon Is Not What You Think It Is
When you think Amazon, you probably see Amazon.com, the world's biggest online store. But in some ways, the store is just a cover-up.
Believe it or not, after 20 years in business, Amazon is not making any money from its store. In fact, it's losing money on most of its online sales. What Amazon actually makes money from is called "the cloud."
In the first nine months of 2019, Amazon earned $10.7 billion in profit. But get this, 62% of the profit came from Amazon's cloud business.
The numbers don't lie. Amazon's cloud business is the real secret behind how it grew so rich and powerful.
"The Cloud" Explained in English
As you may already know, the cloud is where we store stuff on the internet. It's not up in the sky, though. It lives in warehouses filled with endless racks of machines called servers.
We all use these servers every day without even realizing it.
When you listen to music on Spotify or Apple Music, you are accessing the cloud. When you watch Netflix or Disney+, you are tuning in to the cloud to play all your favorite movies and TV shows. When you open your email inbox or skim through your aunt's photos on Facebook, again, you are connecting to the cloud.
Today, more than 90% of companies store and access data via the internet, according to 451 Group. And all these companies fork out billions of dollars to keep their data accessible through the cloud.
For example, my research shows Netflix spends around $100 million on the cloud to keep its streaming service running. Every year! And according to IDG, firms laid out, on average, $2.2 million a year on cloud services in 2018.
You Don't Need a Degree in Computer Science to Understand the Potential
The cloud industry comes down to data. The more data we store on the internet, the more cloud storage we need.
Since 2013, data on the internet has double every two years. In 2013, we stored only 4.4 trillion gigabytes of data on the internet. Today, over 44 trillion gigabytes are up in the cloud, according to Dell EMC.
That's an unimaginable amount of data. If you stored all that information on DVDs and then stacked them up, the stack would reach to the moon and back nearly 15 times.
The cloud is already a $300 billion industry. But with data growing at lightning speed, this industry is set to double to $614 billion by 2023, according to Marketwatch.
The End of Microsoft As We Know It
For most of its existence, Microsoft has been known as a company that invented "Windows," the world's most popular operating system. But everything changed when Microsoft's new CEO Satya Nadella took over the reins in 2015.
In effect, Nadella pivoted from "Windows" and laser-focused the company on the cloud. Since then, Microsoft's cloud revenue has shot up 13.6X from $2.8 billion to $38.1 billion: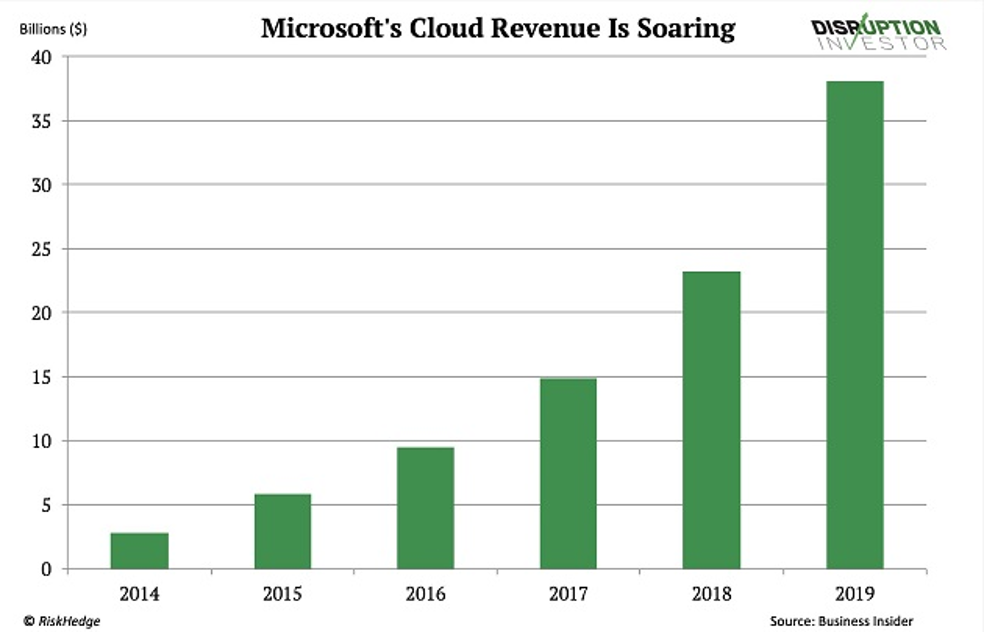 Today, the cloud is one of Microsoft's most profitable lines of business. In 2014, Microsoft earned only 3.2% of its money from the cloud. In 2019, the cloud made up nearly one-third of the company's revenue.
Microsoft is no longer a "Windows" company. It's no longer an "Xbox" company. It's a cloud company, just like Amazon.
Microsoft Is the Dark Horse of the Cloud
Amazon started its cloud service, known as Amazon Web Services, or AWS, in 2006. Since then, it has been the industry's indisputable leader. It claims 39% of the cloud market.
But did you hear about the scandal over the Pentagon's cloud contract called "JEDI"? Last October, the US Department of Defense sent a knockout blow to Amazon when it awarded its biggest cloud contract yet—worth $10 billion!—to Microsoft.
This is US national security we're talking about. It's not something the government skimps on. It works only with the best of the best.
The Pentagon trusting Microsoft with its most sensitive data is a sign Amazon's grip as #1 cloud company is slipping. In fact, Microsoft has been quickly catching up with Amazon, as you can see below: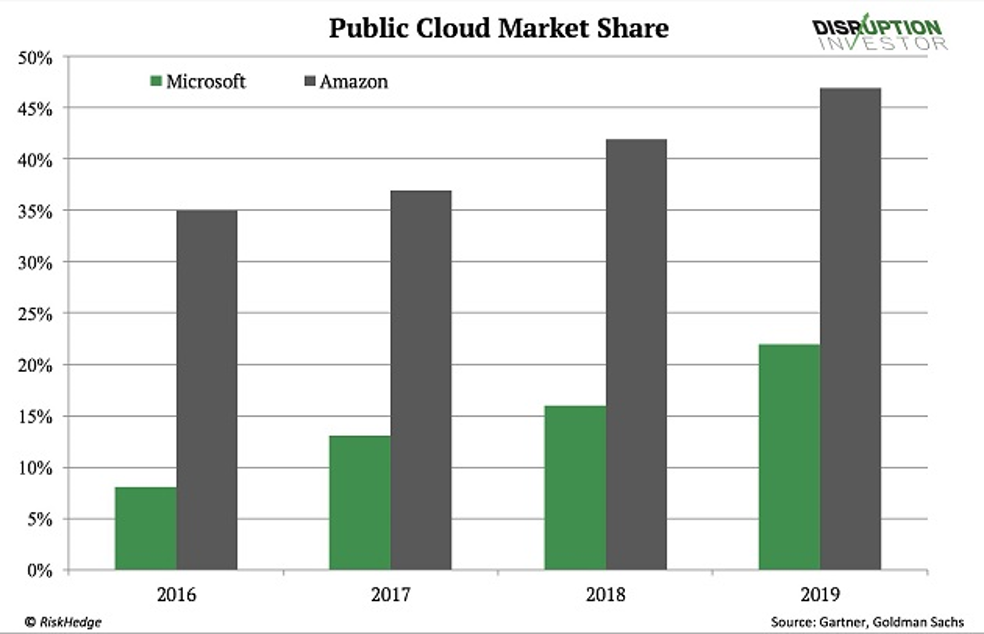 Meanwhile, last year, Amazon saw its slowest growth in the cloud since 2015. With Microsoft charging headfirst into the cloud, it may not take long before Amazon loses its lead.
Microsoft May Be a 45-Year-Old, "Unsexy" Company…
But it is wildly profitable, and it's going for Amazon's throat.
For nearly 15 years, Amazon quietly raked in billions of dollars enjoying supremacy in the cloud industry. Because of the cloud, it has grown 38X, minting thousands of "Amazon millionaires" along the way. But with Microsoft closing in, Amazon's reign as #1 is ending.
The cloud may not be "sexy" like TV-streaming stocks or pot stocks. But it's a booming industry that will hand investors plenty of triple-digit profit opportunities. And as the up-and-coming king of the cloud, Microsoft has a place in my portfolio.
Co-authored with Stephen McBride
_____
Equities Contributor: Daniel Run
Source: Equities News