I am heartbroken by the current situation in India. I'm grateful the U.S. government is mobilizing to help. Microsoft will continue to use its voice, resources, and technology to aid relief efforts, and support the purchase of critical oxygen concentration devices.

— Satya Nadella (@satyanadella) April 26, 2021
Devastated to see the worsening Covid crisis in India. Google & Googlers are providing Rs 135 Crore in funding to @GiveIndia, @UNICEF for medical supplies, orgs supporting high-risk communities, and grants to help spread critical information.https://t.co/OHJ79iEzZH

— Sundar Pichai (@sundarpichai) April 26, 2021
Microsoft Corporation's (Nasdaq: MSFT) Satya Nadella and Alphabet Inc's (Nasdaq: GOOGL) Sundar Pichai are pledging to aid India as the country battles a crushing wave of COVID-19 cases.
On Monday, the two Indian-born chief executive officers said they would deploy resources to help India as a second wave devastates communities and strains hospitals across the country.
"I am heartbroken by the current situation in India," Nadella wrote on Twitter.
"I'm grateful the US government is mobilizing to help," he added. "Microsoft will continue to use its voice, resources and technology to aid relief efforts and support the purchase of critical oxygen, concentration devices."
Pichai, CEO of both Alphabet and its Google subsidiary, said he was "devastated to see the worsening Covid crisis" and promised $18 million in aid from Google and its employees.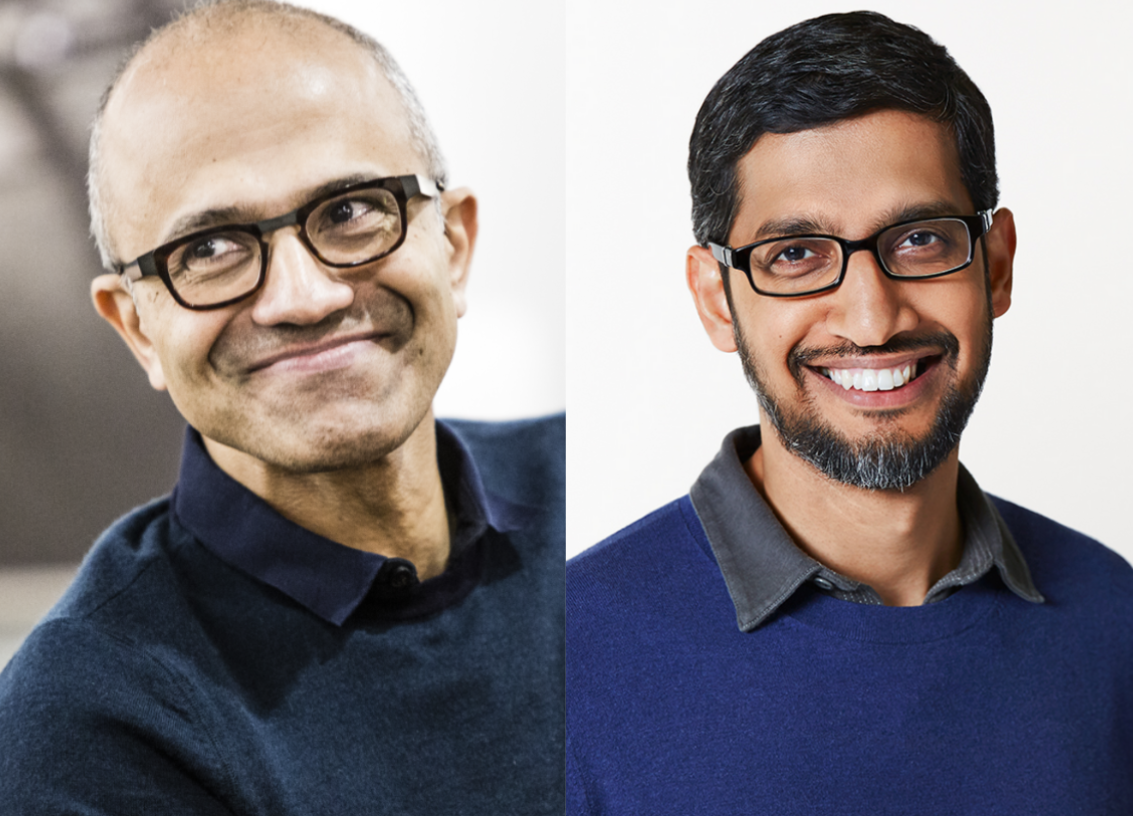 Images: Microsoft CEO Satya Nadella, Alphabet and Google CEO Sundar Pichai. Sources: Microsoft, Alphabet.
In a post on the company's blog, Google's head of India and vice president of sales and operations, Sanjay Gupta, said the company would provide a grant to UNICEF for urgent medical supplies, such as testing equipment and oxygen. Google is also giving $15 million in free advertising for public health information campaigns, as well as funding to Give India, a donation platform to assist families hit by the crisis, he said.
"Right now, India is going through our most difficult moment in the pandemic thus far. Daily COVID-19 cases continue to set record highs, with hospitals filled to capacity and in need of urgent supplies to cope with the increasing number of patients," Gupta wrote.
"Our Google community and their families are feeling the devastating impact, too. We're asking ourselves what more we can do as a company to ensure people get the information and support they need to keep their families and communities healthy and safe."
Gupta said that the company was working to improve how people found information about "where to get testing and vaccines" across the company's platforms, including its eponymous search engine, Google Maps and YouTube.
The commitments from Microsoft and Google come as India's second coronavirus wave, which began in mid-March, has left hospitals with a shortage of beds, oxygen and medical supplies. As a result, many hospitals are forced to turn away COVID-19 patients.
On Monday, India broke the world record for daily infections for a fifth consecutive day, reporting nearly 353,000 new cases and 17 million total cases. It also added 2,812 deaths to its overall toll of 195,000, according to The New York Times.
President Joe Biden has said the US is determined to help India as it grapples with the surge.
Just as India sent assistance to the United States as our hospitals were strained early in the pandemic, we are determined to help India in its time of need. https://t.co/SzWRj0eP3y

— President Biden (@POTUS) April 25, 2021
In a tweet Sunday, Biden wrote, "Just as India sent assistance to the United States as our hospitals were strained early in the pandemic, we are determined to help India in its time of need."
According to The Associated Press, White House officials said the US would be deploying drug treatments and rapid diagnostic testing kits to India, along with ventilators, personal protective equipment and oxygen supplies.
_____
Source: Equities News