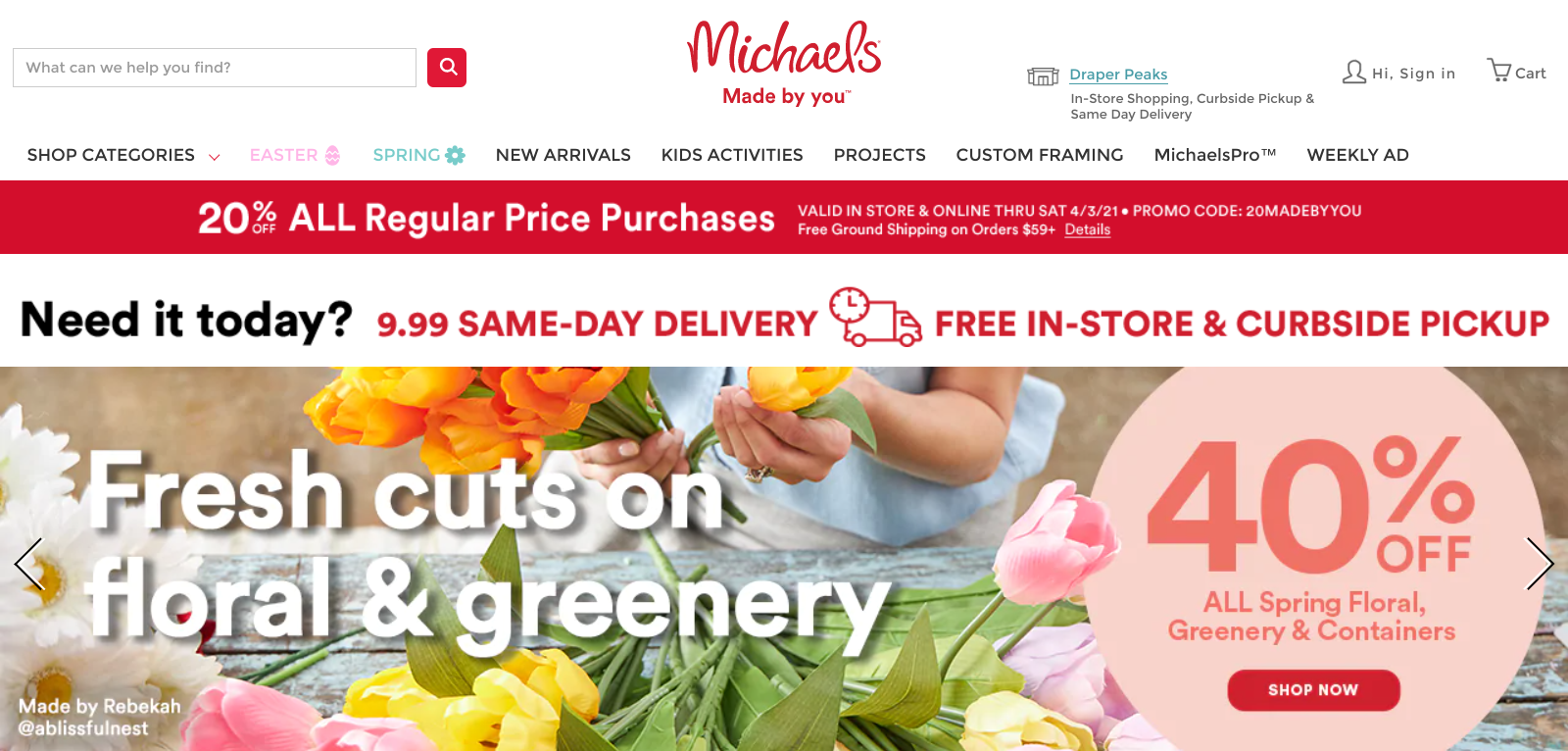 Image source: michaels.com
Arts and crafts retailer The Michaels Companies (Nasdaq: Chart MIK - $0. 0.03 (0.136%) ) announced Wednesday it reached an agreement with Apollo Global Management to take the company private.
Apollo will acquire all outstanding shares of Michaels common stock for $22 per share — a 47% premium to the closing stock price on Feb. 26, a day before media reports speculated a deal was in the works — for an equity transaction value of $3.3 billion. The deal is valued at $5 billion including debt.
According to Michaels, the financing is coming from a combination of equity from Apollo and a debt financing package from Credit Suisse, Barclays, Wells Fargo, RBC Capital Markets, Deutsche Bank, Mizuho and Bank of America Corporation.
The agreement announced Wednesday also gives Michaels a 25-day "go-shop" period in which to solicit and review other bids and terminate the deal with Apollo if a better proposal comes forward.
In a press release, James Quella, chairman of the board of Michaels, said, "The company's impressive growth transformation, including our financial and operational performance in the unprecedented environment of the pandemic, led to an unsolicited offer to buy the company."
Quella said the board of directors decided Apollo's bid represented a "compelling value" and unanimously approved it.
Ashley Buchanan, chief executive officer of Michael, said, "We are excited to enter into this new chapter together with Apollo, who shares our strategic vision for Michaels as an omnichannel retailer that offers a one-stop-shop experience for the entire Michaels community. As a private company, we will have financial flexibility to invest in, expand, and improve our retail and digital platforms."
Michaels was taken private in 2006 by Bain Capital and Blackstone in a deal valued at more than $6 billion, before returning to the public markets in 2014.
The retailer operates more than 1,275 stores in the US and Canada. After being hit hard last spring when the COVID-19 pandemic forced it to temporarily close locations, Michaels rebounded over the summer as restrictions eased. Over the past year, it has built up its online business and used its brick-and-mortar stores to offer same-day, curbside pickup service for customers.
Michaels reported better-than-expected figures on Thursday for its fiscal fourth quarter ended Jan. 30, 2021. The company posted net income of $255 million, or $1.69 per share on an adjusted basis, on revenue of $1.92 billion. Analysts were expecting $1.57 per share and $1.82 billion, respectively.
Andrew S. Jhawar, senior partner and head of retail and consumer group at Apollo, said, "Michaels is the go-to-destination in arts and crafts for the deepest breadth of assortment with best-in-class customer service. We believe there is a significant opportunity to enhance the Michaels brand, store experience and omnichannel offering to its customers across North America."
_____
Source: Equities News