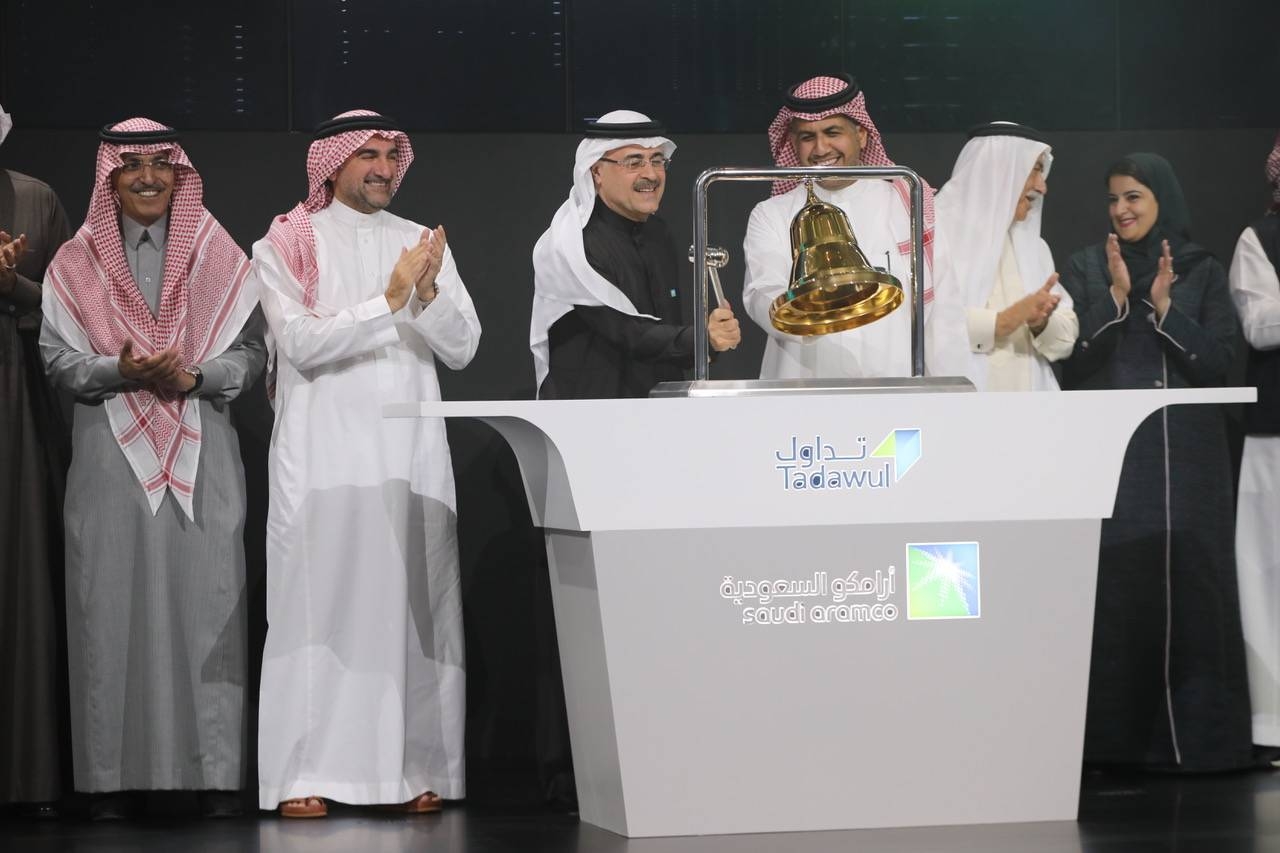 Image: Officials from Saudi Aramco and Tadawul ring the bell on the oil giant's first day of trading in Riyadh. Source: Saudi Gazette
March 2020 — Myth Buster
In the first entry of this series, we turned our microscope on Russia, a nation locked in a death grip with the elusive profits of oil and gas. Saudi Arabia is this month's focus. Well endowed, the nation proceeds out of step with the social and political direction of the majority of countries who lap up its bottomless oil supply. It seems that none of the "modern" business or social ideas that dominate the United States, Japan, the euro zone, the former Soviet satellites and most other trading partners make a dent in Saudi Arabia's official positions on much of anything.
Sharing wealth is not an issue. In the recently closed Saudi Aramco (SAR) initial public offering (IPO), the world's most valuable company claimed that economic diversification impelled the long-awaited event. The IPO, however, was seeded by wealthy families, part of the ruling inner sanctum, who grabbed a sizeable stake from the meager 1%-3% offered in round one. Even this tiny ownership stake, which would not have threatened the royal family's control of this ultimate cash cow, was being guarded more tightly than crown jewels. Hungry buyers from around the world had to wait in a long queue before bidding on the minuscule share.
New Industry for the Oil Rich Kingdom?
Our theme in this series is diversification of economies, especially those with massive natural resources. Saudi Arabia could certainly use diversification. Its economy is one of the most peculiar of any "developed" nation. A review of the Tadawul, the national stock exchange, shows that the largest industries are banking and finance, followed by energy (oil/gas). Among the twenty-five most prominent listings are Al Bilad Bank, Al-Rajhi Bank, Alinma Bank, Arab National Bank, Riyad Bank, Saudi British Bank, Samba Financial Group and Alawwal Bank. Clearly, there is a lot of money to handle.
Logic would suggest that oil and gas would dominate in this medium-sized country (population: 33 million). The reason banking outweighs oil is that the oil is owned by the ruling families. Banking is huge because the wealth generated by oil must be kept somewhere and used to produce more wealth.
Meanwhile, many ordinary day-to-day jobs are done by "contract" workers, most of whom are not Saudis. These expatriates from various countries eager to supply labor are not welcome to become Saudi citizens. That includes 1.5 million Indians and 700,000 Filipinos among 11 million foreign nationals. When these laborers finish their "contracts," they generally return to the country of origin. But the jobs they vacate are rarely filled by unemployed Saudis. What a peculiar situation this leads to for this economy. There is almost no effort to develop new industries, such as manufacturing automobiles, steel making, irrigating desert land to become farmland, pharmaceutical research or creating artificial intelligence.
Why should they develop new lines of business? Want an automobile? Use your oil wealth and import it. Need someone to drive a garbage truck? Hire a "contract worker." Is a new building your goal? Bring on a company to build it, possibly from outside Saudi Arabia. This becomes quite lopsided. Everyone with connections or wealthy relatives gets into the oil business directly or indirectly. This includes family members who, for example, control all express mail services. Don't look for a Fred Smith or an entrepreneur willing to ride around on a motorbike to build a delivery business from the ground up. Look for a connected family member who can hire Fed Ex to work for him and, of course, keep a large portion of the revenue.
So, the Myth Buster doubts that the ballyhooed Aramco IPO will really lead to such popular western ideas as "democracy," "reform" or "economic diversification." For the time being, Saudi Arabia will continue to be an oil-rich nation that has developed a peculiar way of arranging day-to-day business activity.
Saudi Arabia's moderate population and overwhelming amount of oil provide two benefits supporting is reliance on natural resources.
First, there really is enough money to go around. While Russia (last month's focus) sags under the weight of its population. Saudi Arabia proceeds much more efficiently.
Second, Saudi Arabia has managed to make friends with a huge number of countries. It remains on great terms with the US, unlike its larger and more troubled neighbors.
Major American universities take in millions to fund research and many royal family members study in the US. For example, the late Prince Saud Al-Faisal graduated from Princeton. In addition, various Saudi organizations including Saudi Aramco donate many millions to various American universities. A co-founder of OPEC (Oil Producing and Exporting Countries), the villain of many politicians, the Saudi leaders smile and, please excuse the cliché, laugh all the way to the bank. The Kingdom also connects well with Russia as a fellow holder of massive oil supplies.
Despite its unusual traits, the Kingdom is seen as relatively efficient. It recently received praise from international ratings groups for its improvements in infrastructure, education, health and labor practices and for good future planning.
Meanwhile, the Saudis are satisfied to ride out the world's oil dependence until the last spigot goes dry and the last oil-fueled engine is replaced by a rechargeable battery. (Note: that will not be any time soon!)
Stay tuned. This myth looks deep into the sometimes successful and sometimes unsuccessful dependence on natural resources. Natural resources explain Saudi Arabia's peculiarities. Next month concludes the series with a look at Nigeria.
**********************
Michael McTague, Ph.D. is Executive Vice President at Able Global Partners in New York, a private equity firm.
___
Equities Contributor: Michael McTague, PhD
Source: Equities News