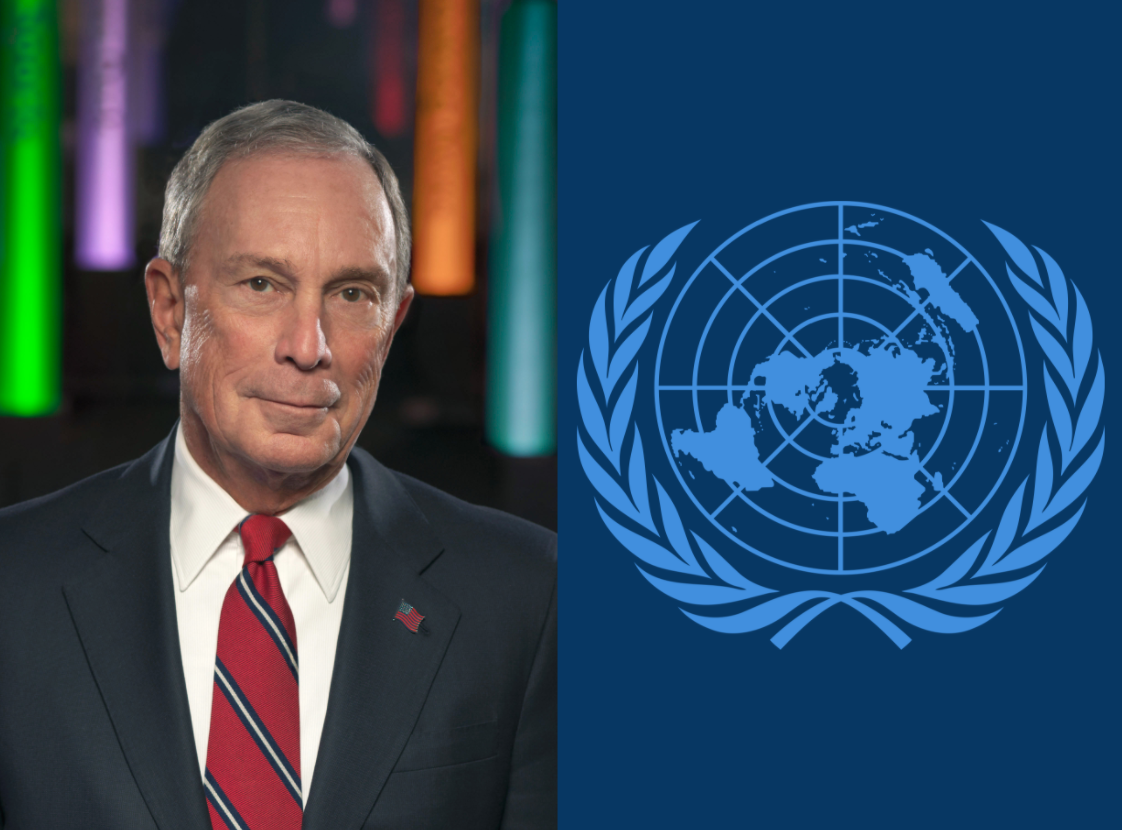 Image: Michael Bloomberg. Source: Bloomberg Philanthropies, CC0, via Wikimedia Commons
Former New York City Mayor Michael Bloomberg was reappointed by the United Nations to serve as a special envoy to work with businesses and governments to tackle the threat of climate change.
On Friday, United Nations Secretary-General António Guterres said Bloomberg will focus on mobilizing "stronger and more ambitious climate action" ahead of November's global summit in Glasgow, Scotland.
According to the United Nations, Bloomberg will be tasked with "growing and strengthening" governments and businesses committed to achieving net-zero emissions by 2050, a major goal in the 2015 Paris Agreement.
His work, the U.N. said, will be rooted in Guterres's call to "rebuild better together from the COVID-19 pandemic" by transforming the world economy "through new investment in clean infrastructure, new jobs and a resilient future free from dirty fossil fuels."
As a special envoy, Bloomberg will "engage with government officials and members of the private sector and civil society to finalize and implement plans, particularly in high-emitting countries, industries and sectors, to vastly accelerate the transition to a clean energy economy," the United Nations said.
The billionaire philanthropist and media mogul previously served in the UN role between March 2018 and November 2019, before stepping down to pursue the 2020 Democratic presidential nomination.
Guterres said the U.N. was pleased to welcome back Bloomberg, whom he described as "a leader who is undaunted by the big challenges."
Bloomberg's "deep commitment to climate action and his essential experience bridging the interests of business, finance, policy makers and philanthropy are uniquely suited to helping to accelerate impact," the secretary-general added.
In a tweet Friday, Bloomberg said he was "honored" to serve as special envoy.
I'm honored to serve as @UN Special Envoy for Climate Ambition & Solutions, and the first Global Ambassador for #RacetoZero & #RacetoResilience. Climate change is a global challenge, and I'm looking forward to continuing to accelerate progress.https://t.co/M73XGiFwFt pic.twitter.com/QM6c1jPRQb

— Mike Bloomberg (@MikeBloomberg) February 5, 2021
"As the world builds back from COVID-19, we have a once-in-a-lifetime opportunity to make investments that will strengthen the economy, improve public health and fight climate change for generations to come," he said in a video.
The upcoming conference in Glasgow, which was postponed by a year due to the COVID-19 pandemic, is regarded as a key part of global efforts to address man-made climate change. The Paris Agreement, which seeks to limit global warming and reduce greenhouse gas emissions, stemmed from the U.N.'s 2015 conference.
Former President Donald Trump pulled the U.S. out of the accord in November 2020, a move reversed by President Joe Biden on his first day in office.
_____
Source: Equities News