​MGX Signs Definitive Agreement to Acquire Lithium Brine Projects in Chile – Permitting in Place to Commence Drill Program
Spotlight News Follow |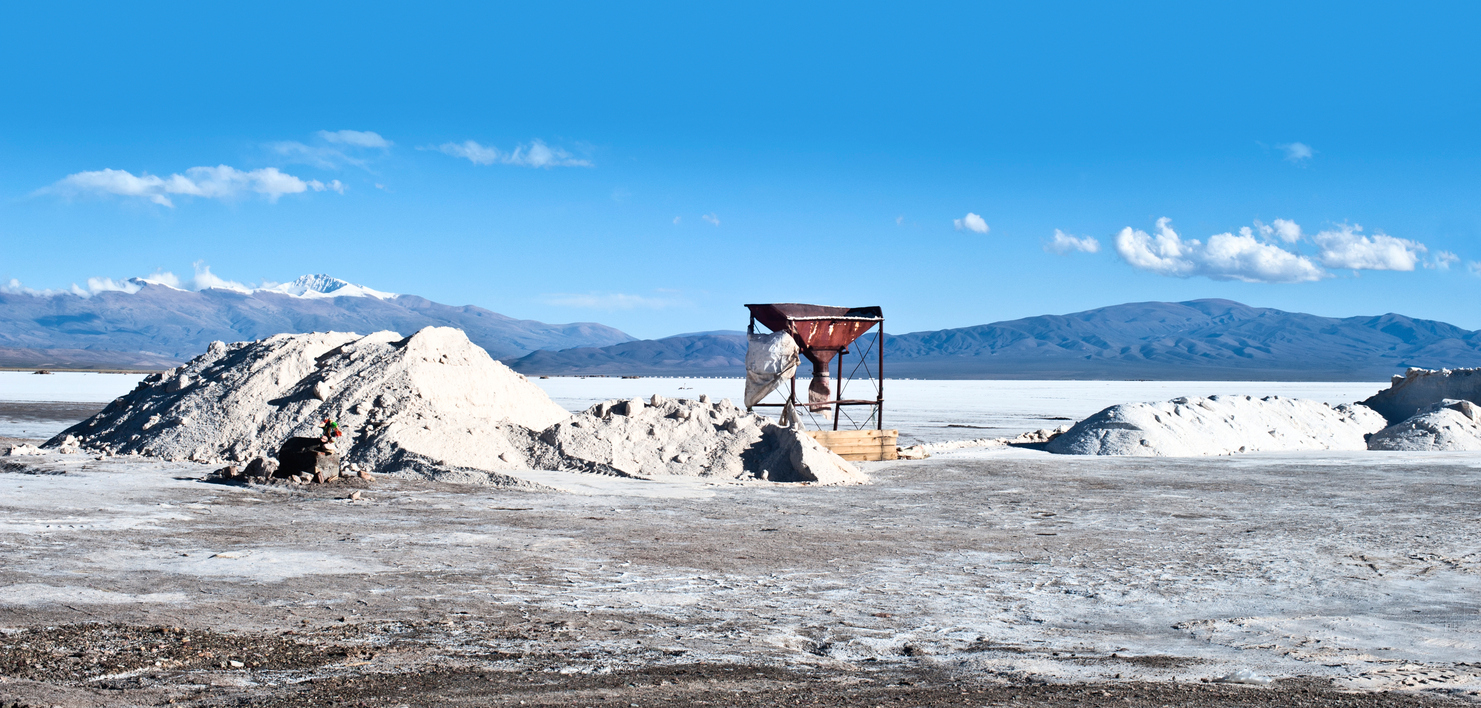 MGX Minerals Inc. (MGXMF) (XMG:CNX) ()is pleased to announce it has signed the Definitive Option Agreement, after completing the due diligence in relation to the Memorandum of Understanding dated August 8th 2018, to acquire 50% of the issued shares of Chilean Lithium Salars SpA ("CLS"). CLS is a wholly owned subsidiary of Chilean Lithium Salars Pty Ltd. ("CLSH") and holds a 100% interest in three prospective lithium exploration Projects (the "Projects") located in Chile, including Francisco Basin, Laguna Brava and Laguna Escondida Lithium Projects.

Two samples from the Laguna Brava Project were received at PurLucid Treatment Solutions Inc. ("PurLucid") facilities in Calgary, Alberta to undergo pilot testing to prepare a Rapid Lithium Extraction unit deployment. Drilling contractors will be on site this week to prepare the drilling program at Francisco Basin Project, which will be overseen by SRK Consulting to deliver a 43-101 complaint Resource Estimation as soon as the exploration program is completed.
Following the positive response from the Chilean state agency National Geology and Mining Service ("SERNAGEOMIN") and the Environmental Assessment Service ("SEA"), the Company plans to ship a rapid lithium brine system shortly. The Special Lithium Operation Contract "CEOL," is a requirement to carry any lithium related commercial activity in Mining Concessions granted after 1983.
Furthermore, work by Risacher et al., (2003) has shown that subsurface brines contained within the volcanic geology are of a much higher concentration, typically 250,000-350,000 mg/L TDS. Given this hypothesis, CLSH commissioned a reconnaissance drilling program in December 2017 comprising four bores; the locations are shown in Figure 6-4. Two bores reached the design depth of 120 m, and the other two bores were abandoned due to collar collapse because of high water flows. The results from this program confirmed the presence of lithium at depth. Results were as follows (Sanchez, 2018):

Figure 1. Location of Laguna Brava 2018 Reconnaissance Drilling
I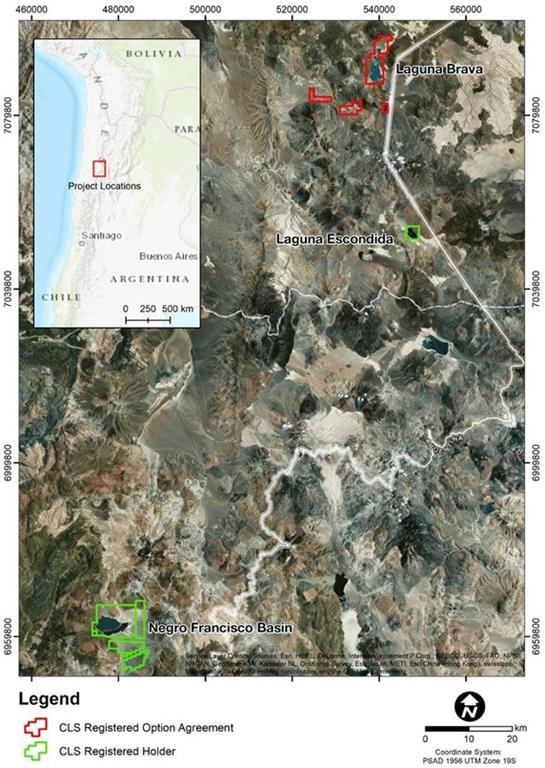 A geophysical program comprising electromagnetic and gravity surveys was completed by CLSH in February 2018. The electromagnetic survey based on sections around the periphery of the salar indicated the presence of high conductivity brines exceeding 100 meter thickness at the margins of the salar. The survey indicated that drill holes completed prior to the program were in an area with brines of relatively low conductivity.
Within the vicinity of the Laguna Brava salar, the Project includes additional concessions covering Lagunas del Gilguero and the southern margin of Piedra Parada.
Laguna Escondida Salar
The Laguna Escondida project ("Laguna Escondida") is located approximately 200 km east–northeast of the regional capital and is accessible via a provincial highway to within 10-15 km of the project.
Regional Geology
The Portfolio of projects are located within the Central Volcanic Zone in the foothills of the Andes mountain range on the eastern side of Chile. All the projects are located at altitudes exceeding 4,000 m. The geology of this region, like the rest of Chile, is dominated by the eastward subduction zone under the entire country generating uplift that has created the Andes Mountains and the Coastal Cordillera (Moreno and Gibbons, 2007). This subduction has intensely deformed the older rocks and generated volcanic activity that spans geological history from the Mesozoic to the present.
Figure 2. Location of Laguna Brava, Francisco Basin and Laguna Escondida project


Terms of the Option Agreement
To acquire an undivided 50% interest in CLS, MGX has agreed to make Option Payments totaling US$1.5 million. The first US$100,000 portion of the Option Payments are payable in cash at the discretion of CLS while the remainder of Options Payments will be payable in common shares of the Company. MGX has agreed to incur exploration expenditures totaling US$2 million and also complete an NI 43-101 resource estimate on at least one of the Projects no later than 20 months after the Effective Date of the MOU. MGX will act as project operator and appoint Mr. Aldo Boitano, current project manager for CLS, as project manager to work alongside Kura Minerals. CLSH shall contribute an equal amount of expenditures to maintain its respective interest in CLS. MGX also maintains the right to participate as a service provider of the engineering, construction and/or procurement of a brine processing plant using its rapid lithium extraction technology. Closing of the transaction remains subject to due diligence.
Rapid Lithium Brine Extraction Technology
MGX has developed a rapid lithium extraction technology eliminating or greatly reducing the physical footprint and investment in large, multi-phase, lake sized, lined evaporation ponds, as well as enhancing the quality of extraction and recovery across a complex range of brines as compared with traditional solar evaporation. This technology is applicable to petrolithium (oil and gas wastewater), natural brine, and other brine sources such as lithium-rich mine and industrial plant wastewater. The technology was recently chosen as winner of the Base and Specialty Metals Industry Leadership Award at the 2018 S&P Global Platts Global Metals Awards, held in London in May (see press release dated May 18, 2018).
Qualified Person
Andris Kikauka (P. Geo.), Vice President of Exploration for MGX Minerals, has prepared, reviewed and approved the scientific and technical information in this press release. Mr. Kikauka is a non-independent Qualified Person within the meaning of National Instrument 43-101 Standards.
About MGX Minerals
MGX Minerals is a diversified Canadian resource company with interests in advanced material and energy assets throughout North America. Learn more at www.mgxminerals.com.
In the interest of full disclosure, we call the reader's attention to the fact that Equities.com, Inc. is compensated by the companies profiled in the Spotlight Companies section. The purpose of these profiles is to provide awareness of these companies to investors in the micro, small-cap and growth equity community and should not in any way be considered as a recommendation to buy, sell or hold these securities. Equities.com is not a registered broker dealer, investment advisor, financial analyst, investment banker or other investment professional. We are a publisher of original and third party news and information. All profiles are based on information that is available to the public. The information contained herein should not be considered to be complete and is not guaranteed by Equities.com to be free from misstatement or errors. The views expressed are our own and not intended to be the basis for any investment decision. Readers are reminded to do their own due diligence when researching any companies mentioned on this website. Always bear in mind that investing in early-stage companies is risky and you are encouraged to only invest an amount that you can afford to lose completely without any change in your lifestyle. Equities has been compensated with cash, common shares and/or warrants for market awareness services provided.
DISCLOSURE: The views and opinions expressed in this article are those of the authors, and do not represent the views of equities.com. Readers should not consider statements made by the author as formal recommendations and should consult their financial advisor before making any investment decisions. To read our full disclosure, please go to: http://www.equities.com/disclaimer
Companies