MGX Minerals Inc. (CSE:XMG) (FKT:1MG) (OTCQB:MGXMF(CSE:XMG) (FKT:1MG) (OTCQB:MGXMF) is pleased to announce that its wholly owned subsidiary ZincNyx Energy Solutions Inc. has developed new methods to expand the capacity of its zinc-air fuel cell battery as part of the mass production design phase.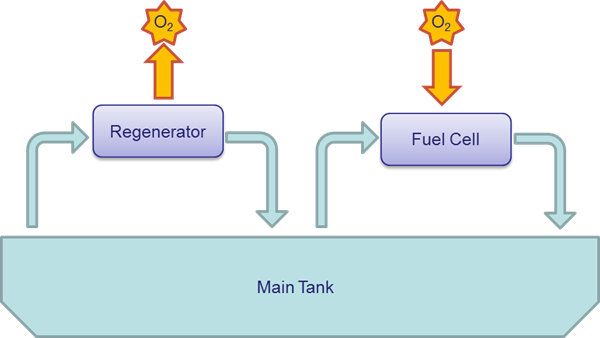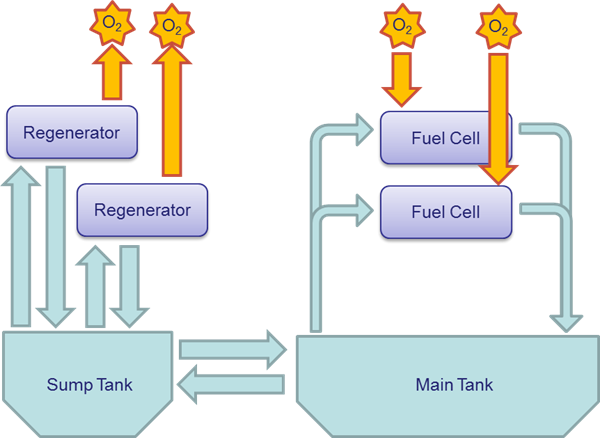 Background
ZincNyx has developed a patented regenerative zinc-air flow battery that efficiently stores energy in the form of zinc particles and contains none of the traditional high cost battery commodities such as lithium, vanadium or cobalt. The technology allows for low-cost mass storage of energy and can be deployed into a wide range of applications.
Unlike conventional batteries, which have a fixed energy/power ratio, ZincNyx's technology uses a fuel tank system that offers flexible energy/power ratios and scalability. The storage capacity is directly tied to the size of the fuel tank and the quantity of recharged zinc fuel, making scalability a major advantage of the flow battery system. In addition, a further major advantage of the zinc-air flow battery is the ability to charge and discharge simultaneously and at different maximum charge or discharge rates, since each of the charge and discharge circuits is separate and independent. Other types of standard and flow batteries are limited to a maximum charge and discharge by the total number of cells as there is no separation of the charge, discharge and storage components.
Basic System
The basic system consists of a Regenerator unit, a Main Tank and a Fuel Cell. When the system is recharging, electrical power is used in the Regenerator unit to produce fine particles of zinc within a bearer electrolyte. As the system continues to be charged, the zinc particles are collected in the Main Tank, surrounded by the common electrolyte and oxygen is released to the air.
When the system is generating power, the zinc particles are delivered from the Main Tank to the Fuel Cell in the bearer electrolyte. The zinc particles are combined with oxygen drawn from the air and electrical power is delivered to the load.
To watch a short video outlining this operation, please visit:
http://www.zincnyx.com/technology/
A photo accompanying this announcement is available at http://resource.globenewswire.com/Resource/Download/a6a745e7-39b7-43fe-91a0-7cf6173cbf8f
Expanded System
Although the Main Tank of the basic system may be made of any suitable size, there are practical limitations to the physical size and electrical capacity of the Regenerator and Fuel Cell units. ZincNyx has overcome this restriction by developing an expanded capacity system wherein multiple Regenerator units and multiple Fuel Cells can be assembled into a single system to deliver a wide variety of configurations and capacities that can be optimised for individual applications.
A photo accompanying this announcement is available at http://resource.globenewswire.com/Resource/Download/aaeaec73-b38a-47b8-be1d-a024221891b1
Whereas the Fuel Cells may be fed from the same electrolyte source, the Regenerator units must be free to exhaust oxygen at atmospheric pressure. In the basic system, this requirement places a restriction on the vertical placement of these units since any difference in height could lead to electrolyte overflow from one unit to another. In the expanded system, ZincNyx has solved this problem by providing a separate Sump Tank and individual electrolyte flows for each Regenerator unit. The design provides additional benefits in simplifying the piping arrangement while enabling the Regenerator units to be closely stacked above each other.
Patent Status
An application for a patent on the invention has been filed through the Patent Cooperation Treaty (PCT) process and has been published as WO2018/018145.
The key technical features of the invention include:
A system and method for storing electrical energy, in particular for regenerative fuel cells.
An energy storage system comprising a particle regeneration subsystem for regenerating metallic particulate fuel, a fuel storage subsystem and a power generation subsystem for producing electrical energy from the metallic particulate fuel.
The provision of one or more intermediate tanks to assist in the release of oxygen to the atmosphere and/or the settling of the metallic particulate fuel from the bearer electrolyte.
The independent flow of electrolyte and/or fuel between the various subsystems
About ZincNyx Energy Solutions
ZincNyx Energy Solutions, a wholly owned subsidiary of MGX, has assembled an experienced team to execute the development and commercialization of a dependable renewable energy source. With both environmental and efficiency factors in mind, ZincNyx strives to meet the growing need for secure and reliable power. MGX intends to publicly list ZincNyx and pay a partial share dividend to MGX shareholders of record (see press release dated April 3, 2018). The record date is expected to be announced shortly.
About MGX Minerals
MGX Minerals is a diversified Canadian resource company with interests in advanced material and energy assets throughout North America. Learn more at www.mgxminerals.com.
Neither the Canadian Securities Exchange nor its Regulation Services Provider (as that term is defined in the policies of the Canadian Securities Exchange) accepts responsibility for the adequacy or accuracy of this release.
In the interest of full disclosure, we call the reader's attention to the fact that Equities.com, Inc. is compensated by the companies profiled in the Spotlight Companies section. The purpose of these profiles is to provide awareness of these companies to investors in the micro, small-cap and growth equity community and should not in any way be considered as a recommendation to buy, sell or hold these securities. Equities.com is not a registered broker dealer, investment advisor, financial analyst, investment banker or other investment professional. We are a publisher of original and third party news and information. All profiles are based on information that is available to the public. The information contained herein should not be considered to be complete and is not guaranteed by Equities.com to be free from misstatement or errors. The views expressed are our own and not intended to be the basis for any investment decision. Readers are reminded to do their own due diligence when researching any companies mentioned on this website. Always bear in mind that investing in early-stage companies is risky and you are encouraged to only invest an amount that you can afford to lose completely without any change in your lifestyle. Equities has been compensated with cash, common shares and/or warrants for market awareness services provided.