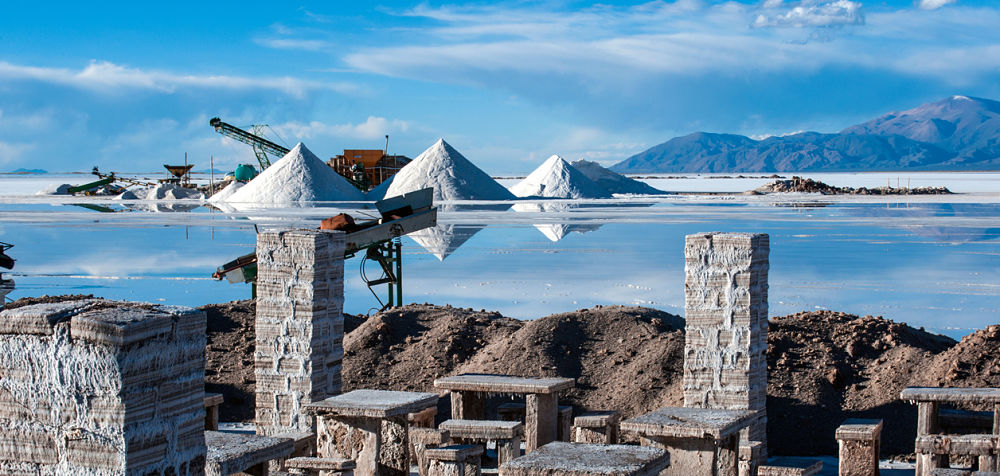 The world is amid the early stages of a fundamental shift away from fossil fuels to renewable energy. With the shift, we're starting to see "hybrid" business models, according to Jared Lazerson, CEO of MGX Minerals, Inc. XMG:CNX MGXMF, as companies look to get exposure to both market segments. No hybrid model may be more innovative that MGX's petrolithium technology, which facilitates rapid production of lithium, a key ingredient in rechargeable batteries, from brine generated in oil and gas extraction.
Owing to the rise in renewable energy storage and electric vehicles, which topped 3 million cars on the roads globally in 2017, lithium demand has been surging, causing the annual average lithium carbonate price for large fixed contracts to spike 61% in 2017 from 2016 to $13,900 per metric ton.
To that end, the Vancouver-based company has been moving at a furious pace to maintain a leadership position and build a massive land package of lithium-rich properties in brine-bearing formations. At the same time, MGX has been expeditiously working with partner PurLucid Treatment Systems (owned 51% by MGX) to develop and commercialize a proprietary, low-energy extraction process that quickly concentrates lithium and other minerals from brine in as little as a couple days, versus up to two years like conventional lithium production processes.
Investors have gotten behind MGX to fund its initiatives. The company just recently announced an oversubscribed $15.5 million non-brokered private private placement, equipping it with fresh capital for advancing MGX's lithium and magnesium assets, which includes continued investment into extraction equipment and PurLucid.
Two Million Acres and Counting

Last month, MGX added to its large portfolio with the acquisition of 10,331.32 acres of oil and gas leases within its 80,380-acre petrolithium project in southeastern Utah. The property, dubbed the "Blueberry Unit," is a recently unitized federal oil and gas property that is now part of MGX's Paradox Project, the first large-scale integrated petroleum and lithium exploration project in the country.
For $145,000, MGX receives 83.0% net revenue interest (NRI) on 8,481.53 acres, and 82.5% NRI on remaining 677.31 acres. Per the agreement, MGX has until December 15, 2021 to drill a well (expected at ~ 8,000 vertical feet) to test the Cane Creek Shale of the Paradox Formation. The contract further stipulates that MGX has an option to acquire a lease covering another 1,172.48 acres if and when the lease is made available by the Bureau of Land Management.
The acquisition adds to MGX's land package that now totals more than two million acres across North and South America. The company is exploring and analyzing its properties to determine the best locations to first deploy its mineral extraction technology.
The Paradox Basin, situated by the well-known Lisbon Valley oilfield, is strategically important to MGX – and the U.S. for that matter – as the U.S. Geological Survey has identified the basin as hosting significant volumes of undiscovered resources. "Significant" being the operative word used conservatively as the Paradox Basin is estimated to hold 560 million barrels of oil, 12,701 billion cubic feet of natural gas and 490 million barrels of natural gas liquids.
MGX has completed paleontology surveying of its Paradox Project, is near completion of the archaeology survey and plans to initiate a 3D seismic survey in August to better define the potential of the project.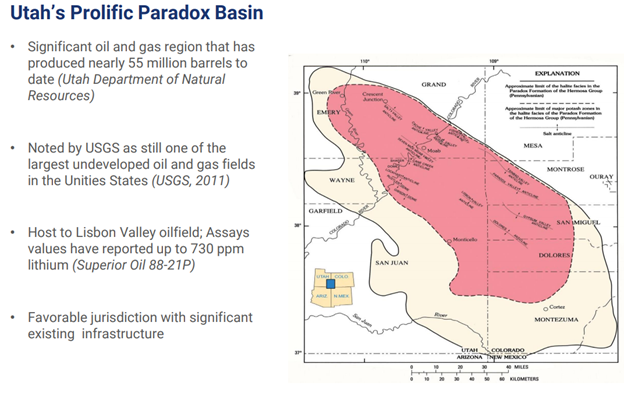 Wastewater to Dollars
In North America, approximately 20 million barrels of oil and gas are produced every day. For every one of those barrels, about four or five barrels of brine are produced too, equating to up to 100 million barrels of wastewater, or brine, that the producer must properly deal with. Typically, this brine is re-injected back into the ground, sending with it countless amounts of valuable minerals with it.
MGX is vigilant about keeping shareholders updated on its progress in collaboration with PurLucid in developing its novel lithium recovery and wastewater treatment system. Underpinned by nanoflotation and nanofiltration technology, the system is earning accolades already, including being chosen as a the winner of the Base and Specialty Metals Industry Leadership Award at the 2018 S&P Global Platts Global Metals Awards in London this month.
Subsequent to commercial-scale trials with several oilfield operators proving the merits of the systems to deliver a return on investment, MGX has been gearing up for system deployment to customers. This month, MGX showcased its NFLi-5 commercial-scale rapid lithium extraction system at its lab in Calgary to oil and gas companies, industrial customers, lithium brine owners and local and international media.
MGX is customizing systems per customer needs and has multiple systems nearing commissioning. The first scheduled deployment, which will represent at true milestone for MGX, is with a major oil and gas operator in Alberta to operate an integrated wastewater treatment and lithium recovery system.
The second deployment demonstrates the versatility of MGX. It represents a contract between a consortium including government, oil and gas operator, MGX and PurLucid to receive and treat evaporator blowdown wastewater (EBD). The contract includes the installation of three treatment systems. These are comprised of an EBD treatment systems that will take highly concentrated evaporator brine and treat it to a level suitable for reinjection on site; a high temperature system that will be installed to treat produced water following oil-water separation; and a larger-scale version of the first system intended for deployment to treat one-through steam generator boiler blowdown.
Cumulatively, the applications of MGX technology represent significant cost savings for oilfield operators in water handling and revenue for MGX and PurLucid in wastewater treatment with additional opportunity for lithium and mineral recovery.
Rockstone Research founder Stephan Bogner succinctly summarized the potential of MGX's technology recently in saying, "If MGX can prove commercial viability… a big rethinking may begin in the United States as to where capital should be deployed. It would be a game-changer."
Innovators in Energy Storage
MGX doesn't exclusively focused on petrolithium, the company also is a pioneer in Zinc-air energy storage through its wholly-owned subsidiary ZincNyx Energy Solutions, Inc. ZincNyx holds a robust patent estate protecting a regenerative zinc-air flow battery that efficiently stores energy in the form of zinc particles for on-demand use. Because it doesn't use the high-cost battery commodities, the technology allows for low-cost mass storage of energy with a wide range of applications.
Canada's Natural Science and Engineering Research Council (NSERC) is lending support as part of a national push toward a renewable energy economy. ZincNyx and its partners, including researchers at the Universities of Waterloo, Calgary, and Simon Fraser University, are benefiting from this initiative via a grant from NSERC to develop nanostructured material for their next generation Zinc-air energy storage.
The consortium is working on a project titled Grid-scale Energy Storage Using Zinc-air Fuel Cells with Nanostructured Electrodes that is exploring and developing graphene-based materials for the next generation system. NSERC has awarded the project $580,000 over the next three years to support the research, which is ready to be advanced into commercial applications.
Fully-Integrated Potential
While it moves forward with the aforementioned projects with its partners, MGX has also expanded its silicon portfolio in British Columbia with the acquisition of the Gibraltar property located about 95 kilometers northeast of Cranbrook, B.C. Previously owned by Glen Rodgers and MGX director and VP of Exploration Andris Kikauka, MGX picked the property up for 100,000 shares of stock. The property features high purity quartzite that has the potential for technological applications, consisting of snow white colored, high purity silica that contains >98.8% SiO2 and < 1.2% impurities such as Al2O3, Fe2O3, CaO, MgO, Na2O, K2O.
MGX is actively investigating the potential to source high-grade silica as a feedstock for use in industrial silicon and solar silicon metal applications. A primary uses of silicon is in solar panels, a pillar in renewable, distributed energy solutions. When combined with a mass storage system, such as the Zinc-air system of ZincNyx Energy, the potential for MGX to become a fully-integrated clean energy provider starts to become clear.
At MGX's Wonah and Koot silicon properties in B.C., the permits have now been received to commence a drill program. MGX intends to complete 13 combined drill holes and a metallurgical program to test the projects for suitability of upgrading to silicon metal and solar grade silicon. The exploration will add to a growing body of research defining large zones of mineralization of high-purity silicon dioxide.
It will also add to a library of work at MGX that signals this is a company that will not relent until it achieves its goals.
---
In the interest of full disclosure, we call the reader's attention to the fact that Equities.com, Inc. is compensated by the companies profiled in the Spotlight Companies section. The purpose of these profiles is to provide awareness of these companies to investors in the micro, small-cap and growth equity community and should not in any way be considered as a recommendation to buy, sell or hold these securities. Equities.com is not a registered broker dealer, investment advisor, financial analyst, investment banker or other investment professional. We are a publisher of original and third party news and information. All profiles are based on information that is available to the public. The information contained herein should not be considered to be complete and is not guaranteed by Equities.com to be free from misstatement or errors. The views expressed are our own and not intended to be the basis for any investment decision. Readers are reminded to do their own due diligence when researching any companies mentioned on this website. Always bear in mind that investing in early-stage companies is risky and you are encouraged to only invest an amount that you can afford to lose completely without any change in your lifestyle. Equities has been compensated with cash, common shares and/or warrants for market awareness services provided.