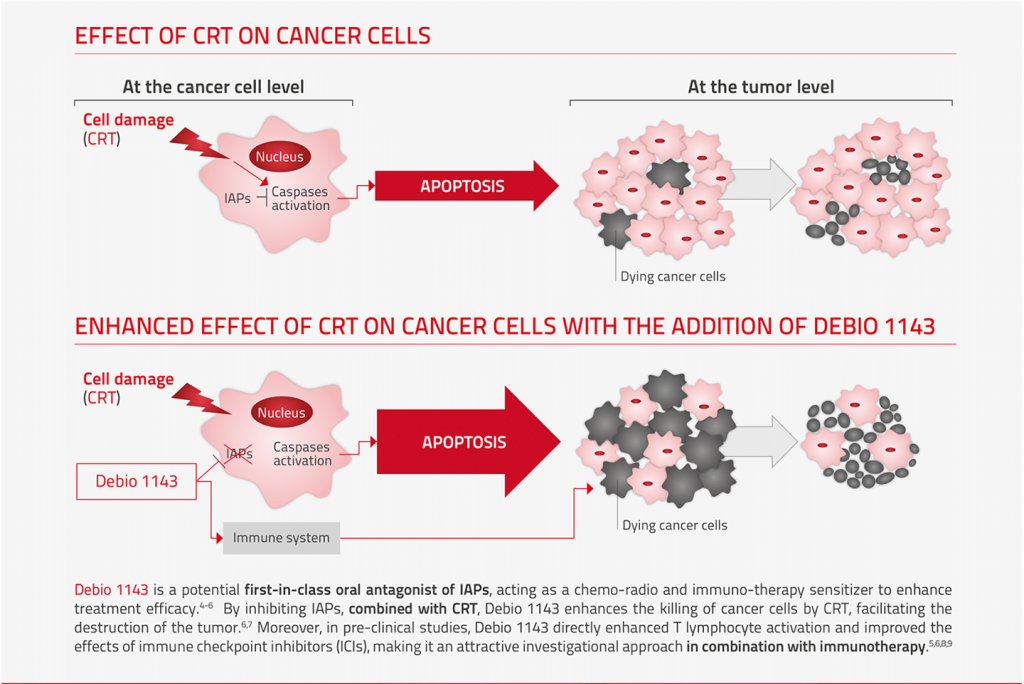 Image: Mode of action of xevinapant (Debio 1143). Source: Debiopharm
BERLIN (Reuters) – Germany's Merck KGgA said on Monday it has agreed to pay Swiss biotech Debiopharm up to 900 million euros ($1.08 billion) to develop and commercialize Xevinapant for head and neck cancer.
Under the terms of the licensing deal, Merck will pay Debiopharm 188 million euros ($227 million) upfront and has agreed to further regulatory and commercial milestones worth up to 710 million euros ($855 million) as well as royalties.
"This late-stage asset complements our Healthcare pipeline, which will be one of Merck's key growth drivers in the coming years," Chief Executive Stefan Oschmann said in a statement.
Xevinapant is currently in late-stage testing for previously untreated locally advanced squamous cell carcinoma of the head and neck, in combination with current standard of care.
Results of a mid-stage study found Xevinapant together with chemoradiotherapy cut the risk of death by 51% compared to the current standard of care, Merck said.
In February 2020, the U.S. Food and Drug Administration granted Xevinapant breakthrough therapy designation.
($1 = 0.8300 euros)
Reporting by Caroline Copley; Editing by Riham Alkousaa.
_____
Source: Reuters