Merck MRK reached another milestone with its flagship cancer immunotherapy, Keytruda (pembrolizumab), yesterday, as the FDA approved an expanded label for the drug to be used in combination with pemetrexed and platinum as a first-line treatment of patients with metastatic, non-squamous non-small cell lung cancer with no epidermal growth factor receptor (EGFR) or anaplastic lymphoma kinase (ALK) genomic tumor aberrations.
Keytruda, Merck's anti-PD-1 drug that has generated nearly $5.5 billion in revenue in the 12 months ended June 30, 2018 (15% of all of Merck's pharmaceutical revenue), received the expanded label under the FDA's Real Time Oncology Review, a pilot program begun by the FDA recently to explore a more efficient review process to deliver safe and effective treatments to patients as early as possible. Under the program, the FDA can review clinical data at a much earlier stage, before a company formally submits the complete drug application.
In his comments at the American Society of Clinical Oncology (ASCO) Annual Meeting in Chicago on June 2, 2018, about the Real Time Oncology Review program, FDA Commissioner Scott Gottlieb, MD, said
Under the new pilot, as soon as a sponsor locks their database, and has decided they want to file for FDA approval, they'd start sharing the bottom line data with the agency. In effect, FDA will pre-review the data and assess it for adequacy and completeness… This informed pre-analysis gives reviewers and sponsors an early opportunity to address data quality issues. The FDA can provide early feedback to a sponsor on the most effective way to analyze data to properly address key regulatory questions… Based on our analysis, we believe that taking this approach can free up 10 to 30% of the reviewer's time. This leaves more opportunity for engagement with product developers, and will lead to a more efficient review of drug applications.
Once again, we at Equities.com salute the FDA and Commissioner Gottlieb for continuously acting in the best interests of the patient.

Source: Merck
In addition to the multiple cancer indications for which Keytruda is already approved, Merck is testing the drug in over 750 clinical trials across a wide variety of cancers and treatment settings. The latest approval was based on the Phase 3 "KEYNOTE-189" trial which showed that Keytruda in combination with pemetrexed and platinum chemotherapy demonstrated a 48% improvement in overall survival compared with 19% for chemotherapy alone. The study also showed a significant improvement in progression-free survival of 8.8 months compared to 4.9 months for chemotherapy alone.
Keytruda is rapidly becoming a foundation for the treatment of appropriate patients with metastatic non-small cell lung cancer. Today's approval of the expanded label for Keytruda based on data from the KEYNOTE-189 trial is an important milestone, and reinforces our steadfast commitment to improving survival outcomes, and providing hope, for more patients with lung cancer.
– Dr. Roger M. Perlmutter, President, Merck Research Laboratories.
Keytruda in combination with pemetrexed and carboplatin was first approved in 2017 under the FDA's accelerated approval process for the first-line treatment of patients with metastatic nonsquamous non-small cell lung cancer, based on tumor response rates and progression-free survival data from the Phase 2 study. In accordance with the accelerated approval process, continued approval was contingent upon verification and description of clinical benefit, which has now been demonstrated in KEYNOTE-189 and has resulted in the FDA converting the accelerated approval to full (regular) approval. Keytruda is the first anti-PD-1 approved in the first-line setting as both combination and monotherapy in certain patients with metastatic non-small cell lung cancer.
Over the last few years, we've seen significant clinical advances and an incredible shift in the way we approach the treatment of people diagnosed with metastatic non-small cell lung cancer. As a practicing physician, I welcome today's news, as Keytruda in combination with pemetrexed and platinum chemotherapy significantly prolonged overall survival and progression-free survival in the KEYNOTE-189 trial, compared with chemotherapy alone.
– Dr. Shirish Gadgeel, Professor in thoracic oncology, University of Michigan Rogel Cancer Center.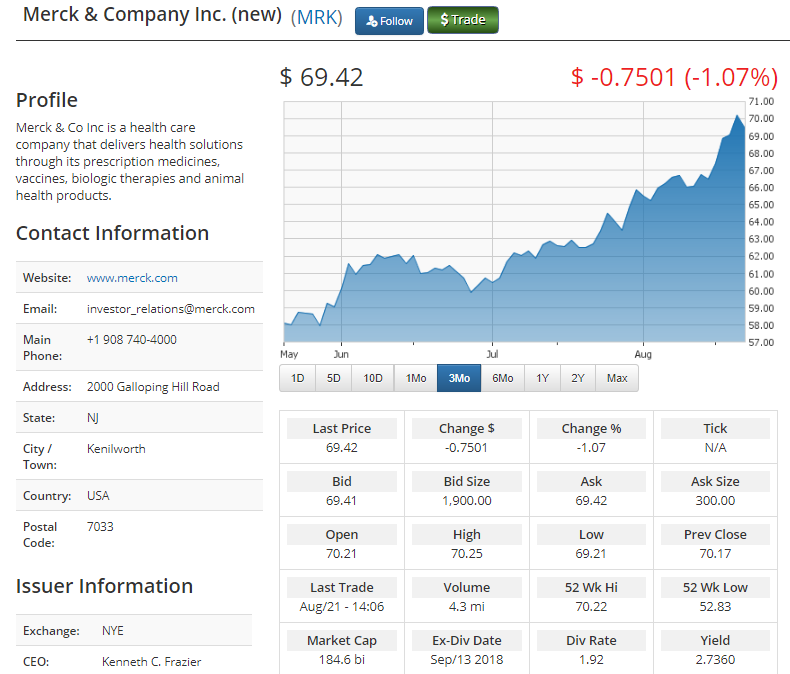 Please email us at [email protected] to see our Case Studies and Testimonials.
Please click here for information on our new trading platform.
Please click here to receive our daily newsletter.