MediciNova (Nasdaq: MNOV; Tokyo: 4875) announced this week the early termination of its Phase 2 clinical trial of its MN-001 (tipelukast) candidate in non-alcoholic steatohepatitis (NASH) and non-alcoholic fatty liver disease (NAFLD) with hypertriglyceridemia based on the significant positive results from an interim analysis. High triglyceride levels are a biomarker for numerous heart and liver diseases.
Interim data showed that MN-001 significantly reduced mean serum triglycerides, a primary trial endpoint, from 260.1 mg/dL before treatment to 185.2 mg/dL after eight weeks of treatment (p=0.00006). There were no clinically significant safety or tolerability issues during the study. Having achieved the most important endpoint of the study, MediciNova is halting enrollment and stopping the study in order to accelerate further development of MN-001.
Details of this interim analysis will be presented at the International Liver Congress 2018 — the 53rd annual meeting of the European Association for the Study of the Liver (EASL) — during the NAFLD: Therapy poster session on Friday, April 13, 2018, in Paris.

1. National Institute of Diabetes and Digestive and Kidney Diseases (NIDDK). 2. Allied Market Research
Source: MediciNova, Feb. 21, 2018
The Phase 2a trial of MN-001 is a multi-center, proof-of-principle, open-label study designed to evaluate efficacy, safety, and tolerability in subjects with NASH or NAFLD with hypertriglyceridemia. Eligible subjects consisted of males and females ranging in age from 21 to 65 years old, inclusive, with a histologically confirmed diagnosis of NASH or imaging study confirmed diagnosis of NAFLD and an elevated serum triglyceride (>150 mg/dL) during the screening phase.
We are thrilled with the results of this study, which showed a large reduction in triglycerides. Based on the results of this study, along with the triglyceride data we have from prior clinical studies of MN-001 in other indications, we believe that MN-001 has potential to benefit a wide range of patients with hypertriglyceridemia, not limited to those with NASH and NAFLD.
– Yuichi Iwaki, MD, PhD, President and Chief Executive Officer, MediciNova.
With the positive news this week, MediciNova and its shareholders experienced the flip side of the binary event risk inherent in developmental stage biopharmaceutical companies. Last week, the company disappointed investors with the announcement that the Phase 2 clinical trial of its other lead compound, MN-166 (ibudilast), in methamphetamine dependence did not meet the primary endpoint of methamphetamine abstinence. The stock regained this week what it lost last week, and an argument can be made for further improvement based on the very large target market for NASH / NAFLD.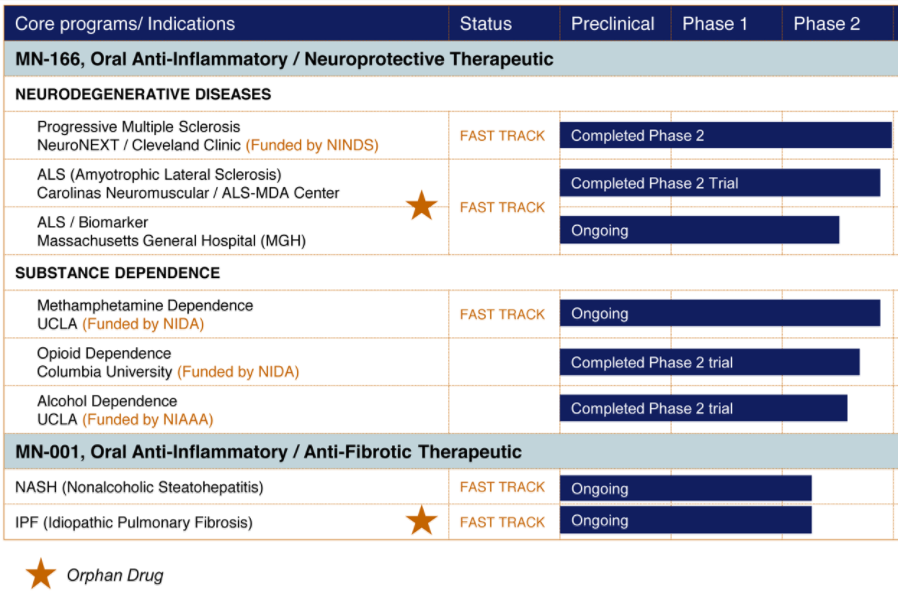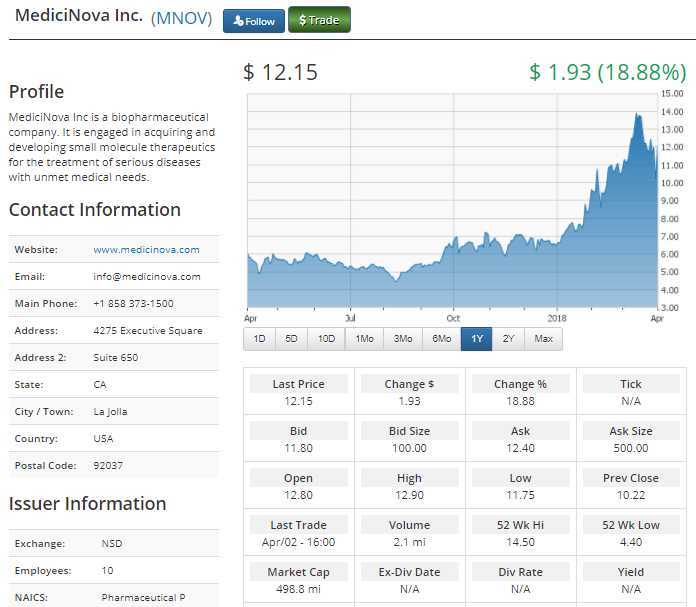 Please email us at [email protected] to see our Case Studies and Testimonials.
Please click here for information on our new trading platform.