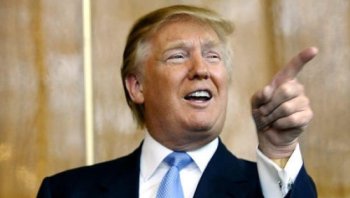 Recently, a coworker sent me an email about a stock that was up 600%. After doing some research, I put the pieces together and found that the culprit of this anomaly was Martin Shkrelli. It struck me that in many ways Shkreli is the Donald Trump of shock and awe investing. The email also exposed his business model of buying companies others see as having little value, while cultivating an image as a black hat disruptor who cares little about public opinion. All of this adds up to great marketing tools.
On Thursday this week, KaloBios ($KBIO) representatives said that an investor group involving Shkreli acquired more than half of the company's outstanding stock and were in discussions to keep the company in operation. Though, on Friday morning, the company changed its tune and conceded it would discontinue operations and terminate the development of the two drugs it was working on. Simple as that, Shkreli swooped in and put shares front and center in the media cycle. I saw an article this morning about a poor guy on Scottrade who was short these shares and had a $105,000 debit with his broker. Martin Shkreli strikes again! He doesn't care if he tweaks the upcoming President or Joe Blow stock trader—he is a menace. It is my new terminology for 2016: Shock and Awe Investing.
Kalobias was effectively dead in the water. The stock down about 93% for the year through Friday. Investors figured this story was over, or even worse, they might have been shorting the stock aggressively on its way toward $0. Few know that shares of KaloBios were $66 in January 2013 valuing the company just short of the billion dollar level. Few also know the company is valued today at $42m. To put it in investor return language, Martin Shkreli made his investors $40 million dollars yesterday leveraging the media and took very little risk. He is an ass-wipe, but that was a brilliant trade!
So let's talk for a second about what the investing world think of Martin Shkrelli: they consider him the hottest investor on Wall Street because he makes the most money taking the smallest risk. This is evidenced by a 12x increase in volume in the overnight markets. This is even before we get to a normal trading session.
Conclusion: Investors should enjoy the fireworks of shock and awe investing now, but know that the election cycle will regulate investors like Shkreli who are exposing arbitrage in binary event stocks like KBIO.
DISCLOSURE: The views and opinions expressed in this article are those of the authors, and do not represent the views of equities.com. Readers should not consider statements made by the author as formal recommendations and should consult their financial advisor before making any investment decisions. To read our full disclosure, please go to: http://www.equities.com/disclaimer