Though the major market indexes showed lackluster moves throughout the week, the price action of one sector sent a loud and clear message in response to the hearings being held by the U.S. Supreme Court. The Healthcare sector improved, as measured by the SPDR Select Healthcare Index Fund (XLV). In doing so it outperformed all other sectors as shown in the following chart.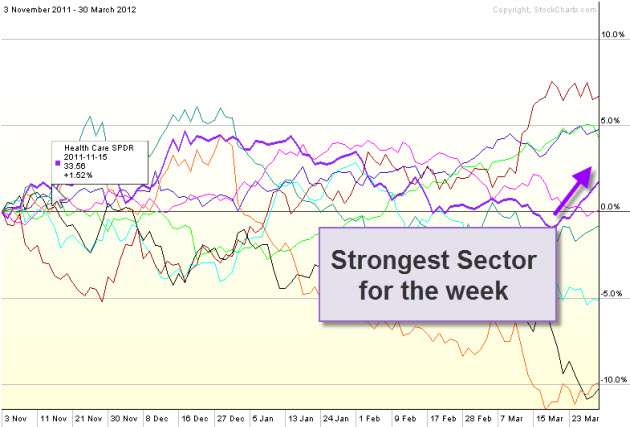 The healthy 3.5 percent gain capped off a week's price action that opened near its low and closed near its high for the week. Considering that the rest of the market's performance was so muted, it is hard to miss the significance of this sector's action in connection with the Supreme Court hearings on the Affordable Healthcare Act. The message from the markets is clear: without this legislation, companies in the healthcare sector stand a much better chance of making money.
How much better that sector's chances are remain to be seen. A lot may hinge on just what the Court decides to do along the spectrum of its options. Will the justices settle for rejecting the so-called mandate of the law or fully rejecting the law altogether? The greater the rejection, the greater the likely gains you could expect for XLV in the coming days ahead.
In this next figure XLV is shown to be moving within a large rising wedge that spans back over two years. Using a Fibonacci projection based on the most recent pullback within this pattern shows a particular price target that aligns with both the upper resistance of the channel and a Fibonacci time series (see below).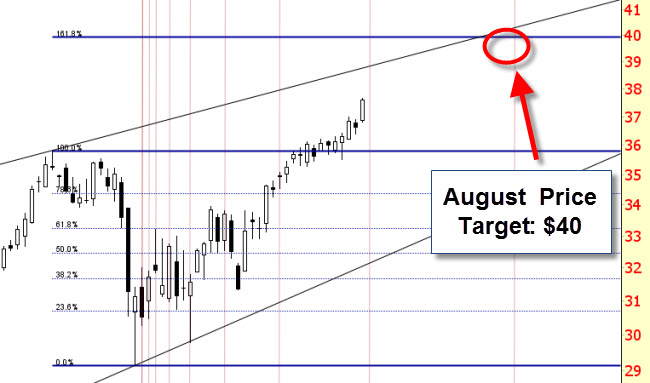 Based on these combined projections, XLV could easily rise another seven percent between now and August. But this technical projection may underestimate the potential for this sector. Considering that XLV rose three percent merely on the early indications of these hearings, how might the price change if every component of the law were stripped away?
An additional question to ask is that if investors believe the healthcare sector is likely to do well from reduced legislation, might other sectors also be seen to benefit likewise? The healthcare industry's bounce higher, if the move should continue, may well translate into greater euphoria for business prospects across a much broader spectrum of market sectors.
Since major market indexes have not included a response to the Supreme Court's leanings, one can only assume that more distinct decisions by the Court will unlock analyst calculations of value for the broader indexes. Further action and definition over the next couple of weeks, coinciding with the advent of earnings season, could allow the market's more bullish participants to surprise many of those worried about a coming correction. But either way the healthcare sector is likely to be an outperformer over the coming quarter.
DISCLOSURE: The views and opinions expressed in this article are those of the authors, and do not represent the views of equities.com. Readers should not consider statements made by the author as formal recommendations and should consult their financial advisor before making any investment decisions. To read our full disclosure, please go to: http://www.equities.com/disclaimer