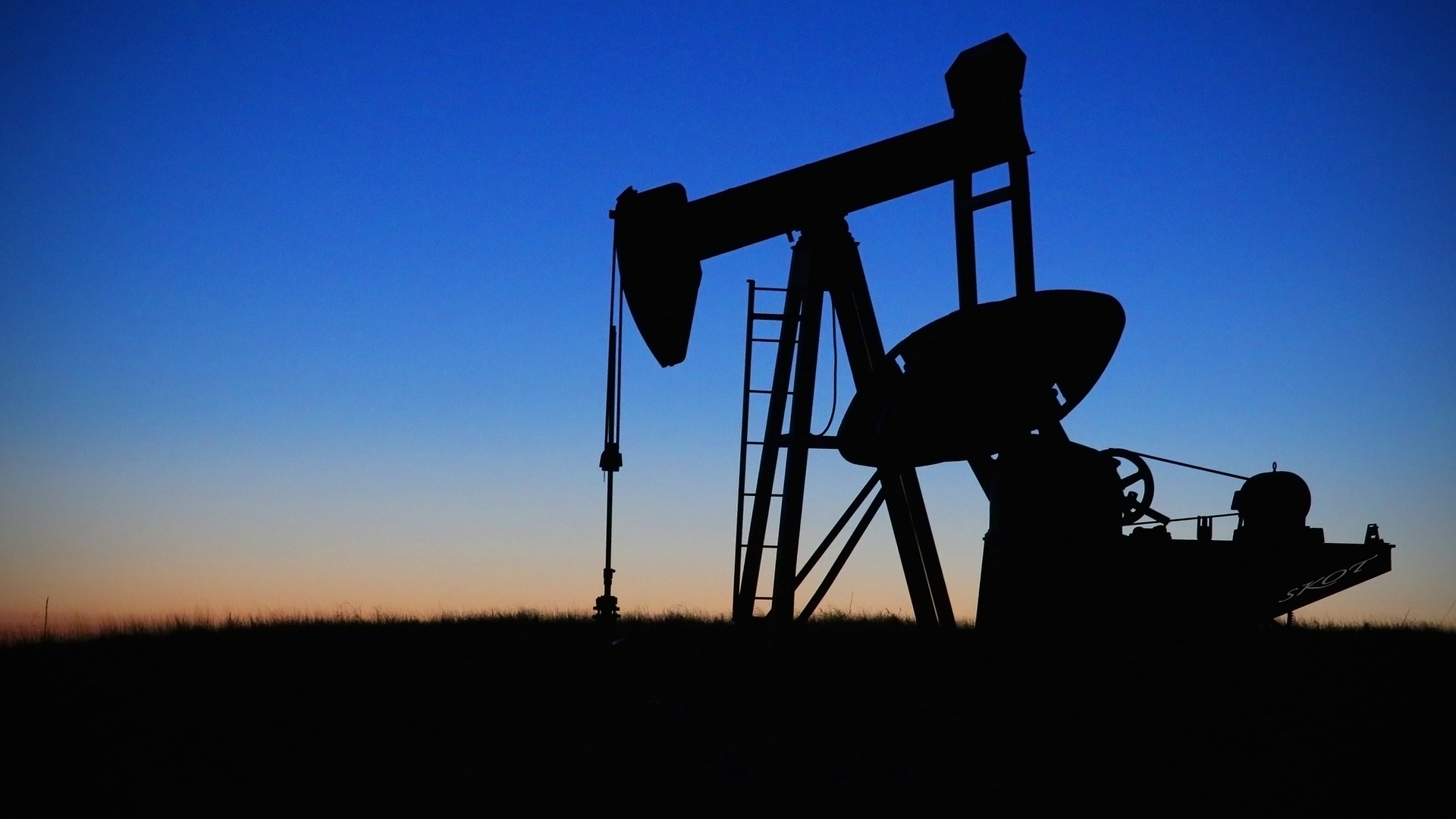 Marin Katusa Unfiltered
The cost of capital for every single resource company changed on Tuesday, April 30th, 2019.
I've written extensively about the coming reality check for the resource sector. There is a significant amount of debt coming due.
Management teams are pretending everything is OK. Shareholders are left in the dark.
But know this…
Higher Cost of Capital to Refinance Pre-existing Debt is Now Here.
Warren Buffett just smacked a sweet dose of reality into the resource sector.
Occidental Petroleum OXY is America's 4th largest oil producer. It just inked a deal with Buffett's Berkshire Hathaway BRK-B on a preferred share, $10 billion dollar deal that not only pays an 8% coupon…
It gets better…
Buffett's Berkshire Hathaway also gets a half-warrant to buy up to 80 million shares of Occidental common stock at an exercise price of $62.50 per share.
The share price of OXY is $57.35.
The warrants are only at a 9% premium to the share price.
OXY's free cash flow for 2018 was $1.8 billion.
The market cap of OXY is $43 billion.
OXY employs 37,000 employees and contractors worldwide, with operations in the United States, the Middle East, and Latin America.
OXY produces 658,000 barrels of oil equivalent per day.
If any CFO in the resource sector didn't get a chill when this press release came out — fire that CFO.
The new normal is here — and it's about time…
Management teams are able to max out their option packages with vehicles called:
DSU – Deferred Share Unit
RSU – Restricted Share Unit
PSU – Performance Share Unit
All of which, by the way, require no skin in the game – THEY GET THESE FREE.
As debt continues to build, shareholders will be receiving less free cash from operations.
Look, this isn't meant as a rant.
So much of our industry is run by individuals that don't have a sound understanding of mathematics…
The real cost of capital for resource companies just got a lot more expensive. If the Oracle of Omaha just slapped OXY with 8% preferred shares and a ½ warrant at a 9% premium to the market, the resource sector across the board will be paying higher rates moving forward.
Now, I will let you in on a little secret I haven't spoken about until today.
A few in the sector know about it, but it's time for everyone to know.
The Katusa Warrant
Rick Rule coined the phrase.
Rick Rule has made millions from the Katusa Warrant. So has Doug Casey.
I've taken a lot of abuse from other investors, bankers and management teams about my strict and disciplined approach with the Katusa Warrant.
Coming from Balkan heritage, it's in my DNA to withstand incredible abuse. And I can stand on the sidelines with cash longer than the executives with their burn rates can stay solvent.
Not only have I been vindicated by Warren Buffett, but I think the Katusa Warrant will be the norm in the resource market moving forward.
The Katusa Warrant is disciplined investing which aligns the investors and management. Why should management get 5-year full options at no cost basis – but investors get the shaft?
I have done over $2 billion in financings in the resource sector. And managements almost feel obliged to fight me on the Katusa Warrant.
I want all investors to know that they crumble in their seats when I say, "No problem, you make all your options half 18-month warrants with a minimum share ownership ratio for every employee who received an option, and I'll take the same terms. It ends there. I win. Investors win. Management and investors are on the same page. Same terms."
On a side note, while I have your attention…
How the hell can management issue themselves PSUs (Performance Share Units) when those exact same management teams miss guidance on production and earnings? All while the shareholders are booking massive losses.
Not to mention…
The balance sheets of most resource companies look like the term paper of a geologist taking a quantum mechanics course.
It's an absolute mess.
Where I come from you get paid to do a job. 100% of the job. It's just that simple.
Let's say you hired a painter to paint the exterior of your house. And he finished 80% of your house. Would you pay him in full and give him a bonus? Of course not!
Guess what?
Most of the resource sector does exactly that.
You don't get paid the full amount for doing 80% of the job. And you don't get options and PSUs for doing 80% of what you were hired to do.
But in the resource sector they do. I can't be the only one that finds that this is just awful and disgusting.
I do believe we need more Warren Buffett type financings. And with the new money will come new rules and more discipline. Or else the money won't be invested.
It's the natural evolution for the next leg of the resource bull market to start.
But the management teams are a big part of the problem.
Compensation Based on Peer Comparisons
This whole compensation mess is based on peer comparisons.
And these management teams convince their boards and investors to accept these incredibly ludicrous compensation packages. Or else these executives will go elsewhere.
Well, it's time for investors and boards of directors to stand up and say, "Go".
Guess what, there won't be many places to go. And I look forward to the contraction of the resource sector on a corporate level. Too many one mine operators.
Synergies would be quickly deployed and transferred to shareholders.
The industry needs consolidation and economic natural selection will do its thing.
So many useless executives, geologists and management teams are sucking on the tit of the resource sector investor.
This only takes away from shareholder value.
PSUs, DSUs, RSUs and options should all be reconsidered. And with the need for new capital required to refinance the sector – expect a new play book.
Investors have allowed the inmates to run the asylum.
The time is now for investors to take back all their rights and not allow management teams with no skin in the game to skin the cat seven ways from Sunday. All while shareholders get scalped.
The Wall of Worry
This chart below is all the debt due every year in the mining sector until 2050.
We have just entered the Wall of Worry. And you can see the great wall very clearly in the chart starting in 2019.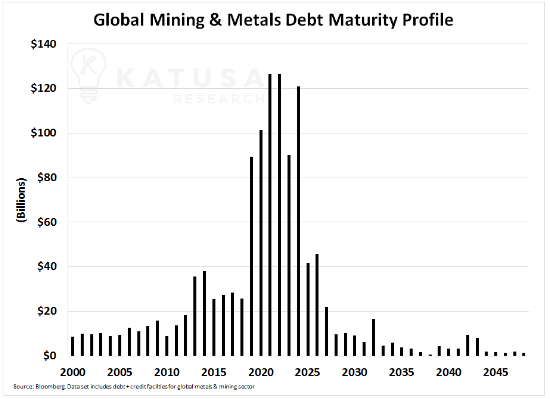 Hundreds of billions will be required to Amend & Extend the debt. This time around, I don't see cheap money allowing management teams to Extend & Pretend the debt situation is OK.
The times are a-changing.
In this month's edition of Katusa's Resource Opportunities, I go through all the debt in the gold sector in great detail.
I discuss who the big losers will be. And who I think will be the consolidators moving forward.
More importantly, I discuss how to make money off this trend.
I do the same for the base metals sector and the oil and gas sector.
And on that end, for the experienced investors out there… we have a lucrative options play that could make a lot of money if it works according to our thesis.
You won't find this in any other newsletter.
Bob Dylan wrote a song that will never lose its luster: The Times They Are a-Changin'… in our Favor.
Regards,
Marin Katusa
P.S. I just released a bombshell edition of Katusa's Resource Opportunities two days ago where I revealed all the debt in the mining and energy sectors. It's not something that management really wants you to see. Also in this month's issue, I discuss a rare opportunity for you to profit like Warren Buffett just did with Occidental. It's a trailblazing deal I will be putting up to $10 million into. If you've considered becoming a subscriber to my newsletter, you do not want to miss this issue – sign up right here.