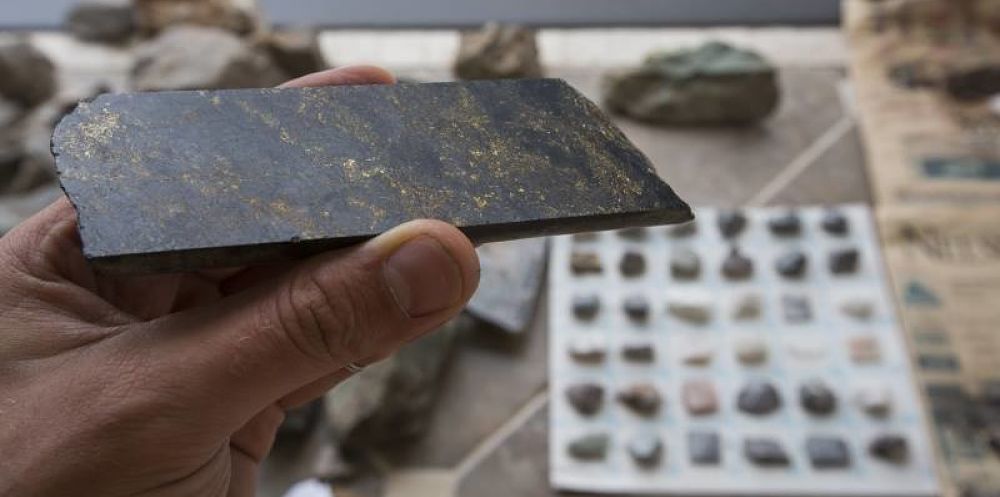 Margaux Resources Ltd., (TSXV: MRL) (OTCQB: MARFF) is pleased to provide an update of exploration activities on its Kootenay Arc zinc-gold-tungsten properties in southern British Columbia. Rock and silt sample results have been received from surface exploration work on the Jackpot and Jersey properties, as well as initial analytical results from Margaux's Phase I drill program at Jersey.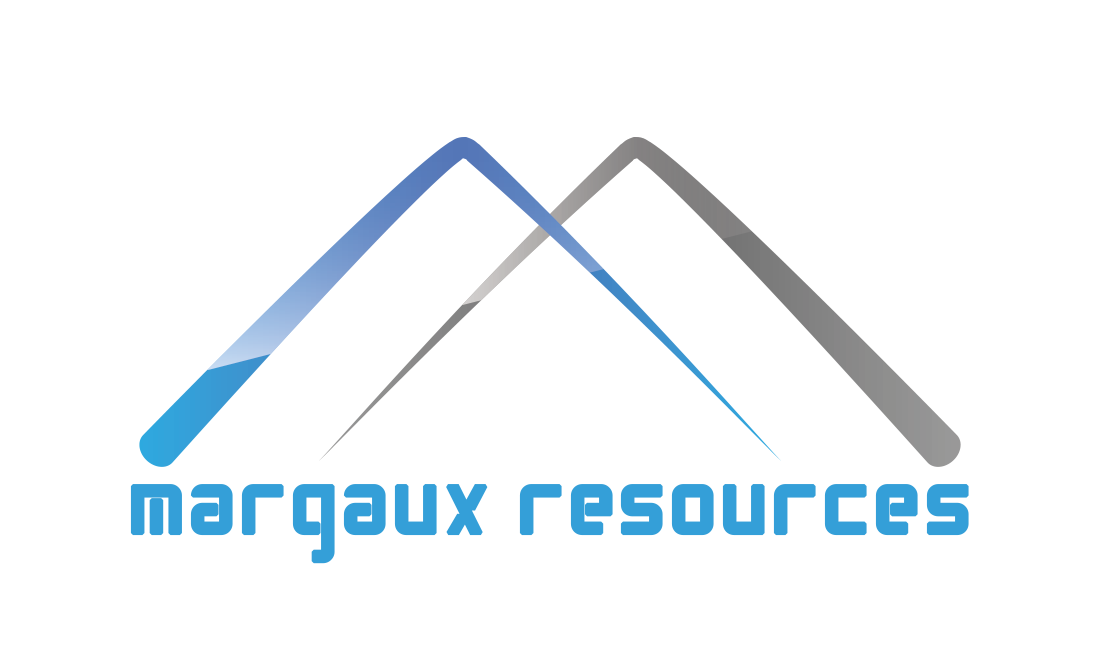 "Our 2017 field program is in full swing and we anticipate a steady stream of sample results going forward," said Tyler Rice, President and Chief Executive Officer of Margaux. "The Big Zinc target is an exciting prospect with high-grade zinc values and good potential for a significant discovery. At the Jersey property, unexpected high levels of gold have been reported in silt samples signifying a considerable and previously unidentified amount of gold within the skarn system."
Jackpot — Big Zinc Prospect
The Big Zinc prospect in the northern part of the Jackpot property consists of an extensive 600m x 300m boulder train of high-grade zinc-oxide float boulders weighing up to 45 kilograms and is coincident with a strong zinc soil anomaly (refer to Company news release dated March 28, 2017 for further details).
Exploration work conducted at Big Zinc by the Company has consisted of grab samples collected from the boulder train with two samples returning exceptionally high zinc values up to 54.3% Zn(1)(results are presented in Table 1 below).

There is significant potential for a major discovery at Big Zinc, considering minimal historical exploration and no geophysical work has yet been conducted to locate the bedrock source to the high-grade zinc boulder train. Consequently, the Big Zinc occurrence will be one of the Company's priority exploration targets in the current field season with exploration activities quickly advancing to a drill program targeting the at-depth source of the high-grade boulders.
Seven holes were drilled in the Big Zinc area in 2007 by a previous operator, three of which were neither logged nor sampled. Margaux has recovered all the drill core from the 2007 drill program and has now logged and sampled the historic drill core to assist in the drill targeting. Results from additional surface and historic drill core samples are pending.
Jersey — 2017 Silt Sampling
Results have been received for stream sediment samples collected to evaluate the gold skarn potential in the southern portion of the Jersey property. Three samples contained extremely high gold values, including 18.1, 8.38 and 3.71 g/t Au (results are presented in Table 2 below). These samples are located in the vicinity of the historic tungsten skarn mill site and tailings and are likely to represent contamination from the historic mining activities.
Of particular note: the mill, operated in the 1950s, was not designed to recover gold nor was the source material for the mill analyzed for gold. The silt samples indicate a considerable and previously unidentified gold component within the skarn mineralizing system; thereby compounding the potential for a major discovery on the Company's Kootenay Arc zinc-gold-tungsten properties in southern British Columbia.

The analytical results from these samples reveal a strong correlation with the classic skarn-indicator suite of elements (As, Bi, Co, Pb, Sb, Te, Zn and W) further supporting the presence of gold in the skarn at Jersey. Field work is underway to follow-up the results of the silt sampling program. The Company is confident that as the exploration program progresses, greater understanding of the breadth and scope of the gold mineralization within the skarn will be realized and key targets will be developed.
Twenty-two stream sediment samples were collected during Margaux's 2017 silt sampling program. Samples were standard stream sediment samples (not panned/screen concentrates), collected at intervals along creeks in this area. Of the 22 samples collected, 14 returned highly anomalous results.
Jersey — King Alfred Gold Zone Phase 1 Drill Program 2017
A six-hole, 1,121 metre Phase 1, of the Company's 2017 Kootenay Arc, diamond drill program was recently completed. Analytical results have been received from the first 2 holes of the program targeting the King Alfred Gold Zone (refer to Company news release dated May 29, 2017 for further details).
Gold on Margaux's Jersey property is hosted within skarn altered sediments and is associated with late quartz-carbonate veins and with bismuth, bismuthinite, pyrite and pyrrhotite, occurring more distal from the intrusive than the tungsten skarn mineralization. Significant gold results have been returned from past drilling at King Alfred including 24.98 g/t Au over 10.2 m in an area beyond the limits of any historic mining on the property.
The second hole JE17-02 returned a broad interval of elevated gold validating the mineralizing model and confirming the gold potential. Analytical results are pending for the outstanding 4 drill holes.
Note
(1) Grab and silt samples are by definition selective and are collected to determine the presence or absence of mineralization; as such they are unlikely to represent average grades on the property.
All samples were shipped to ActLabs' Kamloops, B.C. laboratory (ISO 9001:2008, ISO 17025, CAN-P-1579 certification) for preparation and analysis.
Rock samples were crushed at the lab to 80% passing a 10 mesh (2 mm) screen, then a 250 g split of the crushed sample was pulverized to 95% passing 105 microns. All samples were analysed for gold by FA/AA finish on a 30-gram sample of pulverized material, and for a multi-element suite by ICP-MS following aqua regia digestion. Drilling was NQ2 sized core.
For silt samples, samples were dried then sieved to -80 mesh then a 1 gm sample was analysed by ICP-MS following aqua regia digestion. Samples that returned overlimit gold values were assayed by FA/AA or gravimentric finish. Samples with overlimit Pb, Zn or W values were assayed by peroxide fusion assay.
Qualified Person
Linda Caron, M.Sc., P.Eng, Margaux's Vice President of Exploration, is the Company's Qualified Person as defined by NI 43-101 who supervised the 2017 drill and sampling program and who has reviewed and approved the technical information contained within this press release.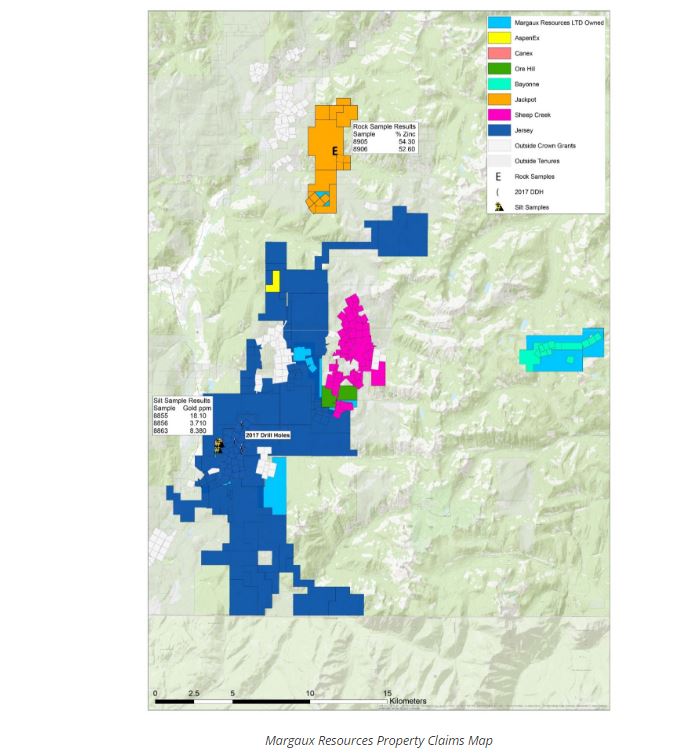 Margaux Resources Ltd. (TSXV: MRL) (OTCQB: MARFF) is a mineral acquisition and exploration company focused on the development of zinc, gold and tungsten deposits in the Kootenay Arc, in the southeastern region of British Columbia. The company is directed by a group of highly successful Canadian business executives and has a fast-growing portfolio of previously producing properties that include the Jersey-Emerald mine, which at one point was the 2nd largest historic zinc-lead mine in B.C. and the second largest tungsten mine in North America.
In the interest of full disclosure, we call the reader's attention to the fact that Equities.com, Inc. is compensated by the companies profiled in the Spotlight Companies section. The purpose of these profiles is to provide awareness of these companies to investors in the micro, small-cap and growth equity community and should not in any way be considered as a recommendation to buy, sell or hold these securities. Equities.com is not a registered broker dealer, investment advisor, financial analyst, investment banker or other investment professional. We are a publisher of original and third party news and information. All profiles are based on information that is available to the public. The information contained herein should not be considered to be complete and is not guaranteed by Equities.com to be free from misstatement or errors. The views expressed are our own and not intended to be the basis for any investment decision. Readers are reminded to do their own due diligence when researching any companies mentioned on this website. Always bear in mind that investing in early-stage companies is risky and you are encouraged to only invest an amount that you can afford to lose completely without any change in your lifestyle. Equities has been compensated with cash, common shares and/or warrants for market awareness services provided.
DISCLOSURE: The views and opinions expressed in this article are those of the authors, and do not represent the views of equities.com. Readers should not consider statements made by the author as formal recommendations and should consult their financial advisor before making any investment decisions. To read our full disclosure, please go to: http://www.equities.com/disclaimer