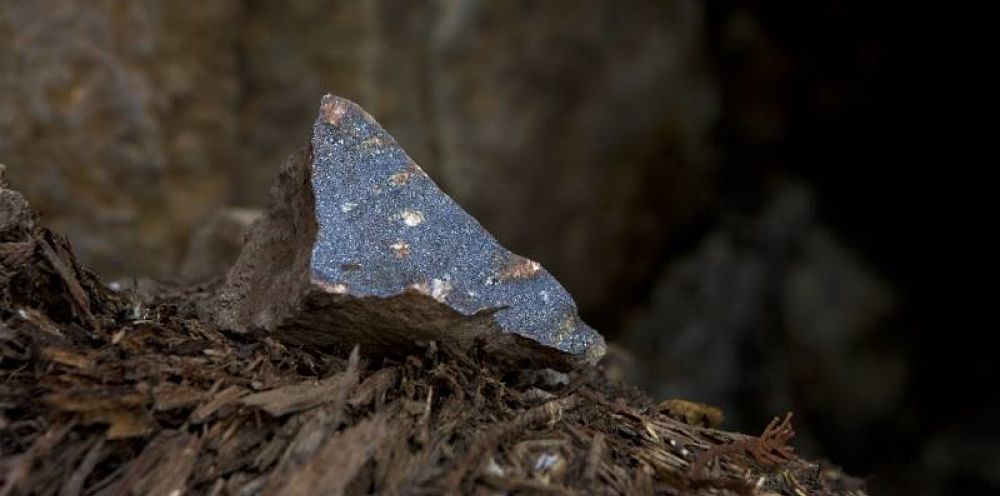 Margaux Resources Ltd. (TSXV: MRL) (OTCQB: MARFF) is pleased to provide an update on the 2018 work program for the Company's Sheep Creek Gold District, in southeastern BC. Approximately 6,000 m of diamond drilling is planned (25 holes) to test gold targets within the Sheep Creek Gold District in 2018; drilling is expected to commence in June.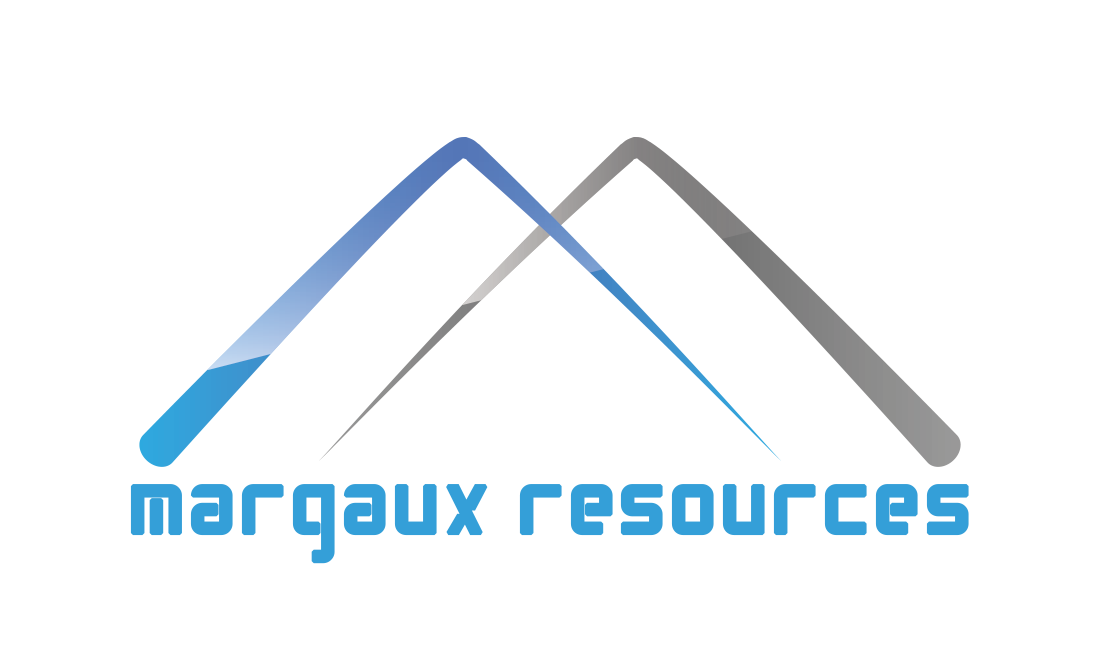 Key Highlights
6,000 m of diamond drilling to test gold targets to commence in June 2018.
Drilling on recently consolidated Sheep Creek Gold District; Margaux now controls over 96% of the area.
Drill targets to include Ore Hill gold anomaly; anomaly grab samples returned high-grade gold values including 119 g/t and 105 g/t Au.
The Sheep Creek Gold District has historical gold production of 785,000 ounces at an average grade of 14.4 g/t gold (1) from multiple high-grade orogenic gold veins, making it the 3rd largest past-producing orogenic gold district in British Columbia. Margaux has consolidated mineral tenure in the Salmo area over the past several years through various option and purchase agreements, and through strategic staking. The Company now controls over 96% of the Sheep Creek Gold District by area (and over 85% by historical gold production) making it the first time since gold was discovered here in the late 1890's that this land has been under single management. 2017 was Margaux's first year of exploration on the property and the first time that effective modern exploration across the consolidated land package has been possible.
In terms of global endowment (past production + resources + reserves), orogenic gold, including related placer gold, is the most significant deposit type, accounting for over 50% of global gold (2). Archean-aged greenstone gold belts have long been recognized for their ability to host multi-million-ounce orogenic gold deposits. In more recent years, an understanding of gold districts within the Cordillera, from the Motherlode District in California, to the Bralorne, Cariboo (Barkerville) and Sheep Creek Districts in British Columbia, the Klondike/White Gold District of the Yukon, and the Juneau and Nome Districts in Alaska, has shown how gold in all these areas relates to the Cordilleran orogeny and how there remains good upside exploration potential within this region for both high-grade vein-type and low-grade bulk tonnage gold mineralization (3).
At Sheep Creek, historic mining was directed at high-grade gold-bearing veins. Veins are strongly controlled by structure and lithology. Margaux has compiled historic information and undertaken a 3D computer modelling project, incorporating historic underground mine workings, geological and structural information from surface, drill holes and underground, to generate targets for drill testing in 2018.
One of the highlights for work in 2018 is the Ore Hill area, in the southern portion of the Sheep Creek Gold District. At Ore Hill, a gold soil anomaly, 1,500 m long by up to 150 m wide is known from historic exploration work. 2017 rock samples collected within a 950 m x 150 m area by Margaux, returned the grab sample results shown in the table and illustrated in the figure below (see Company news release September 20, 2017 for further details). Ore Hill is a high priority target for drill testing in 2018. In addition, a ground geophysical survey is planned for 2018, to help refine targets for drilling.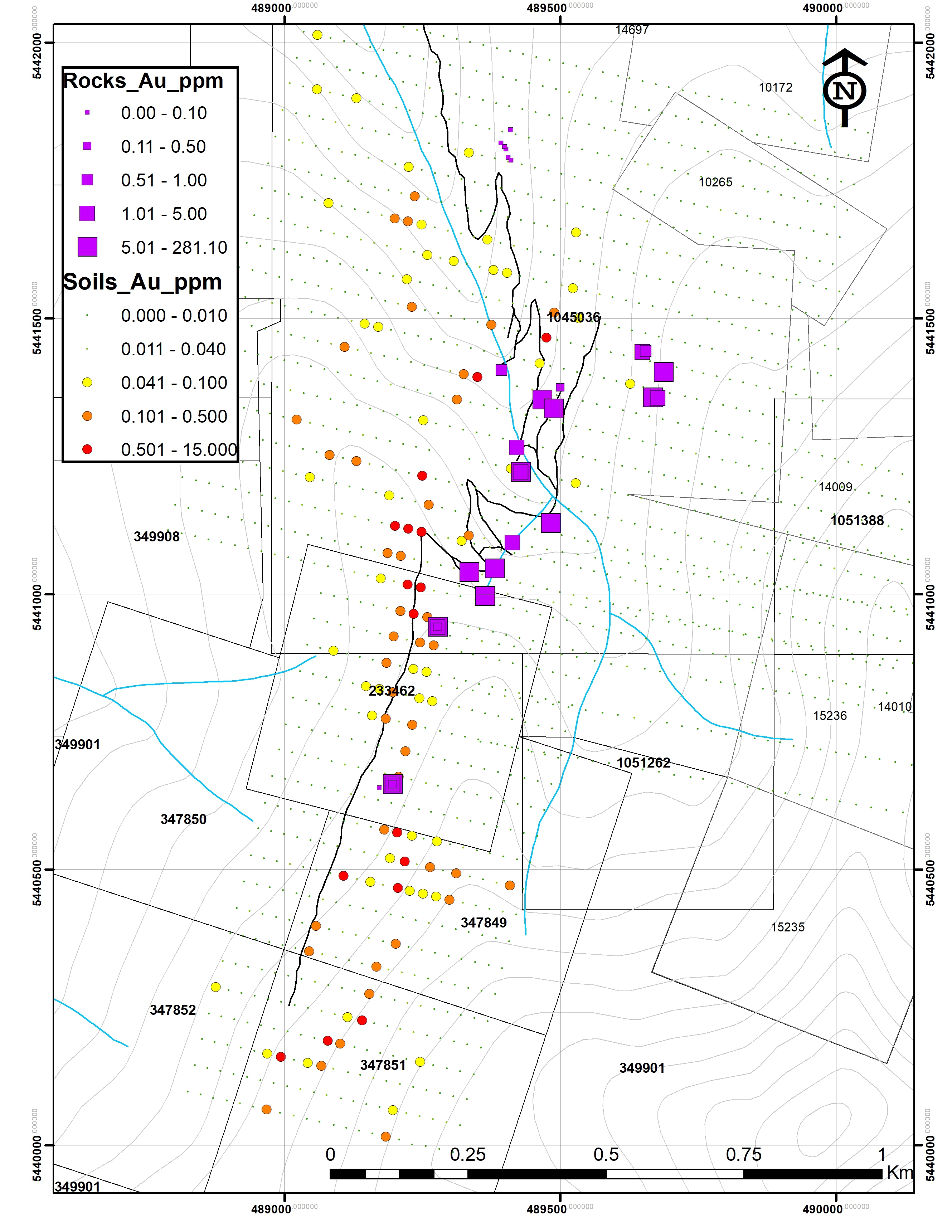 Notes
Production records for historic Sheep Creek and Bayonne mining camps from:

Matthews, 1953. Geology of the Sheep Creek Camp, BC Department of Mines, Bulletin 31.
Minfile 082FSE030, Bayonne.

Allan, M., 2018. Orogenic Gold Deposits of British Columbia, Kamloops Exploration Short Course, April 2018.
Allan, M. et al, 2017. Orogenic gold mineralization of the eastern Cordilleran gold belt, British Columbia:

Structural ore controls in the Cariboo, Cassiar and Sheep Creek mining districts, Geoscience BC report 2017-15.
Hart, C. and R. Goldfarb, 2017. Constraints on the metallogeny and geochronology of the Bridge River gold district and associated intrusions, southwest British Columbia, Geoscience BC Report 2017-08.
Mortensen, J., et al, 2011. Investigation of orogenic gold deposits in the Cariboo gold district, east-central British Columbia, Geoscience BC Report 2011-1.
Bailey, L., 2013. Late Jurassic fault-hosted gold mineralization of the Golden Saddle deposit, White Gold District, Yukon. UBC MSc. Thesis.
Samples reported in this release were primarily grab samples collected from outcrop or from the dumps of historic workings. Grab samples are designed show the presence or absence of mineralization and to characterize mineralization. They are not intended to provide a representative indication of average grade of mineralization. Samples were shipped to ActLabs' Kamloops, B.C. laboratory (ISO 9001:2008, ISO 17025, CAN-P-1579 certification) for preparation and analysis. Samples were crushed at the lab to 80% passing a 10 mesh (2 mm) screen, then a 250 g split of the crushed sample was pulverized to 95% passing 105 microns. All samples were analysed for gold by FA/AA finish on a 30 g sample of pulverized material, and for a multi-element suite by ICP-MS following aqua regia digestion. For samples returning > 10 g/t Au by FA/AA methods, gold was assayed by FA/gravimetric methods on a 30 gm sample. Samples returning >5000 ppm Pb or Zn, >200 ppm W or >10000 ppm Cu were assayed using peroxide fusion/ICP-MS techniques.
Qualified Person
Linda Caron, M.Sc., P.Eng, Margaux's Vice President of Exploration, is the Company's Qualified Person as defined by NI 43-101 who has reviewed and approved the technical information contained within this press release.
About Margaux Resources Ltd.
Margaux Resources Ltd. (TSXV: MRL) (OTCQB: MARFF) is a mineral acquisition and exploration Company focused on the development of gold, zinc and tungsten deposits in the Kootenay Arc, in the southeastern region of British Columbia. The Company is directed by a group of highly successful Canadian business executives and is focused on exploration of the Company's Kootenay Arc Zinc District, and Sheep Creek Gold District.
In the interest of full disclosure, we call the reader's attention to the fact that Equities.com, Inc. is compensated by the companies profiled in the Spotlight Companies section. The purpose of these profiles is to provide awareness of these companies to investors in the micro, small-cap and growth equity community and should not in any way be considered as a recommendation to buy, sell or hold these securities. Equities.com is not a registered broker dealer, investment advisor, financial analyst, investment banker or other investment professional. We are a publisher of original and third party news and information. All profiles are based on information that is available to the public. The information contained herein should not be considered to be complete and is not guaranteed by Equities.com to be free from misstatement or errors. The views expressed are our own and not intended to be the basis for any investment decision. Readers are reminded to do their own due diligence when researching any companies mentioned on this website. Always bear in mind that investing in early-stage companies is risky and you are encouraged to only invest an amount that you can afford to lose completely without any change in your lifestyle. Equities has been compensated with cash, common shares and/or warrants for market awareness services provided.